AOGPE CERTIFIED LEVEL COURSEWORK
Riverside School will be offering a Certified level workshop called 'Reading and the Brain' on Monday, April 15 (4:30-5:30 p.m.) and Tuesday, April 16 (8:15-9:15 a.m.).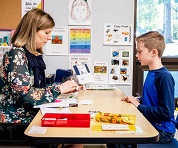 This session will focus on the how the brain of a reader with dyslexia is different and unique. There will be a multisensory coloring activity to help participants remember the differences in fMRI images for readers with dyslexia, remediated readers with dyslexia, and neurotypical readers. We'll share recent DTI research regarding dyslexia and discuss the connection between this research and our O-G practice.
Participants will receive an electronic resource packet and paper PowerPoint handout.
The Subscriber Sessions are led by Cynthia Davis, a Fellow with the Academy of Orton-Gillingham Practitioners and Educators (AOGPE).