AOGPE CERTIFIED LEVEL COURSEWORK
Riverside School will be offering a Certified level workshop called 'Multisensory Morphology for Reading and Spelling' on Monday, March 11 (4:30-5:30 p.m.) and Tuesday, March 12 (8:15-9:15 a.m.).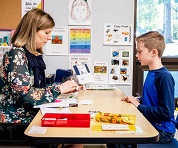 This session will center on how to teach morphology in a simple, multisensory manner that will impact students' reading, spelling, and comprehension. Topics will include the auditory-morphology drill, the visual morphology drill, syllabication and morphology, as well as morphology and vocabulary.
Participants will receive an electronic resource packet and paper PowerPoint handout.
The Subscriber Sessions are led by Cynthia Davis, a Fellow with the Academy of Orton-Gillingham Practitioners and Educators (AOGPE).