AOGPE SUBSCRIBER LEVEL COURSEWORK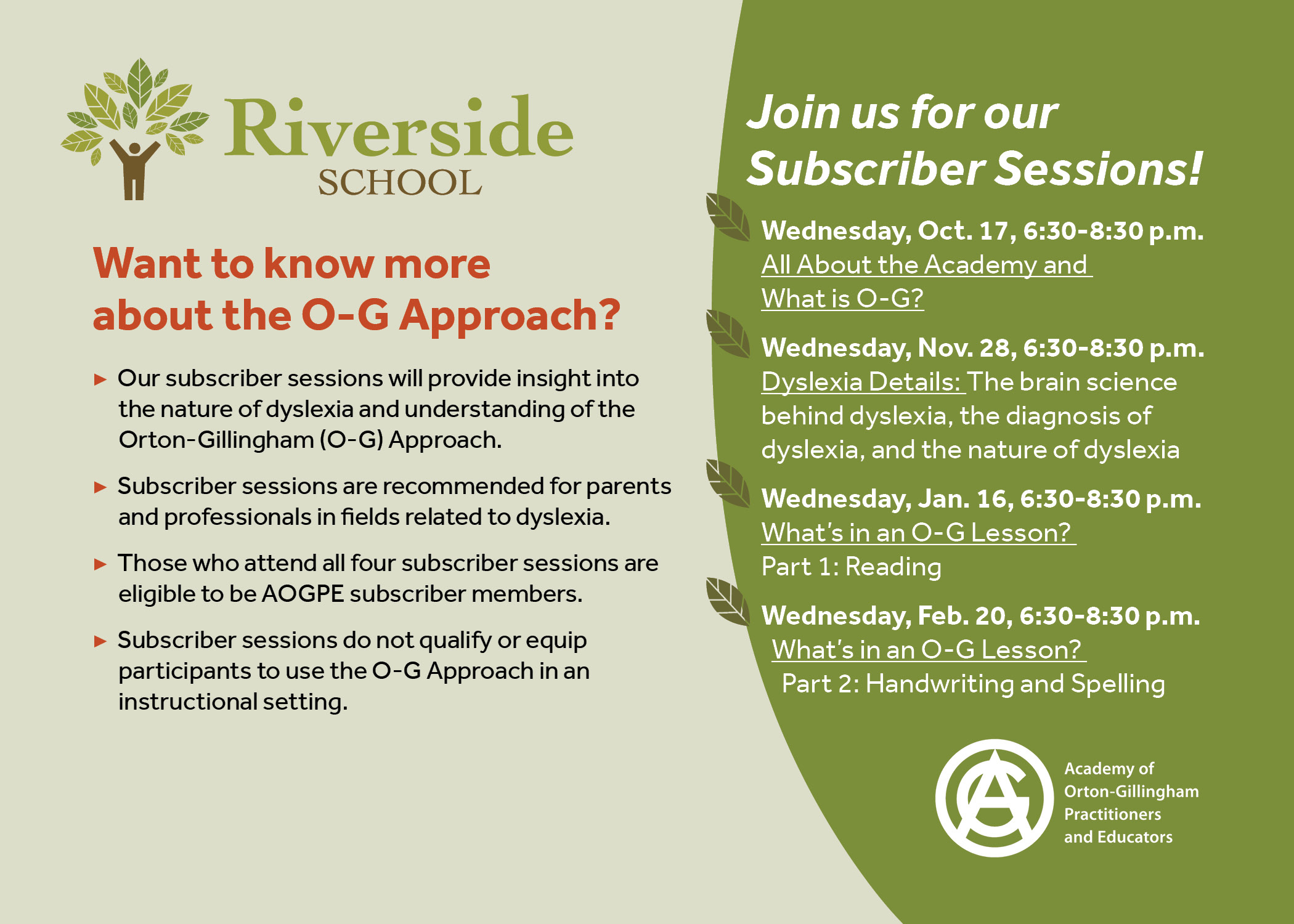 Register for the February Session ('What is an O-G Lesson?
Handwriting and Spelling') by clicking here.
Each Session is $20. Riverside parents may attend are free.
Have you ever wondered…
… what "Orton-Gillingham" really means?
…what goes on during an O-G tutorial?
…what causes dyslexia, what are its symptoms, and what impact does it have for my child/my students?
…what is AOGPE?
…how is the "Academy" different from other organizations that have "O-G" in their name?
Then Subscriber Sessions are for you!
YOUR'RE INVITED TO ATTEND RIVERSIDE'S
SUBSCRIBER SESSIONS AT RIVERSIDE SCHOOL!
What are Subscriber Sessions?
Official AOGPE Courses designed to provide insight into the nature of dyslexia and a basic understanding of the science, rationale, and structure behind the Orton-Gillingham (O-G) Approach.
Who should attend Subscriber Sessions?
Subscriber Sessions are recommended for parents of children with dyslexia, individuals with dyslexia, and school administrators, and professionals in related fields who wish to learn more about the O-G approach.
Do Subscriber Sessions Certify me?
Those who attend all four Subscriber Sessions will receive a Certificate of Completion which will enable them to become an AOGPE* Subscriber Member of the Academy of Orton-Gillingham Practitioners and Educators
Subscriber Sessions do not qualify or equip participants to use the O-G approach in an instructional setting!
* https://www.ortonacademy.org/
Dates and Topics
Wednesday, Oct. 17, 6:30-8:30 p.m. (completed)  – All About the Academy & What is O-G?: The characteristics of the O-G Approach, including the important who, where, when and how issues surrounding it. Understanding of the Academy and what distinguishes it from other O-G organizations.
Wednesday Nov. 28, 6:30-8:30 p.m. (completed) – Dyslexia Details: The brain science behind dyslexia, the diagnosis of dyslexia, and the nature of dyslexia. Click here to register >>
Wednesday Jan. 16, 6:30-8:30 p.m. (completed) – What's in an O-G Lesson? Part 1: Reading is the focus. We'll demystify phonology, phonics, morphology, syllable patterns, and syllabication principles. This will be a hands-on session.
Wednesday Feb. 20, 6:30-8:30 p.m. – What's in an O-G Lesson? Part 2: Handwriting and spelling are the focus. Learn about cursive, spelling of sounds, the simultaneous oral spelling procedure for words, and how O-G deals with spelling words that don't seem to make sense. This will be a hands-on session.
• Subscriber Sessions are $20 per session
• Riverside parents are free
Register for the February Session ('What is an O-G Lesson?
Handwriting and Spelling') by clicking here