Riverside School eNews, April 1, 2021
Thursday, April 1st, 2021
Recently, Riverside School students created chemical changes in science to culminate a teaching unit on matter. They used vinegar and baking soda to inflate a balloon. Students also used water, oil, food coloring and Alka-Seltzer® to create lava lamps.
This Coming Week's Events…
Thursday, April 1 – Interims Issued
Thursday, April 1 – Parent Coffee ('virtual'), 12-12:30 p.m.
Thursday, April 1 – Parents' Association 'Sunshine Treats' (Ticer Hall students)
Friday, April 2 – Basketball Clinic (Main Building students), 2:15-3:30 p.m.
Monday-Friday, April 5-9 – Spring Break (no school)
Upcoming Events…
Monday, April 12 – Classes Resume
Wednesday, April 14 – Parents' Association Meeting ('virtual'), 12 p.m.
Friday, April 16 – Parent Coffee ('virtual'), 8:30 a.m.
Friday, April 16 – Soccer Clinic (Main Building students), 2:15 p.m.

News and Notes
April Calendar

Please click here for a schedule of events for the month of April at Riverside School.
Register for New Spring Soccer Clinics
(Main Building students only)

Riverside is pleased to offer upcoming soccer clinics for students in the Main Building. The clinics, conducted by Coach Cam Childress, will be conducted on Friday, April 16, 23 and 30 from 2:15-3:30 p.m.

As in the past, our focus is centered on learning teamwork and soccer skills, encouraging full participation, and having fun! Please click here
to learn more and sign up.
Schoolwide Photo Shoot at Riverside is April 13

Photographer and Riverside parent Proctor Trivette, will be on campus on Tuesday, April 13 from 9 a.m.-12 p.m., taking photos of the students and the school to update our brochures, yearbook, Annual Report and other marketing items.
We are asking boys and girls to please make sure to wear solid colored shirts / tops.


Parents' Association News
Parents' Association Meetings / Parent Coffees—
Mark Your Calendars to Attend!

Don't forget to circle your calendars for for remaining Parents' Association meetings, which are set for April 14 (12 p.m.) and May 12—please make plans to join us.
Also, please save the dates for the biweekly parent coffees where you can check in and chat with Riverside administrators—the next
one is Friday, April 16 at 8:30 a.m. We would love for you to be a
part of the dialogue and any topic is fair game. Please use this
Zoom link in order to attend.
Save the Date: Riverside BINGO Night! Thursday, April 22

Riverside's Parents' Association is organizing a 'virtual' Bingo night for the evening of April 22. Prizes will include a student being 'Head of School for the Day,' choosing a teacher to get the preferred parking space, Riverside swag bags and more!


Development Update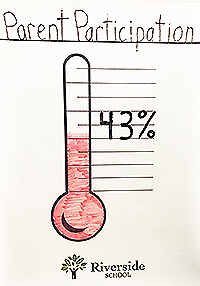 WITH THE CALENDAR PAGE TURNING TO APRIL, it means we are beginning the final push in our Annual Fund Campaign. As many of you remember from past years, a big part of that push is our goal of reaching 100 percent participation in Annual Fund giving from current parents. You all have  helped us accomplish this goal in two of the past three years!
Once again, we have a $5,000 challenge grant on the line if we can get to 100 percent. Currently, we are sitting at 43 percent participation, which is well ahead of the pace from last year. Remember, a gift of any amount counts! I hope that you can help us reach 100 percent again this year, earn the extra $5,000 gift for Riverside, and support our students and
teachers by giving them the tools they need to succeed.
Please reach out to me if you have any questions about the Annual Fund, or if you are unsure if you have donated this fiscal year.
Thanks very much,

— Leo Rohr
Director of Development

from the desk of…
the Head of School



I DID MY BEST THIS MORNING TO CONVINCE the students that we would be renaming ourselves as the 'Oceanside School' and would need all t-shirts and other branded items returned for updating, but pretty much everyone knew immediately it was just an April Fool's joke.
I hope you all have a wonderful Spring Break next week, and I look forward to seeing you and your students on Monday, April 12.

— Hal Waller
Head of School

In Their Own Words…
"The teachers are really nice and teach you good things."
— Wesley, student at Riverside School 

Last Friday's Corny Joke


What movie is about a bouncing dog?
— Lady on the 'Trampoline'