Riverside School eNews, April 11, 2019
Thursday, April 11th, 2019
For Your Calendar

Friday, April 12 – Chick-fil-A Lunch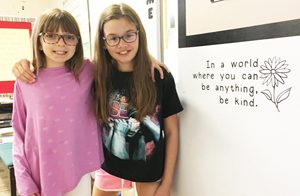 Friday, April 12 – 2:15 p.m. Dismissal for Students
Friday, April 12 – Soccer Practice, 2:15-3:30 p.m.
Monday, April 15 – Pizza Hut Lunch
Tuesday, April 16 – Lower Elementary Presentations, 7 p.m.
Wednesday, April 17 – Newspaper Club, 7:35 a.m.
Thursday, April 18 – 'Purposeful Play and Tinker Trays' Art Club (grades K-3),
3:05-4:30 p.m.
Thursday, April 18 – Bake Sale – Mrs. Sculthorpe's class
Friday, April 19 – Teachers' Workday, 12 p.m. dismissal for students
Friday, April 19 – No Soccer Practice

News and Notes
Welcome to Bethany Hughes

Please join in extending a warm Riverside welcome to new student Bethany Hughes. Bethany joined us after Spring
Break and is in Mrs. Bushhouse's class. Welcome, Bethany!
A Great Day for Lemonade—Tomorrow, April 12

Riverside family, there will be a lemonade stand available to all
students and staff on April 12 (yes, that's tomorrow)!  Mrs. Bushhouse's math class is completing a unit on fractions, decimals and percents in
the real world. Their hard work and manual labor will be on display
during each building's snack time.
Students in the Commons and North Building: 8-ounce cup for 50 cents
Students based in Ticer Hall: 12-ounce cup for 75 cents
Teachers: 12-to-16 ounce cup with ice for $1.50
All proceeds will be given to the local charities selected by the students. Thanks so much for your support!
Mark Your Calendar: Main Building Presentations are Tuesday, April 16  

Riverside's Homerooms in the Main Building (Mayer, Myers, Waldenmaier and Shoop) are looking forward to presenting their projects to their families on Tuesday, April 16 at 7 p.m. The program should last approximately one hour. Siblings and extended family are welcome.
North and Ticer Presentations, Tuesday, May 7

Riverside's Homerooms in North and Ticer Buildings (Bushhouse, Hague, Sculthorpe and Estes) are looking forward to presenting to their families
on Tuesday, May 7 at 7 p.m. The program should last approximately one hour. Siblings and extended family are welcome.

Listen to a New Podcast About Riverside

A must-listen: There is a insightful new podcast featuring Riverside's own acclaimed instructor Cynthia Davis, Fellow, AOGPE and Riverside's O-G Coordinator, talking truth about dyslexia and incredible voices from Riverside's kids' panel. This wonderful podcast was produced by author Gary Karton and Sa Kids Worldwide. This will 'wow' you!
Last Call: Sign Up for Riverside's New Art Club—
'Purposeful Play and Tinker Trays' 

Join Riverside's award-winning Studio Arts teacher Christy Lantz for 'Purposeful Play and Tinker Trays' Art Club. The dates are April 17 and 24, as well as May 1, 8, 15 and 22 from 3:05-4:30 p.m. in the Riverside Art Room. Please note that the class is limited to the first 12 students and is for children in grades K-3 only. The cost is $100.
There will be three ongoing stations set up daily, including clay, observational drawing and collage work or sculpture (tinker trays). Also, unique experiences will be set up each day for exploration. The class's final project will be an amazing Reggio inspired self-portrait.
Please click here for more information and the permission form in order to register. Upon completion, the form needs to be turned in to Riverside's front office with payment to be placed on the list for Art Club. Please note that we are not sending home a paper copy to parents, so please take time to print / complete the permission form and register.
Save the Date: Virginia Outside is Next Friday, April 19
at the University of Richmond

Virginia Outside will hold an afternoon of fishing at the University of Richmond. Pick up and drop off will be at Riverside School. Virginia Outside will provide all the equipment. No experience is needed—just pack your smile and a sense of adventure! The session is from 12-2:30 p.m. and cost is $30.
Click here to learn more and click here to register.

Field Day at Riverside is April 24
RIVERSIDE'S FIELD DAY IS DESIGNED TO BE AN ALL-SCHOOL, afternoon activity in which students will have fun, practice good sportsmanship, and demonstrate the skills that they have developed in the physical education program.
Field Day will take place on Wednesday, April 24, from 11:30 a.m. until 2:45 p.m. The rain date is May 1. All events will take place on the athletic field and blacktop behind the school.
Students will be divided into eight teams of mixed grade levels. Each team will be chaperoned by one teacher and one parent. The teams will be named for colors (red, green, orange, blue, gray, yellow, white and brown) and students and chaperones will wear the colors of their team.
Although the teams will not be directly competing against each other, team-building will take place, with students cheering on and encouraging other members of their team.
There will be nine events and all teams will compete in each event simultaneously, in order to minimize downtime.
Please note: Riverside will be sending home information with your child regarding team assignments via hard copy.


Reach Out and Read Book Collection

THANK YOU FOR YOUR DONATIONS to the Richmond area's book collection. Your families provided 520 books to the Northside Medical Center and pediatricians. These books will provide pleasure reading for many throughout the metro area. Your generosity is most appreciated.
Because of the support of caring organizations and people like you each year across the state of Virginia, more than 121,500 children, ages six months to 5 years old, are preparing to succeed in school with the help of their pediatricians and Reach Out and Read.


Parents' Association Volunteer Opportunities

Riverside at the Flying Squirrels Baseball Game


Riverside's Day at The Diamond is on Sunday, May 5. The Richmond Flying Squirrels will play the Altoona Curve at 1:05 p.m. This is a fundraising event for Riverside.
Please click here for details. More information to follow.

Calling All Parents…

The Parents' Association is looking for new leadership for the 2019-20 school year. Please let us know if you are interested or have any questions about this opportunity.
Show Off Your Riverside School Spirit

Riverside School car magnets are available for purchase for $5. Please see Anne Kunkle in the front office if you are interested.

Development Update
WE ARE OFFICIALLY ONE MONTH OUT from the Bon Air Victorian Day parade (Saturday, May 11) and we'd love to have you march with us! We will gather at Bon Air Baptist Church at 10 a.m. to line up for the 11 a.m. parade. We are asking each family that participates to bring a bag of candy to throw out to the spectators along the parade route. Please send me an e-mail if your family plans to join in on the fun.
For the rest of the year, I will be including the current level of parent participation in the Annual Fund Campaign. We are currently at 40 percent. Remember, if we can get to 100 percent like we did last year, Riverside will receive a $5,000 challenge grant.
Thanks for your support!
— Leo Rohr
Director of Development

from the desk of…
the Head of School

THIS PAST WEDNESDAY, we had yet another amazing Adult Dyslexic Speaker come to our Morning Assembly. Her name is Courtney Ferrell, and I saw her speak at a recent VAIS event about creativity and joy. She mentioned her own dyslexia in her talk, and when I shared that I worked at a school specifically for students with dyslexia, she was very enthusiastic about coming out and meeting our students.
Unfortunately, we don't have a full video of her visit to Riverside, but if you Google her name, you will find a number of videos of her TEDxTalks and other presentations she has done. Here is a recent video of hers focusing on creativity, which was one of the topics when she came to Riverside. Click here to view the video.
And while I am promoting media, an excellent podcast featuring some of our students, as well as our very own Orton-Gillingham Fellow Cynthia Davis, can be found in the 'News and Notes' section of this e-newsletter, on our Facebook page, our Twitter handle, or by clicking on the badge on the top of our website at: https://www.riversideschool.org.
I had the pleasure of meeting Gary Karton when he visited our school and recorded the podcast, and I think he did a great job of capturing some of what makes our school so special.

In Their Own Words 
"I like how teachers take care of kids who need help."
— Kenley, student at Riverside School 

Last Friday's Corny Joke
What kind of weather do cupcakes like?
Sprinkles!