Riverside School eNews, April 16, 2020
Thursday, April 16th, 2020
Above: Riverside student, Stephen, recently stopped by campus after hours for a picture near the school's perimeter—his and others' deep-rooted connection to the school is what helps make Riverside special. He stopped very quickly just for a photo as campus is closed—but we think that it is great that his school stomping grounds are being thought of even while everyone is away.
For Your Calendar
Please click here for a pdf of the April calendar of events at Riverside >>

Please click here for a pdf of the May calendar of events at Riverside >>
Wednesday, April 22 – Special Extended Morning Assembly; no math class
Friday, April 24 – All-Day Teacher Workday
Friday, May 1 – Half-Day School Day; Online / 'Virtual' Field Day, 11 a.m.
Monday, May 4 — Brown Bag Pick-Up / Work Drop-Off for Families
Friday, May 8 — Half-Day School Day; Online / 'Virtual' Founder's Day, 11 a.m.
Monday, May 11 — Online / 'Virtual' Basketball and Soccer Awards Assembly, 3 p.m.

Wednesday, May 13 — Online / 'Virtual' Special Extended Morning Assembly; no math class
Friday, May 15 — Half-Day School Day; Online / 'Virtual' Talent Show, 11 a.m.
Friday, May 22 — All-Day Teacher Workday
Monday, May 25 — Memorial Day Holiday
Friday, May 29 — Last Day of Classroom Instruction
Tuesday, June 2 — Last Day of LF Instruction
Wednesday, June 3 — Online / 'Virtual' Moving On Ceremony

ADMISSIONS FOR THE 2020-21 SCHOOL YEAR
We are currently accepting applications for 2020-21 and interested applicants may contact Riverside Associate Head of School Debra Mitchell at: dmitchell@riversideschool.org.

COMMUNICATING DURING THE CORONAVIRUS CRISIS
Photo Galleries / Helpful Articles
BELOW IS A LOOK at some of the happenings from a pictorial and editorial perspective that have a touchpoint to Riverside during this challenging time.
• – Thursday, April 16 (photo)
• – 'Must Read Books for Parents of Dyslexic Children' (Wednesday, April 15)
• – Tuesday, April 14 (photo gallery)


Register for Riverside Summer Camp (July 20-31)

HELP YOUR CHILD ENJOY SCHOOL TO ITS FULLEST by providing and empowering them with the skills they need to succeed. Riverside's Orton-Gillingham Summer Camp, set for July 20-31 provides campers with 45 minutes of one-on-one, multisensory language instruction with a Riverside trained
Orton-Gillingham teacher every day. In addition, the camp will include math, writing, and either science or music—all provided in a small group setting.
Please note: Camp fills quickly, so please reserve your child's spot today, Please click here to learn more and register >>


Sign Up for Riverside Summer Tutoring Today—
And Brighten Your Child's Future
SUMMER TUTORING AT RIVERSIDE OFFERS our students the opportunity to continue with one-on-one, multisensory Language Fundamentals and / or math in a friendly, supportive environment with a Riverside teacher.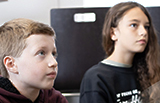 Tutoring will be billed by the school's Business Office at a rate of $65 per 50-minute session on a monthly basis. Sign up today as tutoring slots fill quickly and will be offered on a first-come, first-served basis.
Please complete and send in the attached registration form found here. Please contact Suzie Eklund, Director of Language Fundamentals at Riverside, for additional information and/or a registration form at: seklund@riversideschool.org.
Please note: From June 29-July 10, campus will be closed for annual maintenance and cleaning, and there will be no tutoring during these two weeks.

Music Notes
RIVERSIDE STUDENTS ARE CONTINUING TO STUDY THE INSTRUMENTS of the orchestra.
This week, we are learning about the oboe and the bassoon of the Woodwind family. We are also playing rhythms on whatever 'instruments' students can find around the house—great fun! Some students played water bottles, sticks, real drum sets and guitars—it really varied.
I am proud of each student for making their greatest effort to participate. Music class will always end with a fun song. During this week's sessions, we are singing 'Lean on Me.'
— Cori Bider
Music Teacher 

Development Update
I'D LIKE TO TAKE THIS OPPORTUNITY TO THANK THE 'THANKERS.' This week, 25 Riverside volunteers are participating in our Thankathon and reaching out to past Annual Fund donors. We are saying 'thanks' and giving updates about what is happening at the school during the COVID quarantine.
In having these Thankathon conversations, we're hoping to keep the Riverside community connected. I hope our virtual events for Founder's Day on May 8 will continue that effort, so stay tuned for more information about that.
Thanks again to all of you for your help and I hope you and your families are doing well.
— Leo Rohr
Director of Development

from the desk of…
the Head of School



SINCE LEO ROHR IS USING HIS 'DEVELOPMENT UPDATE' SPACE TO THANK the 'thankers,' I will use this space to thank the 'helpers.'
Our teachers are definitely Riverside's number one helpers, but there are many more helpers for the school. Just today, I picked up a stack of brown paper bags kindly donated to Riverside by Donnie Caffery at the Good Foods Grocery Store at the Stony Point Shopping Center in Bon Air (http://www.goodfoodsgrocery. com). Donnie has no direct connection to Riverside—he just wanted to help out our students. Thank you, Donnie!
Thanks also to all of the parents who 'came out' to the virtual parent coffee this past Tuesday. I look forward to our next one on Monday, April 27, from 11-11:45 a.m.
Important Links for Coronavirus /
COVID-19 Awareness
• – Executive Stay-At-Home Order from Virginia Governor Ralph Northam
• – Comcast Xfinity Free Hotspot Map
• –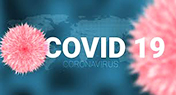 Social Distancing 101
• – Coronavirus Disease 2019 Situation Summary
• – World Health Organization COVID-19 Information
• – Talking to Children About COVID-19
• – Virginia Department of Health
• – Traveler's Health
• – 'M*A*S*H' and the Coronavirus (PSA)


Last Friday's Corny Joke

Why did the basketball player sign up for the Crafting Club?
He wanted to learn how to make baskets!