Riverside School eNews, April 2, 2020
Thursday, April 2nd, 2020
For Your Calendar
Friday, April 3 – Parents / families curbside pick-up of student materials for some classes, 8:30 a.m.-3 p.m. (note to parents and families: Please call ahead either on the school's number: 804-320-3465 or Riverside Head of School Hal Waller's personal cell number: 804-248-9245, and we will bring the materials out to your car when you arrive.) 
Friday, April 10 – School Holiday
Monday, April 13 – School Holiday
Wednesday, April 22 – Special extended Morning Assembly; no math class
Friday, April 24 – All-Day Teacher Workday
ADMISSIONS FOR THE 2020-21 SCHOOL YEAR
We are currently accepting applications for 2020-21 and interested applicants may contact Riverside Associate Head of School Debra Mitchell at: dmitchell@riversideschool.org.

COMMUNICATING DURING THE CORONAVIRUS CRISIS
Photo Galleries / Helpful Articles 
HERE IS A LOOK at some of the happenings from both a pictorial and editorial standpoint that have a Riverside touchpoint during this challenging time:
• – Tuesday, March 31 (photo gallery)
• – Monday, March 30 ('Lunch Doodles' for children with author Mo Willems)
• – Saturday, March 28 ('Coronavirus: Practicing Wellness While You Stay at Home')
• – Thursday, March 26 (photo gallery)




A Look 'Behind-the-Scenes' at
Riverside Morning Assembly


RIVERSIDE'S TEACHERS, INSTRUCTORS, STAFF AND ADMINISTRATORS HAVE ENSURED that the school tradition of Morning Assembly is conducted each day prior to the start of online / 'virtual' school day.
Click on the picture to the left or here for a 'behind-the-scenes' look at the mechanics of how words, pictures and video reach individuals with a touchpoint to Riverside each morning.

Sounds and Videos Archives
RIVERSIDE SCHOOL HAS BEEN keeping its constituents up to date via regular video postings to YouTube and through other social mediums.
Video Galleries (click on the date below or picture to view) >>
March 26, 2020 (Riverside Technology Advances School Mission)


Register for Riverside Summer Camps
HELP YOUR CHILD ENJOY SCHOOL TO ITS FULLEST by providing and empowering them with the skills they need to succeed. Riverside's Orton-Gillingham Summer Camp provides campers with 45 minutes of one-on-one, multisensory language instruction with a Riverside trained Orton-Gillingham teacher every day. In addition, the camp will include math, writing, and either science or music—all provided in a small group setting.
Meanwhile, with Riverside's Arts and STEM camp, students have the opportunity to explore their creative side in a more relaxed summer setting with current Riverside teachers. Campers will participate in crafty arts that will include tie-dye, Ojo de Dios, friendship bracelets, and more! Additionally, makerspace will
allow campers to build and design to solve problems. Children will create music and sing fun songs along with the piano. Technology activities will incorporate interactive coding and programming.
Please note: Camp fills quickly, so please reserve your child's spot today,
Please click here to learn more and register >>


Sign Up for Riverside Summer Tutoring Today—
And Brighten Your Child's Future
SUMMER TUTORING AT RIVERSIDE OFFERS our students the opportunity to continue with one-on-one, multisensory Language Fundamentals and / or math in a friendly, supportive environment with a Riverside teacher.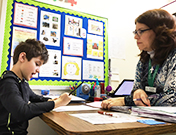 Tutoring will be billed by the school's Business Office at a rate of $65 per 50-minute session on a monthly basis. Sign up today as tutoring slots fill quickly and will be offered on a first-come, first-served basis.
Please complete and send in the attached registration form found here by Thursday, April 9. Please contact Suzie Eklund, Director of Language Fundamentals at Riverside, for additional information and/or a registration form at: seklund@riversideschool.org.
Please note: From June 29-July 10, campus will be closed for annual maintenance and cleaning, and there will be no tutoring during these two weeks.

Music Notes
WE ARE HAVING A GREAT TIME STUDYING THE BRASS FAMILY in music class again this week. We focused on the trumpet and the trombone last week, and these days we are learning about the tuba and the french horn.
The class is also reviewing rhythmic values and have started singing a new song, 'Lean on Me.' Please encourage your children to listen to it whenever you are able as doing so will make learning the song a lot easier.
Thanks for all you are doing to encourage your children at this time!
— Cori Bider
Music Teacher 

Checking In from the Library
CAPSTONE PUBLISHERS HAS OPENED UP INCREDIBLE RESOURCES FOR CHILDREN. PebbleGo is a database of information that is just right for younger students. Topics include science, history, social studies and biographies. Additionally, PebbleGo Next is a database of information appropriate for older students (grades 4 through middle school).
The information is concise and includes audio narration with text highlighting and built-in tools such as a dictionary and citation maker. They have also expanded their ebook collection and now offer thousands of high-quality titles accompanied by audio narration with text highlighting. Topics include: fiction, graphic novels and non-fiction topics, including science, history and more!

Student Access Instructions:
For students in Mrs. Mayer's, Ms. Myers' and Mrs. Waldenmaier's classes
– PebbleGo (English and Spanish):
– Visit www.pebblego.com
and
click 'Sign In'
– *Username*: engaged
– *Password*: learning
For students in the North Building and Ticer Hall:
– PebbleGo Next:
– Visit www.pebblegonext.com
and
click 'Log In'
– *Username*: engaged
– *Password*: learning
For all:
– Capstone Interactive eBooks:
– Visit www.mycapstonelibrary.com
and
click 'Log In'
– *Username*: continue
– *Password*: reading

Development Update
WHILE I'M NOT A REGULAR AMAZON CUSTOMER, I know a lot of folks out there that are, especially during this time of 'shopper distancing.'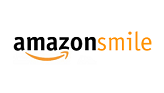 If you are an Amazon shopper, I'd like to remind you about Riverside's AmazonSmile account, which earns a small percentage of each purchase you make through this link– https://smile.amazon. com/ch/54-0895408. Also, please don't forget that Riverside is part of the shopper rewards programs at Kroger and Publix too.
Thanks, take care, and stay safe.
— Leo Rohr
Director of Development

from the desk of…
the Head of School



THANK YOU, PARENTS, FOR BEING SUCH A HELP with the 10 expectations for remote learning shared last week. We are seeing an increase in students coming to class on-time, prepared, and 'electronically ready,' and it is a big help to teachers.
We are busy planning May virtual activities for the students (and the principal) to look forward to, including a virtual Field Day, Founder's Day, the Sports Awards Assembly, and the Talent Show. We are also planning in June for the Moving On Ceremony and Parent-Teacher Conferences.
These will all look different from what we are used to, but they will also be the same in the most important way—bringing us together as a school. Stay tuned for dates / times and more details.
Important Links for Coronavirus /
COVID-19 Awareness
• – Executive Stay-At-Home Order from Virginia Governor Ralph Northam
• –
Comcast Xfinity Free Hotspot Map
• – Social Distancing 101
• – Coronavirus Disease 2019 Situation Summary
• – World Health Organization COVID-19 Information
• – Talking to Children About COVID-19
• – Virginia Department of Health
• – Traveler's Health


Last Friday's Corny Joke


Why did the baseball player leave the stadium?
His coach told him to run home.