Riverside School eNews, April 22, 2021
Friday, April 23rd, 2021
Riverside School students are having fun applying lessons from books they've read such as 'Bud, not Buddy' and 'Code Talker' to learn about the Great Depression and Navajo Indians. They're also learning about World War I, World War II and the Spanish-American War, among other subject matters. Students are taking concepts that are a part of ideas and applying them to Monopoly game strategies to express their grasp of each lesson. Please click here for a photo gallery.
This Coming Week's Events…
Thursday, April 22 – Bon Air Pedestrian Improvements Public Hearing (via 'Zoom'),
5 p.m. (see Head of School's message below for more information)
Thursday, April 22 – Riverside Parents' Association Bingo Night (via 'Zoom'), 7 p.m.
Friday, April 23 – Soccer Clinic (North and Main Building students), 2:15-3:30 p.m.
Tuesday, April 27 – Parent Coffee (via 'Zoom'), 12 p.m.
Wednesday, April 28 – Main and North Building Class Presentations (via 'Zoom'),
7 p.m.
Thursday, April 29 – Ticer Class Presentations (via 'Zoom'), 7 p.m.
Friday, April 30 – Fun Friday: Arbor Day (free to participate)
Friday, April 30 – Soccer Clinic (North and Main Building students), 2:15-3:30 p.m.
Upcoming Events…
Monday-Friday, May 3-7 – Teacher Appreciation and Seriously Silly Staff Week (see 'Development Update 'below for more info)
Wednesday, May 5 – Field Day
Thursday, May 6 – Progress Notes Issued
Friday, May 7 – Founder's Day / Day of Giving

Parents' Association 'Virtual Bingo Night' is
This Evening!
TONIGHT MARKS RIVERSIDE'S FIRST VIRTUAL BINGO NIGHT! From 7-7:45 p.m., we will play three games and mix in some fun entertainment. Each game will have at least three winners and prizes include Riverside swag bags, shirts, extra recess time, and the chance to be Head of School for the Day!
We will be sending six Bingo cards home in today's folders, enough for each student and a family member to play each of the three games. There is no cost to
participate.
Please click on this Zoom link in order to play.

News and Notes

April Calendar
Please click here for a schedule of events for the remainder of the month of April at Riverside School.

Parents' Association News
Next Parent Coffee is Tuesday—Mark Your Calendars to Attend!

Don't forget to circle your calendars for the biweekly parent coffees where you can check in by 'virtual' means and chat with Riverside administrators. The next one is Tuesday, April 27 at 12 p.m. We would love for you to be a part of the dialogue. Please use this Zoom link in order to attend.
Also, please save the date for the remaining Parents'  Association
meeting, set for May 12 at 12 p.m.—please make plans to join us.

Development Update
'SERIOUSLY SILLY STAFF WEEK' RETURNS TO RIVERSIDE from
May 3 through May 7. Each day, a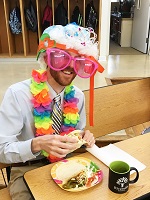 selection of staff members will be putting themselves up to take part in a silly event. We will share the daily themes and contestants with you next week in this space.
Students will vote with their dollars each day for who they want to subject to the silliness. The money raised over the course of the week will be split between campus beautification plantings (in conjunction with arbor day), a donation to an animal related charity to be determined by the Student Council, and the purchase of new P.E. equipment.
The week will also feature teacher appreciation events coordinated by our wonderful Parents' Association. Thank you in advance for your children's participation in the silly staff events, and your participation in Teacher Appreciation Week!
— Leo Rohr
Director of Development
P.S. Annual Fund Current Parent Participation- Goal: 100%; Currently: 43%.

from the desk of…
the Head of School

This is a 'thank you' in advance to all parents who are able to take part in this evening's 5 p.m. Zoom meeting about the planned Chesterfield bike path that will be on part of our campus. In case you haven't already done so, here is a link to register for the meeting:
https://timmons.zoom.us/ webinar/register/WN_ 5FspwX57SQeZW9jCC8GdEQ
In order for Riverside's input into the project to be heard, it is important that we have as many Riverside parents at the meeting as possible.
Below are additional links with more information about the project. Thanks so much for your support of Riverside School.
Links to more information about the project:
1) Chesterfield website project page: https://www.chesterfield.gov/4994/Bon-Air-PedestrianBike- Improvements-Phase
2) Timmons website project page: https://bonairpeds-ph2.timmons.com/
3) Map of path: https://www.chesterfield.gov/DocumentCenter/View/20560/Bon-Air-Pedestrian-Improvements-Phase-2—Public-Hearing-Display-PDF

— Hal Waller
Head of School 

In Their Own Words…
"LF [Language Fundamentals] is fun because you get to learn by playing games."
– Harvey, student at Riverside School

Last Friday's Corny Joke

Why aren't planets social?
They need their space!