Riverside School eNews, April 25, 2019
Thursday, April 25th, 2019
For Your Calendar
Friday, April 26 – 'Neon Day'
Friday, April 26 – Pizza Hut Lunch
Friday, April 26 – 2:15 p.m. Dismissal for Students
Friday, April 26 – Soccer Practice, 2:05-3:30 p.m.
Monday-Friday, April 29-May 3 – Teacher Appreciation Week
Tuesday, April 30 – Mi Hacienda Lunch
Wednesday, May 1 – Virginia Museum of Fine Arts Field Trip (Mrs. Sculthorpe's and Mrs. Estes' classes), 9:30 a.m.-2 p.m.
Wednesday, May 1 – Art Club (grades K-3), 3:05-4:30 p.m.
Thursday, May 2 – Progress Notes Issued
Friday, May 3 – Chick-fil-A Lunch
Friday, May 3 – 2:15 p.m. Dismissal for Students
Friday, May 3 – Soccer Practice, 2:05-3:30 p.m.
Friday, May 3 – Founder's Day Reception, 2:30-3:30 p.m.

News and Notes
May Schedule of Events
Please click here for the school's schedule of events for the month of May.
Mark Your Calendar: North and Ticer Presentations are


Tuesday, May 7
Riverside's homerooms in the North and Ticer buildings (Mrs. Bushhouse, Mrs. Hague, Mrs. Sculthorpe and Mrs. Estes) are looking forward to presenting to their families on Tuesday, May 7 at 7 p.m. The program should last approximately one hour. Siblings and extended family are welcome.

Listen to a Podcast About Riverside

A must-listen: There is an insightful new podcast featuring Riverside's own acclaimed instructor Cynthia Davis, Fellow, AOGPE and Riverside's O-G Coordinator, talking truth about dyslexia and incredible voices from Riverside's kids' panel. This wonderful podcast was produced by author Gary Karton and Safe Kids Worldwide. This will 'wow' you!

Mark Your Calendars for Thursday May 30!
YOU WILL NOT WANT TO MISS Riverside's New Parent Testing Workshop from 6-7 p.m.
Debra Mitchell, Associate Head of School, and Cynthia Davis, O-G Coordinator, will share information about your child's testing
results, which you will receive at the end-of-year conference.
You'll learn what each assessment measures and exactly why we give it. You'll discover what you can learn from our curriculum
based assessments and how that compares to standardized
testing results. We'll also analyze some real testing (from former
students) to make it all come to life.
–FOR RETURNING PARENTS–
You don't have to miss out! You're invited to come to our Returning Parent Testing Workshop on the same night  from 7:15-8 p.m.
Questions? Please contact Riverside at (804) 320-3465. See you soon! 

Save the Date: Riverside Day at the Flying
Squirrels Game is Fast Approaching (May 5)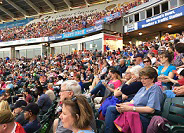 RIVERSIDE'S DAY AT THE DIAMOND is on Sunday, May 5. The Richmond Flying Squirrels will play the Altoona Curve at 1:05 p.m. This is a fundraising event for Riverside's Parents' Association.
Please click here for more information and click here for details and to purchase your tickets.
Note: If we sell 100 tickets, Riverside gets to throw out one of the pregame pitches!

Parents' Association News
Teacher Appreciation Week Starts This Coming
Monday, April 29 Through May 3

We will celebrate our wonderful teachers and staff during the week of April 29-May 3. During this week, there will be many ways that our children and families can demonstrate their gratitude for all of our teachers' hard work throughout the year.
Please look for a separate email with more details and information from
Ashley Townsend-Simons.
Lunches in May

Please click here if you are able to help distribute lunches in May. New sign-up dates have been added for May. Your help is needed and greatly appreciated in advance. 
Also, May Lunch Order Forms are available by clicking here and are due Monday, April 29.
Don't Toss Your Box Tops

Please send in any box tops that you have collected no later than Friday, May 24. Although they will not be submitted until October, we will have a final collection for the school year.
Click here for a box top worksheet that can be used to collect them.

Calling All Parents…

The Parents' Association is looking for new leadership for the 2019-20 school year. Please let us know if you are interested or have any questions about this opportunity.
Show Off Your Riverside School Spirit

Riverside School car magnets are available for purchase for $5. Please see Anne Kunkle in the front office if you are interested.

Development Update 
SPRING IS SUCH A BUSY TIME HERE AT RIVERSIDE!
Yesterday, we had an amazing Field Day, and thank you to everyone who came out and helped make it happen. Next Friday is Founder's Day and not only will we be having a reception honoring retiring staff members Christine Bachmann, Diane Garofalo and
Becky Hollingsworth, we will also hold our first Day of Giving in conjunction with the event. Then, on Saturday, May 11, we will be marching in the Bon Air Victorian Day Parade. And that is not even counting all of the Parents' Association events and activities. I am looking forward to everything as we finish the school year on a strong note!
Please RSVP to me if you can attend the Founder's Day reception on May 3 or if your family wants to march in the parade on May 11.
Annual Fund Parent Challenge Update (please read Mr. Waller's letter for more information about this challenge)
Current Parent Participation – 43%
Percent needed for $5,000 challenge grant – 100%
— Leo Rohr
Director of Development

from the desk of…
the Head of School

IF YOU HAVE BEEN DOING DROP-OFF OR PICK-UP FOR YOUR CHILD over the past few days, you may have seen me standing beside a poster board with a thermometer and percentage on it. If you were part of the Riverside family last year, then you probably remember the sign from last year and its slow climb to the 100% we achieved by the end of May.
The sign monitors the "current parent percentage participation in the Annual Fund Campaign," and this year, if we can reach 100% parent participation, we will receive a $5,000 challenge grant from an anonymous donor.
What exactly is the Annual Fund? It is our yearly fundraising campaign for Riverside that provides money for the margin of excellence that we have come to expect for our students. Annual Campaign funds go to things like special classroom materials, books for our library, software subscriptions and teacher attendance at conferences. Our goal this year is for our Annual Fund Campaign to raise $185,000 for our school by May 31, and we are getting close to our goal.
What does it mean for a parent to participate? Any donation amount counts. A family can give $1 or $10,000, and it still counts as participating. Once we reach 100%, our anonymous donor will give $5,000.
Why is it important that all families give? Having 100% parent participation in the Annual Fund sends a message to potential large donors and grant-making organizations that our parents are "all-in" on Riverside's mission. Few schools ever reach 100% parent participation, and we are hoping to make it a tradition here at Riverside.
How do I know if I have given already? If you have given to the Annual Fund this school year, then you are counted in the percentage. If you aren't sure, please send a quick email to our Director of Development Leo Rohr at lrohr@riversideschool.org and he will let you know.

In Their Own Words…
"I like that the teachers pay attention to us and that there are small class sizes."
— James, student at Riverside School

Last Friday's Corny Joke
What monster plays the most April Fools' jokes?

Prankenstein!