Riverside School eNews, Feb. 25, 2021
Thursday, February 25th, 2021
—Important Note About Re-Enrollment (Urgent)—  
Please note: Re-enrollment and tuition deposit
for the 2020-21 school year is NOW due. The
deadline is tomorrow, Friday, Feb. 26.
This Coming Week's Events…
Friday, Feb. 26 – Deadline for Re-Enrollment and Tuition Deposits
Friday, Feb. 26 – 'Fun Friday:' Dress like a book or movie character ($1 donation to the Children's Hospital required)
Friday, Feb. 26 – Basketball Clinic (North Building / Ms. Nagy's students),
2:15-3:30 p.m.
Wednesday, March 3 – Parent Coffee ('virtual'), 12 p.m.
Wednesday, March 3 – Student Council Meeting, 3-3:45 p.m.
Thursday, March 4 – Progress Notes Issued
Friday, March 5 – Basketball Clinic (North Building / Ms. Nagy's students),
2:15-3:30 p.m.
Upcoming Events…
Wednesday, March 10 – Parents' Association Meeting ('virtual'), 12 p.m.
Thursday, March 11 – Teachers' Workday (no school for students)
Friday, March 12 – No school
Sunday, March 14 – Daylight Savings Time begins

Register Today for Summer
Tutoring at Riverside
SUMMER TUTORING AT RIVERSIDE OFFERS OUR STUDENTS the opportunity to continue with one-on-one, multisensory Language Fundamentals and / or math in a friendly, supportive environment with a Riverside teacher. This summer will offer both in-person and remote learning options.
Each session will be billed by the school's Business
Office at a rate of $65 per 50-minute session on a monthly basis. Tutoring slots fill up quickly and will be offered on a first-come, first-served basis.
Please complete the electronic Summer Tutoring
sign-up form here by Thursday, March 19. 
If you have any questions about this program and if it is right for your child, contact Suzie Eklund, Director of Language Fundamentals at Riverside, seklund@riversideschool.org.
Please note: The Riverside campus will be closed June 21-July 2 for annual maintenance and deep cleaning, and there will be no in-person tutoring during these two weeks.

Register for Riverside's Orton-Gillingham
Summer Camp—Spots Fill Quickly
—

Please note: Camp for children in rising grade 1-rising grade 2 are full

—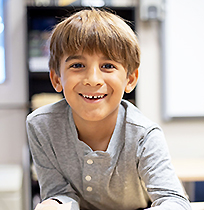 HELP PREPARE YOUR CHILD'S RETURN to school for the 2021-22 academic year with the skills they need to succeed.
The Orton-Gillingham Summer Camp at Riverside will provide campers with 45 minutes of one-on-one, multisensory language tutoring with a Riverside trained Orton-Gillingham teacher every day. In addition, the camp will include language arts or writing, math, and either science or music—all provided in a small group setting with personal attention paid to each camper, the hallmark of Riverside's approach to
learning.
Please note: Registration is currently open for students in rising grade 3 through rising grade 6
Dates: July 19-30, 2021
Time: 8:30 a.m.-12 p.m.
Cost: $850 (Nonrefundable deposit of $200 is due with registration and applied toward tuition)
Ages: Rising grade 1 through Rising Grade 6 (currently open for students in rising grade 3 through rising grade 6)
Tuition balance is due by June 1.
Click here to learn more and register.

News and Notes
February Calendar
Please click here for a schedule of events for the remainder of the month
of February at Riverside.
March Calendar
Please click here for a schedule of events for the month of March at Riverside.
Fun Friday…Finally!

The Student Council-sponsored Fun Friday originally scheduled for Feb. 12
but twice delayed by ice storms is finally set to happen tomorrow. For a $1 donation to Children's Hospital, students can dress up like a book or movie character. Fun PE activities and big matching donations are up for grabs if classes can get great participation, so students are encouraged to donate
a dollar even if they don't want to dress up.
Limited Spots Available for Basketball Clinic Sign-Ups
(North Building Students and Students in Ms. Nagy's Class)

Riverside is pleased to offer a basketball clinic for North Building students
as well as students in Ms. Nagy's class. There are a few spots remaining to sign  up for the clinics. Remaining sessions are set for Feb. 26, March 5 and March 19 from 2:15-3:30 p.m. The cost is $35. 
These clinics keep your child active, kids learn the value of teamwork and
enjoy learning new skills. See the flyer here for more details and the
release form. 

Parents' Association News
Parents' Association Meetings / Parent Coffees—
Mark Your Calendars to Attend!

Please save the dates for the biweekly parent coffees where you can check in and chat with Riverside administrators—the next one is next Tuesday, March 3 at 12 p.m. We would love for you to be a part
of the dialogue and any topic is fair game. Please use this Zoom link in order to attend.
Also, don't forget to circle your calendars for remaining Parents' Association meetings, which are set for March 10, April 14 and May 12—please make
plans to join us.

Development Update
LAST NIGHT, ABOUT 30 ALUMNI, PARENTS OF ALUMNI, AND FRIENDS of Riverside joined a Zoom to catch up with the school's founder, Pat DeOrio (pictured right). Many old stories were shared
and current updates were given, and the strong community spirit of Riverside was on full display.
What I noticed throughout was that regardless of whether the alumni
attended in the 1980s or the 2010s, they spoke of similar experiences
and fond memories. I look forward to the day when our current students
can gather as alumni to share their Riverside memories and subsequent
successes in a similar fashion.
— Leo Rohr
Director of Development 

from the desk of…
the Head of School



AS YOU PROBABLY READ IN MY E-MAIL on Tuesday night, today was the day that Riverside teachers were offered the first dose of a COVID-19 vaccine. The vaccination site was run by Chesterfield Fire/EMS, and they did a wonderful job of organizing everything.
I do want to make clear that although Riverside faculty and staff were given the opportunity to receive the vaccine since they all qualified as part of Phase 1b, it was not a requirement that they do so. This is a personal decision made by Riverside employees, and I fully support anyone who chooses to receive it or chooses not to receive it for any reason.
Also, I do not anticipate that we will have any changes to the health mitigation plan that we currently have in place. Masking, social distancing, and the other measures that Riverside has instituted have served us very well since the fall, and unless we would have specific recommendations for change made to us by our state or local health districts, I don't see those mitigations changing.
I would like to end by thanking all of you who took the time to send a reply to my email this week. Your appreciation of our teachers and happiness that they were given this opportunity was clearly evident, and it made me proud to be part of such a supportive community. Thank you.
— Hal Waller
Head of School

In Their Own Words…
"What I like about Riverside is PE, art and Language Fundamentals, because the teachers are great and encourage me and we have fun. I also look forward to science."
— Merritt, student at Riverside School 

Last Friday's Corny Joke