Riverside School eNews, Feb. 27, 2020
Thursday, February 27th, 2020
For Your Calendar
Thursday, Feb. 27 – Progress Notes Issued
Thursday, Feb. 27 – Riverside Basketball (Intermediate School) at Richmond Waldorf School, 4 p.m. (game at Richmond Waldorf School, 1301 Robin Hood Road, Richmond, Va. 23227, 804-377-8024)
Friday, Feb. 28 – Dr. Seuss Character Day
Friday, Feb. 28 – Pizza Hut Pizza Day
Friday, Feb. 28 – 2:15 p.m. Dismissal
Friday, Feb. 28 – Basketball Practice, 2:15-3:15 p.m.
Tuesday, March 3 – Mi Hacienda Lunch
Wednesday, March 4 – Art Club (grades 4-8), 3:05-4:15 p.m.
Thursday, March 5 – Parent Coffee at Riverside School, 8:15-8:45 a.m. and 2:30-3 p.m.
Thursday, March 5 – Riverside Basketball (Lower School) vs. Hunter Classical, 3:45 p.m. (game at Bon Air Baptist Church, 2531 Buford Road, Richmond, Va. 23235, 804-272-1475)
Friday, March 6 – Pizza Hut Pizza Day
Friday, March 6 – 2:15 p.m. Dismissal

Sign Up Now Available for Riverside Summer 2020 Tutoring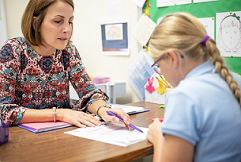 SUMMER TUTORING AT RIVERSIDE OFFERS our students the opportunity to continue with one-on-one, multisensory Language Fundamentals and / or math in a friendly, supportive environment with a Riverside teacher.
Each 50-minute session will be billed by the school's Business Office at a rate of $65 per 50-minute session on a monthly basis. Tutoring slots fill quickly and will be offered on a first-come, first-served basis.
Please complete and send in the attached registration form found here by Thursday, March 19. Contact Suzie Eklund, Director of Language Fundamentals at Riverside, for additional information at: seklund@riversideschool.org.
Please note: From June 29-July 10, campus will be closed for annual maintenance and deep cleaning, and there will be no tutoring during these two weeks.


March Calendar
Please click here for the schedule of events for the month of March at Riverside. 
Registration Open for Riverside Summer Camps—
Spots Fill Fast, Sign Up Today!

Help your child enjoy school to its fullest by providing and empowering them with the skills they need to succeed. Riverside's Orton-Gillingham Summer Camp provides campers with 45 minutes of one-on-one, multisensory language instruction with a Riverside trained Orton-Gillingham teacher every day. In addition, the camp will include math, writing, and either science or music—all provided in a small group setting.
Meanwhile, with Riverside's Arts and STEM camp, students have the opportunity to explore their creative side in a more relaxed summer setting with current Riverside teachers. Campers will participate in crafty arts that will include tie-dye, Ojo de Dios, friendship bracelets, and more! Additionally, makerspace will allow campers to build and design to solve problems. Children will create music and sing fun songs along with the piano. Technology activities will incorporate interactive coding and programming.
Please note: Camp fills quickly, so please reserve your child's spot today, Please click here to learn more and register >>
Soccer Registration (grades 2-5 only) /
Permission to Participate Form

Riverside's spring soccer season is fast approaching. Please complete the attached registration form here in order for your child to participate. The spring team is for Riverside students in grades 2-5 only. All soccer forms are due by Friday, March 20, and the first practice will be on Friday, March 27.
If your child's forms are not turned in, he/she will not be allowed to practice. As in the past, the focus will be centered on learning teamwork and soccer skills, encouraging full participation, and having fun! Winning is nice, too, but is not our primary goal.

Riverside Hiring for Two Positions

The school invites qualified individuals to submit their applications
in order to fill the positions of classroom teacher and math teacher for the 2020-21 academic year.
Click here to learn more and apply >>

Parents' Association News
Reminder About Field Day / T-Shirt Design Contest


If you haven't done so already, please return your child's Field Day t-shirt order form and entry page for the t-shirt design contest by tomorrow, Friday, Feb. 28.
Please note: There is no charge for the t-shirt for your Riverside student. Forms were sent home in last week's Thursday folder but click here if you need another order form.

Lunch Updates
Please click here if you are able to help distribute lunches during the month of March. Your help is needed and greatly appreciated in advance.

Library Helpers 

Mrs. Cain is looking for help on Tuesdays in the library from 8:30-10 a.m. checking in books, returning books to their shelves and with various other projects.
Please click here to sign up >>

Box Tops
Please keep clipping and saving box tops as we will keep collecting them throughout the school year.
Show Your School Spirit With a Riverside Car Magnet

Riverside School car magnets are now available to purchase for two
for $5 or $3 each. Checks should be made payable to Riverside's Parents' Association. Please see Anne Kunkle at the front desk if
you would like to purchase one.

Development Update
RIVERSIDE'S SPRING PHONATHON is set for March 24-26. We have a great assortment of parents, grandparents, and Board members signed up to call, but we can use a few more volunteers to round out our ranks. Each evening lasts from 6-9 p.m. and includes dinner and training.
• – Tuesday, March 24: two spaces left
• – Wednesday, March 25: two spaces left
• – Thursday, March 26: seven spaces left
Please contact me if you can help at (804) 320-3465, ext. 106 or via e-mail at: lrohr@riversideschool.org.
— Leo Rohr
Director of Development

from the desk of…
the Head of School



ALTHOUGH THE CALENDAR SAYS that February is the shortest month of the year, educators know the truth—for kids in school, it's the longest. Thanks for your support of 'Help Around the Home Month.' It was fun, some great habits were formed, and perhaps it made February a little bit shorter.
We had our last meeting of after school Chess Club this week. Richmond Montessori School was kind enough to send over a contingent of their chess team for an expo match (including a pizza party), which was a lot of fun.
Spring break is right around the corner, and since March is practically here, I need to dig out a kite or two from my closet. I hope you all are making fun and exciting plans for your families as well.
In Their Own Words…
"Everything at Riverside has helped me—a lot."
— T, student at Riverside School

Last Friday's Corny Joke