Riverside School eNews, Feb. 6, 2020
Thursday, February 6th, 2020
For Your Calendar
Friday, Feb. 7 – 2:15 p.m. Dismissal
Friday, Feb. 7 – Basketball Practice, 2:15-3:15 p.m.
Friday, Feb. 7 – Boys' Night In, 6-7:45 p.m.
Tuesday, Feb. 11 – Chess Club, 3:05-4:15 p.m.
Wednesday, Feb. 12 – Main Building Field Trip (Agecroft Hall and Gardens), 9:45 a.m.-2:45 p.m.
Wednesday, Feb. 12 – Intermediate School Valentine's Dance
Wednesday, Feb. 12 – Parents' Association Meeting, 2 p.m. (Commons)
Wednesday, Feb. 12 – Art Club (grades 4-8), 3:05-4:15 p.m.
Thursday, Feb. 13 – Chick-fil-A Lunch
Thursday, Feb. 13 – Riverside Basketball (Lower School) vs.
Good Shepherd, 3:30 p.m. (game at Bon Air Baptist Church,
2531 Buford Road, Richmond, Va. 23235, 804-272-1475)
Friday, Feb. 14 – 12 p.m. dismissal for students (Teachers' Workday)


February Calendar
Please click here for a schedule of events for the month of February at Riverside.

The Chance to Change Your Child's Life for the Better—and Forever:  
Save Your Spot for Riverside Admissions Open House on Feb. 20
Learning to read should be as easy as ABC. For one out of five children, it's not.
If you or someone you know has a student who is struggling to
read and that you think may have a language-based learning difference, join us to learn more about our school and programs at Admissions Open House on Feb. 20 from 9-11 a.m.:
• – Ask questions and talk with current students, as well as
parents
• – Learn more about our programs and the Orton-Gillingham Approach
• – Speak with our teaching faculty, instructors, and administrators
• – Learn about the application process
• – Tour our expanded campus
Riverside is a school where students with dyslexia and other language-based learning differences thrive thanks to small class sizes that allow teachers to focus on the individual needs of each student. Faculty is trained in the Orton-Gillingham Approach, the cornerstone of Riverside's teaching philosophy. Our programs provide academic challenge while also fostering student confidence.
Please click here to learn more and register >>
Riverside and Adventure Walkers Invite Riverside
Students to Half-Day Enrichment Fun
Riverside School and Adventure Walkers invite our students to stay after school next Friday, Feb. 14, and March 20 from 12-3 p.m. (students have a half-day both days) for all sorts of play using sticks.
Students and representatives from Adventure Walkers will build with sticks, shape sticks, play games with sticks, act with sticks and tell stories with sticks. All of the activities will take place while enjoying the great outdoors. Participants will be outside most of
the time so please have clothes appropriate for the day's weather
(focus on staying dry).
Please click here to learn more and register >>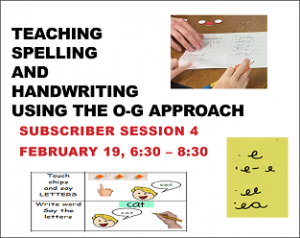 Sign Up for the Next Subscriber Session

HAVE YOU SIGNED UP YET for Subscriber Session 4?
This month you will experience hands-on practice with the Orton-Gillingham instructional strategies your child uses in Language Fundamentals to improve their spelling and handwriting. Come join us for the session, set for Feb. 19 from 6:30-8:30 p.m.
Please click here to register >>

Parents' Association News
Parents' Association Meeting Alert

A special Parents' Association meeting will be held on Feb. 12 at
2 p.m. in the Commons. During this meeting, we will cover general questions and / or concerns and then hand the meeting over to
Hal Waller for schoolwide updates.
Items to be discussed include:
• – Riverside School's Mission Statement
• – Review the Strategic Plan adopted by the Board at the end of last year
• – Review results of the Parent Survey from the end of last year
• – Update on St. Michael's Church property
Please plan on parking in the church parking lot and walking over.  You will be able to pick up your child(ren) on the way out the door.
We look forward to seeing everyone!



Lunch Volunteers Needed for February
We need volunteers! Please click here if you are able to help distribute lunches. New dates have been added for February. Your help is needed and greatly appreciated in advance.
Library Helpers 

Mrs. Cain is looking for help on Tuesdays in the library from 8:30-10 a.m. checking in books, returning books to their shelves and with various other projects.
Please click here to sign up >>

Box Tops
Please keep clipping and saving box tops as we will keep collecting them throughout the school year.
Show Your School Spirit With a Riverside Car Magnet

Riverside School car magnets are now available to purchase for two
for $5 or $3 each. Checks should be made payable to Riverside's Parents' Association. Please see Anne Kunkle at the front desk if you
would like to purchase one.

Music Notes
WE ARE REALLY EXCITED ABOUT PLAYING our instruments on Feb. 22 at Riverside's In-Store Barnes and Noble Book Fair (more information below). The children will need to meet me at Barnes and Noble (11500 Midlothian Turnpike, Space 440, Richmond, Va. 23235, 804-794-6640) at 9:50 a.m. if they would like to play the
xylophones (Lower School) or recorders (Intermediate School) for
this event.
Mrs. Cain, Riverside's Library Media Specialist, is organizing our visit to Barnes and Noble, so please let her know if you have any questions about the event. I will bring the xylophones for the younger students, but the older students will need to bring their recorders. If your child is interested in performing, please send an e-mail to me at: cbider@riversideschool.org so I know how many children plan to attend.
— Cori Bider
Music Teacher

Checking In from the Library
RIVERSIDE'S LIBRARY WILL HOLD AN IN-STORE BOOK FAIR at the Chesterfield Towne Center Barnes and Noble (11500 Midlothian Turnpike, Space 440, Richmond, Va. 23235, 804-794-6640) from Feb. 21-23, with special activities scheduled on Saturday, Feb. 22 from 10 a.m.-2 p.m. Additionally, works from Riverside's Art Show to be on display, there will be a music
program, a story time and more.
On Friday Feb. 21, there will be in-store shopping all day, plus Mrs. Cain, Riverside's Library Media Specialist, will be in the store helping students find 'just the right books' from 5-7 p.m.
On Saturday, Feb. 22, there will be in-store shopping all day plus a family event from 10 a.m.-2 p.m. featuring:
• – Music program (10 a.m.)
• – Student art show
• – Story time with Riverside staff
• – Author visit with Steven K. Smith, 12-2 p.m. (more information below)
• – Cupcake raffle every half-hour
• – Student raffle (enter with each purchase)
• – Scavenger hunt to win prizes
• – Teacher raffle (enter with each purchase and use a 20% educator discount)
There will be in-store shopping all day on Sunday, Feb. 23. Can't come? Online shopping is available to benefit Riverside School's library. More details will follow in coming weeks.
We're looking forward to local author Steven K. Smith (pictured right) being in attendance on Feb. 22. He is the author of the Virginia Mysteries Series. The adventures and mysteries are set in Virginia locations. A great family-read series, individuals or families wishing to
add to the flavor can take day trips 'just for fun' to the locations
mentioned in his books, including Richmond.
— Tracey Cain
Library Media Specialist

Registration Open for Riverside Summer Camps—
Spots Fill Fast, Sign Up Today!
HELP YOUR CHILD ENJOY SCHOOL to its fullest by providing and empowering them with the skills they need to succeed. Riverside's Orton-Gillingham Summer Camp provides campers with 45 minutes of one-on-one, multisensory language instruction with a Riverside trained Orton-Gillingham teacher every day. In addition, the camp will include math, writing, and either science or library and music—all provided in a small group
setting.
Meanwhile, with Riverside's Arts and STEM camp, students have the opportunity to explore their creative side in a more relaxed summer setting with current Riverside teachers. Campers will participate in crafty arts that will include tie-dye, Ojo de Dios, friendship bracelets, and more! Additionally, makerspace will allow campers to build and design to solve problems. Children will create music and sing fun songs along with the piano. Technology activities will incorporate interactive coding and programming.
Please note: Camp fills quickly, so please reserve your child's spot today, Please click here to learn more and register >>

Development Update
YESTERDAY, RIVERSIDE WELCOMED PASTOR TRAVIS JONES from Motivation Church for the latest talk in our Adult Dyslexic Speaker Series. Pastor Jones gave a very uplifting speech about special ways that he uses to cope with dyslexia and how he thinks being dyslexic has been an advantage for him. 
You can watch the talk here or by clicking on the picture to the right >>
— Leo Rohr
Director of Development

from the desk of…
the Head of School



'MAKE YOUR OWN BED' WEEK, the first week of Riverside's 'Help Around the Home Month,' has been a great success. I have learned that lots of our students either already had this as a daily task at home or have found that it really doesn't take much time to do in the morning. (And it's great at night to get into a well-made bed.)
Starting Monday, next week will be themed 'Help With the Dishes Week.' If you would like for your family to participate, this could look like a number of different things: setting the table before a meal, clearing the table after a meal, putting dishes in the sink, putting dishes in the dishwasher, or some other variation.
I hope you are having fun with this, and I look forward to hearing from your children next week on how it is going!
As always, if you have some ideas for themes for the remaining weeks in February, (or if you just want to let me know how it is going at your home) please share them with me at: hwaller@riversideschool.org.
In Their Own Words…
"Riverside has helped my reading and I understand ideas better from the teachers here."
— Kate, student at Riverside School

Last Friday's Corny Joke
What happens when a ghost haunts a theater?
The actors get stage fright!