Riverside School eNews, Jan. 10, 2019
Thursday, January 10th, 2019
For Your Calendar
Friday, January 11 – Pizza Hut Lunch
Friday, January 11 – 2:15 p.m. Dismissal
Friday, January 11 – Basketball Club (grades K-3), 2:15-3:15 p.m.
Monday, January 14 – Chess Club, 3:15-4:15 p.m.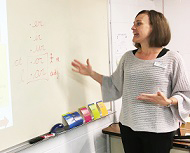 Tuesday, January 15 – Mi Hacienda Lunch
Wednesday, January 16 – Riverside 'Subscriber Session – What is an O-G Lesson, Part I: Reading, 6:30-8:30 p.m.
Wednesday, January 16 – 'Come With Me to the Sea' Art Club Makeup Class 3:05-4:30 p.m.
Thursday, January 17 – Bake Sale – Mrs. Shoop
Friday, January 18 – Teachers' Workday (no school for students)
Monday, January 21 – Martin Luther King Jr. Holiday (no school for students)

News and Notes
New for 2019 – Sign Up for 'Jump Into Japan' Art Club (note: limit is 12 students)

Join Riverside's acclaimed Studio Arts teacher Christy Lantz for a whirlwind
tour of the traditional and modern arts and crafts of Japan.
Students will create ikebana, sushi, Zen gardens, woodblock prints, Mishima clay vessels, Japanese brush painting and even try our hand at Manga! Subarashī.
Click here to learn more and register (note: limit is 12 students)
Riverside Basketball Club

There are still a few openings for the second session of the Basketball Club for
students in grades 4-8. Register by January 30 if your child is interested.
Save Your Spot for Admissions Open House, Set for February 14 at Riverside


Learning to read should be as easy as ABC. For one out of five children, it's not.
If you or someone you know has a student who is struggling to read and that you think may have a language-based learning difference, join us to learn more about our school and programs at Admissions Open House on February 14 from 9-11 a.m.:
• Ask questions and talk with current students, as well as parents
• Learn more about our programs and the Orton-Gillingham Approach
• Speak with our teaching faculty, instructors, and administrators
• Learn about the application process
• Tour our expanded campus
Riverside is a school where students with dyslexia and other language-based learning differences thrive thanks to small class sizes that allow teachers to focus on the individual needs of each student. Faculty is trained in the Orton-Gillingham Approach, the cornerstone of Riverside's teaching philosophy. Our programs provide academic challenge while also fostering student confidence.
Click here to reserve your spot.
Decoding Dyslexia VA Dyslexia Advocacy Day
at the State Capitol (January 29)

Decoding Dyslexia's VA Dyslexia Advocacy Day at the General Assembly
is coming up on Tuesday, January 29. For this event, parents take their students out of school for the morning and accompany them to the State Capitol, where they meet with legislators.
At lunchtime, Riverside families will gather in the gallery when Riverside School is recognized on the floor of the General Assembly. If you are
interested in participating, please contact Debra Mitchell at:
dmitchell@riversideschool.org.
E-mail Update

Please update Laura Finch's email address to: finchlp8@gmail.com.

Parents' Association Volunteer Opportunities
Lunch Helpers 

Thank you to everyone who signed up to help with lunch distribution in the month of January! Please be on the lookout for February sign-ups in future e-newsletters.

Save the Date: Riverside Continuing Special Parents Series on January 16
HAVE YOU EVER WONDERED about the intricacies of the O-G Approach as it relates to teaching reading to individuals with dyslexia?


On Wednesday, January 16 (6:30-8:30 p.m.), we're continuing our Subscriber Series. Our 'What's in an O-G Lesson' session will cover how O-G practitioners use the approach to teach reading. It will be a very hands-on session, and participants will experience strategies and procedures our Language Fundamentals one-on-one Teachers use to teach reading.
Click here to learn more and register.
This is the third two-hour session of official AOGPE curriculum, which kicked off in October 2018. In addition to the course in January, one more session will be held on February 20. Together, the eight hours of sessions (October, November, January, and February) cover the entire Subscriber level curriculum. Attendance at all four sessions qualifies attendees to hold Subscriber Membership with the Academy (www.ortonacademy.org).
The Subscriber Sessions are led by Cynthia Davis, a Fellow with the Academy. The sessions are being offered and advertised to area professionals; however they are FREE for Riverside parents and grandparents.

Development Update 

WITH 2018 NOW FULLY in the rear-view mirror, the Development Office is looking ahead to the Winter Phonathon, scheduled for March 4, 5, and 6. While the Fall Phonathon is an important step in getting the year off to a great start, the winter edition could be even more important as we reach out to folks at least a few years removed from their Riverside experience. However, that makes it all the more exciting to be able to share news of the great things going on here at the school!
Will you dedicate a few hours one of those evenings to help spread the word about Riverside's successes? Your efforts will be rewarded with dinner, treats, and my eternal thanks for helping to create further successes for our students.
— Leo Rohr
Director of Development

from the desk of…
the Head of School

OUR ADULT DYSLEXIC SPEAKER SERIES continued this week with a visit from Scott Redmond, a parent of a former student. Scott and I were classmates when we were both students at Washington & Lee University, and he had the reputation for being one of the best guitar players in our class.
Mr. Redmond spoke about his experiences as both a dyslexic himself and as the parent of a dyslexic daughter—who is now an honor roll student at Trinity. While acknowledging the challenges a dyslexic student faces, Mr. Redmond focused on how his own dyslexia has helped him in his career as an entrepreneur and financial manager at Redmond Asset Management, LLC.
One area Mr. Redmond focused on was leadership. He shared that because dyslexics often solve problems in innovative and efficient ways, they are identified as leaders by their peer groups. Mr. Redmond encouraged our students to be aware of this and to be prepared for it in the years ahead.
I know that this is true, and I also know that our teachers here at Riverside do a lot to nurture leadership qualities in our students. Our students are encouraged to solve problems themselves and to build their self-confidence by attempting challenges that are difficult for them.
Riverside's mission is to help students with dyslexia, but a correlate of that mission is nurturing the leaders of tomorrow.

Quotable  
"I like Language Fundamentals (LF) because it is one-on-one and LF has helped my confidence ."
— Oregon, student at Riverside School

Last Friday's Corny Joke 

Which two words in the English language have the most letters?
Post Office!