Riverside School eNews, Jan. 16, 2020
Thursday, January 16th, 2020
For Your Calendar
Thursday, Jan. 16 – Riverside Basketball (Intermediate School) vs. Richmond Waldorf School, 4:30 p.m. (game at Richmond Waldorf School, 1301 Robin Hood Road, Richmond, Va. 23227, 804-377-8024)
Friday, Jan. 17 – No School for Students (Teachers' Workday)
Monday, Jan. 20 – Martin Luther King Jr. Holiday (no school)
Tuesday, Jan. 21 – January Birthday Book Club
Tuesday, Jan. 21 – Mi Hacienda Day
Tuesday, Jan. 21 – Chess Club, 3:05-4:15 p.m.
Wednesday, Jan. 22 – Drama Club, 3:05-4:15 p.m.
Thursday, Jan. 23 – Bake Sale—Mrs. Shoop's Class
Thursday, Jan. 23 – Riverside Basketball (Lower School) vs. Good Shepherd, 3:30 p.m. (game at Bon Air Baptist Church, 2531 Buford Road, Richmond, Va. 23235, 804-272-1475)
Friday, Jan. 24 – Pizza Hut Pizza Day
Friday, Jan. 24  – 2:15 p.m. Dismissal
Friday, Jan. 24 – Basketball Practice, 2:15-3:15 p.m.
Friday, Jan. 24 – Riverside Basketball (Intermediate School) vs. Richmond Waldorf School, 4 p.m. (game at Richmond Waldorf School, 1301 Robin Hood Road, Richmond, Va. 23227, 804-377-8024)


January Calendar

Please click here for a schedule of events for the month of January at Riverside.
Author, Dyslexic Dr. Michael Balzano Visits Riverside

Riverside School recently welcomed Dr. Michael Balzano to
campus. Dr. Balzano, who has dyslexia, is author of a recent book about the learning disability called 'Dyslexic: My Journey.' Dr. Balzano rose from high school dropout to eventually excelling in school and business, having counseled six U.S. presidents and a vast number of
Fortune 500 CEOs.
Read his inspiring story here.

Next Subscriber Session Fast-Approaching—Register Today
REGISTRATION IS OPEN FOR OUR NEXT SUBSCRIBER SESSION, which is set for Wednesday Jan. 22 from 6:30-8:30 p.m.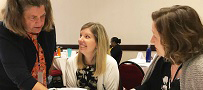 We will focus on the activities found in an O-G Lesson that help our students learn how to read and how to improve in their reading! This session involves lots of hands-on demos and there are even pipe cleaners involved!

Please click here to register. 

Parents' Association News
Decoding Dyslexia Virginia Dyslexia Advocacy
Day at the State Capitol (Jan. 28)

We are looking for participants to attend the 2020 Legislative Session on Tuesday, Jan. 28, to help support the bills being presented to the House and Senate for consideration. It's a great opportunity for students to talk to Delegates and express their
experience with dyslexia. This is considered an excused absence
for students who attend.
If you and / or your student(s) will be attending, please let us know by sending an e-mail to: jamullins3@gmail.com.

Lunch Updates


We need volunteers! Please click here if you are able to help distribute lunches. New dates have been added for January. Your help is needed and greatly appreciated.
Library Helpers 

Mrs. Cain is looking for help on Tuesdays in the library from 8:30-10 a.m. checking in books, returning books to their shelves and with various other projects.

Music Notes

WE HAVE MADE GREAT PROGRESS with the recorders this week! The children were all introduced to notes B, A, and G, and I am very proud that each class played two intelligible songs!
The younger students enjoyed making their own music on the xylophones last week. I'm looking forward to progressing
more with the recorders and continuing our study of composing
on the xylophones.
— Cori Bider
Music Teacher

Checking In from the Library

RIVERSIDE'S LIBRARY WILL HOLD AN IN-SCHOOL BOOK FAIR at the Chesterfield Towne Center Barnes and Noble from Feb. 21-23, with special activities scheduled on Saturday,
Feb. 22 from 10 a.m.-2 p.m. Works from 

Riverside's Art Show to be on display, there will be a music program, a story time and more. Additional information will follow soon.
— Tracey Cain
Library Media Specialist

Development Update

WITH 2019 IN THE REARVIEW MIRROR, it seems like the perfect time to update you on our fundraising goals and progress for the school year. I am happy to report that we hit our goals of 100 percent participation from the Riverside staff and the Riverside board within the first month of school. With the staff goal came a $1,000 challenge grant.
Once again we have a $5,000 challenge grant on the line if we can reach our goal of 100 percent participation for current Riverside parents. We currently stand at 19 percent participation. We also have a $5,000 challenge grant if we can get 30 alumni donors to the Annual Fund. We currently have 11 alumni donors for the year. Getting both of those challenge grants would be a real boost toward reaching our overall Annual Fund goal of $185,000.
Thanks to all of you who have already donated, and all of you who will help us work toward these goals in the coming months.
— Leo Rohr
Director of Development

from the desk of…
the Head of School

IN CASE YOU NOTICED MY ABSENCE FROM SCHOOL on Monday and most of Tuesday, I was attending the VAIS conference for heads of private schools. VAIS stands for the Virginia Association of Independent Schools, and they are one of our three accrediting bodies, along with SAIS (Southern Association of Independent Schools) and the Academy of Orton-Gillingham Practitioners and Educators.
Conferences like these are great for strengthening awareness of Riverside's mission. Many of our students will apply to other private schools when they leave Riverside, and it is important that other school heads know about our bright and talented students.
One of the topics that came up in my discussions with a number of other heads of school was differentiated instruction—a teacher's ability to use different instructional strategies to complement the learning style and level of readiness of each of her students.
All schools are increasingly embracing differentiated instruction to meet the needs of their students, and how to train their teachers in these strategies and have them embrace this approach can be a challenge for some school heads.
This certainly isn't an issue here at Riverside. As I am sure you well know, differentiated instruction has long been a hallmark of Riverside, and it is an integral part of the Orton-Gillingham Approach. It's gratifying to know that Riverside's long-standing educational philosophy continues to be validated and held up as the standard.
In Their Own Words…
"I have more confidence in math because I know the problems and that my teachers can help me."
— Mason, student at Riverside School

Last Friday's Corny Joke