Riverside School eNews, Jan. 17, 2019
Thursday, January 17th, 2019
For Your Calendar
Friday, January 18 – Teachers' Workday (no school for students)
Monday, January 21 – Martin Luther King Jr. Holiday
(no school for students)
Wednesday, January 23 – Morning Assembly Speaker, artist
Loryn Brazier, 8 a.m.
Friday, January 25 – Chick-fil-A Lunch
Friday, January 25 – Sports Jersey Day
Friday, January 25 – 2:15 p.m. Dismissal
Friday, January 25 – Basketball Club (grades K-3), 2:15-3:15 p.m.

News and Notes
Riverside Basketball Club

There are still a few openings for the second session of the Basketball Club for students in grades 4-8. Register by January 30
if your child is interested.
Save Your Spot for Admissions Open House,
Set for February 14 at Riverside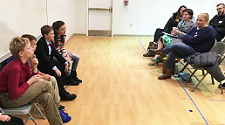 Learning to read should be as easy as ABC. For one out of five children, it's not.
If you or someone you know has a student who is struggling to read and that you think may have a language-based learning difference, join us to learn more about our school and programs at Admissions Open House on February 14 from 9-11 a.m.:
• Ask questions and talk with current students, as well as parents
• Learn more about our programs and the Orton-Gillingham Approach
• Speak with our teaching faculty, instructors, and administrators
• Learn about the application process
• Tour our expanded campus
Riverside is a school where students with dyslexia and other language-based learning differences thrive thanks to small class sizes that allow teachers to focus on the individual needs of each student. Faculty is trained in the Orton-Gillingham Approach, the cornerstone of Riverside's teaching philosophy. Our programs provide academic challenge while also fostering student confidence.
Click here to reserve your spot.
Decoding Dyslexia Virginia Dyslexia Advocacy Day
at the State Capitol (January 29)

Decoding Dyslexia's Virginia Advocacy Day at the General Assembly is coming up on Tuesday, January 29. For this event, parents take their students out of school for the morning and accompany them to the State Capitol, where they meet with legislators.
At lunchtime, Riverside families will gather in the gallery when Riverside School
is recognized on the floor of theGeneral Assembly. If you are interested in participating, please contact Debra Mitchell at: dmitchell@riversideschool.org and / or Cynthia Vukmer, Parent Coordinator for the event at:  cynthia.vukmer@gmail.com.
Riverside Chess Club

We will have our first meeting of Riverside's Chess Club on Monday,
January 28 from 3:15-4:15 p.m. in Michele Estes' classroom in Ticer Hall, directly adjacent from Riverside. Because we missed our initial launch date due to inclement weather, we will make up the missed day on Monday,
March 25. Please note that the Chess Club is for students who have already
registered.
Save  the Date: 'Girls Night In' (February 1)

Does your daughter enjoy crafts, nail painting, and hanging out with her friends? Then have her join other Riverside girls for a night of pampering, crafts, pizza,
and dessert at our first 'Girls' Night In' event on Friday, February 1 from
6-7:45 p.m.
Please see the attached flyer for additional information. The cost is $5 per
person. Contact Sara Sculthorpe (ssculthorpe@riversideschool.org) with any
additional questions.
'Jump Into Japan' Art Club—Class is Full


Please note that capacity is full for the 'Jump Into Japan' Art Club and we are not accepting any more applications.
A Friendly Reminder…

Students need to wear or bring tennis shoes to school each day for PE and recess.

Parents' Association Volunteer Opportunities
Lunches in February 

Attached, please find the February Lunch Order Form. All forms and payment
are due no later than Wednesday, January 23. Also, please check and see if you
are able to help distribute lunches as new sign-up dates have been added.

Development Update 
LAST WEEK, MR. WALLER RECOUNTED our most recent Adult Dyslexic Speaker Series session, where Scott Redmond discussed the qualities that make people with dyslexia good leaders. I would like to invite you all to attend our next session coming up Wednesday, January 23 during Morning Assembly.
Artist Loryn Brazier (pictured right) will share a slideshow of her art, including
portrait work, landscapes, still life pieces, and figurative subjects. Loryn has owned Brazier Gallery for more than 17 years, and nearly 150 public figures have been her subjects for portraits. She is also the founder of Plein Air Richmond.
We hope you will be able to join us.
— Leo Rohr
Director of Development

from the desk of…
the Head of School

I JUST WANT TO EXTEND A QUICK THANK YOU to all parents and faculty/staff for your patience with me this past Sunday/Monday with the eventual closing of school on Monday because of the snowy and icy road conditions. My original message went out on Sunday evening at about 6:30 p.m., announcing a two-hour delay.
That was superseded Monday morning a little after 5 a.m. by an alert announcing the closing of school
As of early Sunday night, it was still unclear if we would have to close school the next day, but I felt sure that an on-time opening wouldn't be possible. The rest of the evening I was watching the weather and what other schools were doing, and when I woke up early to check the road conditions, I sent out the second message canceling school.
Please know that because we have families living in such a large geographic region, driving conditions could differ greatly for different families. If you ever question whether it is safe for you to drive your child to school on a particular day, please make a decision based on your own judgment.

This Week's Quote
"The only thing we have to fear is fear itself."
— Franklin Delano Roosevelt, 32nd President of the United States
In Their Own Words 
"I like Morning Assembly because I know where I have to be and it gets me excited for the day."
— Bryce, student at Riverside School

Last Friday's Corny Joke 
In what sport do mice athletes do well in?
Mice hockey!