Riverside School eNews, Jan. 21, 2021
Thursday, January 21st, 2021
This Coming Week's Events…
Friday, Jan. 22 – Fun Friday, Twin Day ($1 donation to the Children's Hospital)
Parent Coffee (virtual), 8:30 a.m.
Basketball Clinic (Ticer Hall students), 2:15 p.m.-3:30 p.m.
Tuesday, Jan. 26 – Robotics Club, 3:05-4:15 p.m.
Thursday, Jan. 28 – Robotics Club, 3:05-4:15 p.m.
Upcoming Events…
Friday, Jan. 29 – Basketball Clinic (Ticer Hall students), 2:15 p.m.-3:30 p.m.
Tuesday, Feb. 2 – Robotics Club (North Gymnasium), 3:05-4:15 p.m.
Wednesday, Feb. 3 –Student Council Meeting, 3:05-3:45 p.m.
Thursday, Feb. 4 – Report Cards Issued
Thursday, Feb. 4 – Robotics Club Final Competition (North Gymnasium), 3:30-4:30 p.m.
Friday, Feb. 5 – Basketball Clinic (Ticer Hall students), 2:15 p.m.-3:30 p.m.

News and Notes


January Calendar
Please click here for a schedule of events for the remainder of January 2021 at Riverside.
February Calendar

Please click here for a schedule of events for February 2021 at Riverside.
'Twin Day' is Tomorrow

Riversiders, enjoy the spirit of a school Fun Friday with 'Twin Day,' which is set for
Friday, Jan. 22. Twin Day is when Riverside students, faculty, and staff often pair off
with a friend and dress alike. In addition to the creative ensembles, the occasion is all
for a good cause, with the required $1 donation going to the Children's Hospital.
Basketball Clinic for Ticer Students Begins Tomorrow:
—Two Spots Still Remain—


Riverside is pleased to offer a basketball clinic starting Jan. 22 for Ticer students. The clinic will run for three consecutive Fridays (Jan. 22, Jan. 29 and Feb. 5) from 2:15-3:30 p.m., and the cost is $35. Please note that two spots still remain open for any Ticer students wishing to participate. See the flyer here for more details and
the release form. Students in North and Main Buildings—stay tuned! A basketball
clinic will be offered in the very near future.
Parents' Association Meetings—Mark Your Calendars to Attend

Please save the dates for Parents' Association meetings in 2021, which are set for, Feb. 10, March 10, April 14 and May 12—please make plans to join us (a Zoom invitation will be sent ahead of time).
Don't forget the biweekly parent coffees where you can check in and chat with
Riverside administrators. Please use this Zoom link.
Come Join Our Team!

Want to be part of a flourishing independent day school, complete with supportive
and engaging students, faculty, staff and administrators? Riverside is hiring for a full-time Classroom Teacher (2021-22 school year). Please click here to apply.

Save the Date for Riverside's
Online Book Fair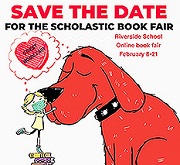 PLEASE MARK YOUR CALENDARS for Riverside School Library's Online Book Fair, which is set for Feb. 8-21. Unfortunately, we can't have our on-site book fair,  but are thrilled to offer a 'virtual' book fair with more than 6,000 books to choose from!  Help us  strengthen and enhance our library collection while adding new books to your home collection!
More information will follow soon, including in future e-newsletters.

Development Update
RIVERSIDE HAS BEEN FORTUNATE to be able to apply for, and receive, a number of grants this school year, including the following:
:: $1,000 from Walmart to support Riverside's Orton-Gillingham Teacher Training
:: $10,000 from the E. Rhodes and Leona B. Carpenter Foundation to support the school's Music Program
:: $15,000 from the Shelton Hardaway Short, Jr. Trust to support the school's Financial Aid Program
:: $25,000 from the Moses D. Nunnally Charitable Trust to support the Language Fundamentals Program
These grants, and the Annual Fund support we receive, make such a difference in the school's ability to provide the high-quality education that our students need to thrive. If you have any suggestions for foundations we should approach, please reach out and let me know.
— Leo Rohr
Director of Development 

from the desk of…
the Head of School

I AM HAPPY TO WELCOME OUR THREE TICER HOMEROOMS back to campus tomorrow after a period of remote learning triggered by an identified COVID-19 case.
I am also happy to report both that the family directly affected is all doing fine and that there have been no connected reported cases among school students or teachers.
On a different note, Riverside was contacted just today by a representative from Children's Hospital of Richmond in anticipation of our upcoming classroom 'Fun Friday' fundraisers. I am so proud of our Student Council leadership for choosing such a worthy cause of our community's philanthropy.
In Their Own Words… 
On if someone were visiting Riverside for the first time:
"I would be their friend so that they would know that they have a friend."
— Grayson, student at Riverside School