Riverside School eNews, Jan. 28, 2021
Thursday, January 28th, 2021
This Coming Week's Events…
Thursday, Jan. 28 – Robotics Club, 3:05-4:15 p.m.
Friday, Jan. 29 – Basketball Clinic (Ticer Hall students), 2:15 p.m.-3:30 p.m.
Tuesday, Feb. 2 – Robotics Club (North Gymnasium), 3:05-4:15 p.m.
Wednesday, Feb. 3 –Student Council Meeting, 3:05-3:45 p.m.
Thursday, Feb. 4 – Report Cards Issued
Thursday, Feb. 4 – Robotics Club Final Competition (North Gymnasium), 3:30-4:30 p.m.
Friday, Feb. 5 – Basketball Clinic (Ticer Hall students), 2:15 p.m.-3:30 p.m.
Upcoming Events…
Monday, Feb. 8-Sunday, Feb. 21 – Riverside School  Online Book Fair
Wednesday, Feb. 10 – Parents' Association Meeting (virtual), 12 p.m.
Wednesday, Feb. 10 – Valentine Dance(Intermediate School students)
Thursday, Feb. 11 – Parent Conferences (no school for students)
Friday, Feb. 12 – Basketball Clinic (North Building students), 2:15-3:30 p.m.

News and Notes

January Calendar
Please click here for a schedule of events for the reminder of January 2021 at Riverside.


February Calendar
Please click here for a schedule of events for February 2021 at Riverside.

New Basketball Clinic Sign-Up Available
for North Building Students


Riverside is pleased to offer a basketball clinic starting Feb 12 for North Building students. The clinic will run for three consecutive Fridays (Feb. 12,Feb. 19 and
Feb. 26) from 2:15-3:30 p.m., and the cost is $35. See the flyer here for more details
and the release form.

Parents Association Meetings—Mark Your Calendars to Attend

Please save the dates for Parents' Association meetings in 2021, which are set for, Feb. 10, March 10, April 14 and May 12—please make plans to join us (a Zoom invitation will be sent ahead of time).
Don't forget the biweekly parent coffees where you can check in and chat with Riverside administrators. Please use this Zoom link.

Come Join Our Team! 
Want to be part of a flourishing independent day school, complete with supportive
and engaging students, faculty, staff and administrators? Riverside is hiring for a
full-time Classroom Teacher (2021-22 school year). Please click here to apply.



Save the Date for Feb. 8—Start of Riverside's
Online Book Fair
THE RIVERSIDE SCHOOL ONLINE SCHOLASTIC BOOK FAIR
is coming soon! The book fair will be conducted online from Feb. 8-21.
Some of the features include:
• Ordering from home
• Free shipping on book orders of $25 or more
• More than 6,000 book choices online
• The opportunity to bring new books into your home
• Support of the Riverside School library
On Monday, Feb. 8, the link to shop will become active and book fair shoppers will be able to order from the catalog or the virtual bookstore using the portal on the book fair website by clicking here: https://www.scholastic.com/bf/riversideschool.

Attention Riverside Students—Early Registration
for Orton-Gillingham Summer Camp Now Open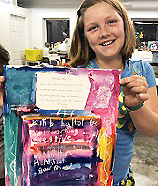 HELP PREPARE YOUR CHILD'S RETURN to school for the 2021-22
academic year with the skills they need to succeed.
The Orton-Gillingham Summer Camp at Riverside will provide campers
with 45 minutes of one-on-one, multisensory language tutoring with a Riverside trained Orton-Gillingham teacher every day. In addition, the
camp will include language arts or writing, math, and either science or
music—all provided in a small group setting with personal attention paid
to each camper, the hallmark of Riverside's approach to learning.
Please note: Registration is open to only current Riverside students (rising grade 1 through rising grade 6) for the time being.
Dates: July 19-30, 2021
Time: 8:30 a.m.-12 p.m.
Cost: $850 (Nonrefundable deposit of $200 is due with registration and applied toward tuition
Ages: Rising grade 1 through Rising Grade 6
Tuition Balance due by June 1
Click here to learn more and register.

Development Update
I AM HAPPY TO REPORT THAT THE SPIRIT OF PHILANTHROPY was on display at Riverside last Friday. The first Student Council designated Fun Friday of 2021 was Twin Day. Before this day opened my eyes, I had no idea there were so many related people here at Riverside!
There were twins and triplets throughout the school, but Mrs. Sculthorpe's class took the prize as the entire class twinned, or I guess we could say they were decaplets. They were the lone class to have 100 percent participation and thus got to pick their own physical education activity this week. 
In total, the students and staff contributed $135 to the Children's Hospital of Richmond. The Fun Fridays in
February and March will also raise money for the
Children's Hospital, so I am looking forward to seeing that
total grow!
— Leo Rohr
Director of Development 

from the desk of…
the Head of School



THIS MORNING, WE HAD OUR FIRST WEATHER-RELATED schedule change of the year, with a one-hour delay because of the overnight snow and slippery roads and pathways this morning.
The process that we followed will remain the standard for the future—a short text alert followed by an email to all parents. If you did not receive these notifications, please let us know by contacting the front office, and we will update our lists.
Please know that my goal is always to get notification out to families and teachers before anyone begins their trip to school, so that typically means that I am up and driving around Richmond fairly early in the morning to check out the roads. Thanks in advance for your patience and understanding.
In Their Own Words…
"I've made new friends and I learn way better here. I like hearing what everyone did over the weekend during morning announcements."
— Kenley, student at Riverside School

Last Friday's Corny Joke