Riverside School eNews, Jan. 31, 2019
Thursday, January 31st, 2019
For Your Calendar
Friday, Feb. 1 – Pizza Hut Lunch
Friday, Feb. 1 – 2:15 p.m. Dismissal
Friday, Feb. 1 – Basketball Club (grades K-3), 2:15-3:15 p.m.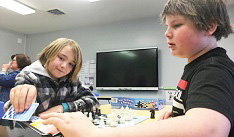 Friday, Feb. 1 – 'Girls' Night In,' Event, 6-7:45 p.m.
Monday, Feb. 4 – Chess Club, 3:15-4:15 p.m.
(Ticer Hall)
Wednesday, Feb. 6 – Student Council Meeting,
7:40 a.m.
Wednesday, Feb. 6 – 'Jump Into Japan' Art Club, 3:05-4:30 p.m.
Thursday, Feb. 7 – Conference Day (no school for students)
Thursday, Feb. 7 – Virginia Outside Private Pond Trout Fishing
Friday, Feb. 8 – Chick-fil-A Lunch
Friday, Feb. 8 – 2:15 p.m. Dismissal
Friday, Feb. 8 – Basketball Club (grades 4-8), 2:15-3:15 p.m.

News and Notes
February Calendar

Attached, please find the calendar of events for the month
of February.
Conferences
Times for the Thursday, Feb. 7, Conference Day are attached.
These are the times that you selected back in the fall.
Coach Childress will be available for childcare from 8 a.m.-3:45 p.m. for any Riverside student. Please take your child to the gym before your conference and pick him / her up afterward.
Save Your Spot for Admissions Open House,
Set for Feb. 14 at Riverside

Learning to read should be as easy as ABC. For one out of five
children, it's not.
If you or someone you know has a student who is struggling to read
and that you think may have a language-based learning difference,
join us to learn more about our school and programs at Admissions
Open House on Feb. 14 from 9-11 a.m.:
• – Ask questions and talk with current students, as well as parents
• – Learn more about our programs and the Orton-Gillingham Approach
• – Speak with our teaching faculty, instructors and administrators
• – Learn about the application process
• – Tour our expanded campus
Riverside is a school where students with dyslexia and other language-based learning differences thrive thanks to small class sizes that allow teachers to focus on the individual needs of each student. Faculty is trained in the Orton-Gillingham Approach, the cornerstone of Riverside's teaching philosophy. Our programs provide academic challenge while also fostering student confidence.
Click here to reserve your spot.
Virginia Outside Private Pond Trout Fishing is Feb. 7

Virginia Outside will be venturing out to Duck Down Inn in Goochland for some stocked trout fishing. They will provide all the equipment needed. Campers will only need to pack their lunch, smile, and sense of adventure!
Please click here for a registration form.
A Friendly Reminder About Footwear at School
Students need to wear or bring tennis shoes to school each day for recess, physical education classes,  and all other movement activities. Our guidelines and requirements are set out below.
• – Tennis shoes are always the best footgear for the school day.
• – In the early fall and spring, students may wear sandals with straps
at the heel. However, they must also bring tennis shoes and socks to keep in their locker to change into before recess, physical education classes and all other movement activities.
If too much time is being taken for the changing of shoes, students
will be asked to only wear their tennis shoes and socks during the
entire school day.
• – For student safety in school and on the playground, all shoes must be securely fastened to the foot. Shoes and socks are required for physical education classes.
• – Shoes with wheels are not acceptable.
• – High heels (over one inch) are not permitted.
Lost and Found

We have been getting quite a few winter coats and accessories turned in to the Lost and Found lately. These surely will be missed during the cold weather! Please remember to label your child's
winter weather accessories with their name.

Riverside Shines in Visit to the State Capitol
RIVERSIDE STUDENTS, PARENTS, TEACHERS AND ADMINISTRATORS took to the State Capitol this week (Jan. 29) to meet with legislators and share a message of educational empowerment as a part of Decoding Dyslexia Virginia Advocacy (DDVA) Day 2019.
The aim was to provide information and lobby
on behalf of the oft-misunderstood learning disability called dyslexia, a mission that is at Riverside's core. Members of the Riverside community and citizens alike visited
legislators in their offices at the Pocahontas Building to share facts about dyslexia, clear
up misconceptions, answer questions and
share personal stories of success.
Additionally, part of the goal was to support a bill that would emphasize the need for literacy screening in Virginia to include a Rapid Automized Naming (RAN) component.
The day was a tremendous success and we thank everyone who attended and showed their support.
Click here for a photo gallery and video from the event, including a powerful parent testimonial as well as Del. Dawn Adams recognizing Riverside on the floor of the House of Delegates during session.

Parents' Association Volunteer Opportunities
Lunches in February 

Please check and see if you are able to help distribute lunches as new
sign-up dates for February have been added. Your help is needed and greatly appreciated.

 Development Update  
EARLIER THIS WEEK, I attended a conference where I had the chance to meet and talk with independent school representatives from all across the country. It was a great opportunity to learn from peer institutions and get ideas for how we can make Riverside an even better school for our students.
However, some of the best moments came when I got to tell
people about Riverside's unique approach to teaching and the amazing sense of community we have.
Their reactions and excited questions confirmed for me that even
among the distinctive collection of independent schools in America,
Riverside is a particularly special  place.
Thank you for your help in making it so special.
— Leo Rohr
Director of Development

from the desk of…
the Head of School

SELF-ADVOCACY SKILLS are something that Riverside School has always sought to teach our students. For our youngest students, this might look like asking the teacher to repeat directions or explain something again, instead of the student "shutting down" in frustration.
For our older students, self-advocacy involves students knowing their own learning strengths and weaknesses in order to leverage their strengths for their own success. The ancient adage "know thyself" is as important to Riverside as it was to the Ancient Greeks when they inscribed it on the Temple of Apollo at Delphi.
This week, a number of Riverside parents and students, led by Riverside parent Cynthia Vukmer and Associate Head of School Debra Mitchell, also practiced self-advocacy by participating in Decoding Dyslexia's Virginia Advocacy Day at the General Assembly.
If you haven't had a chance to see the photos and videos, please do so on our Facebook page or in the 'News' section of our website. Our students and parents did a wonderful job advocating for the dyslexic students both of today and of tomorrow, and I couldn't be more proud of their leadership.

This Week's Quote
"The best way to get a good idea is to get a lot of ideas."
— Linus Pauling, Chemist

In Their Own Words 
"I like LF (Language Fundamentals) and learning about addition and subtraction in math class."
— Sadie, student at Riverside School 

Last Friday's Corny Joke 


What is the tooth fairy's very favorite dance?
The Floss!