Riverside School eNews, June 4, 2020
Thursday, June 4th, 2020
 Riverside Celebrates Departing Students at
Moving-On Ceremony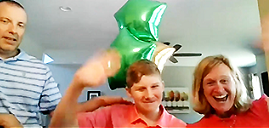 ON JUNE 3, RIVERSIDE SCHOOL RECOGNIZED 30 STUDENTS at our Moving-On ceremony. The students we honored have completed their coursework and studies at Riverside, and will be going on to attend a different public, private or specialty school for the 2020-21 academic year. Empowering students wit h language-based learning differences so they can continue to flourish in a variety of ways is a mission that is at the center of our school's purpose.
We know these students are off to achieve amazing heights in the near- and long-term. Congratulations to the students who are moving on from Riverside.
Please click here or the photo below to watch the video from
Riverside's Moving-On ceremony >>


Riversiders Show Support, Caring Attitude
During Fun 'Family Car Parade'

THANK YOUR FOR EVERYONE WHO TURNED OUT for yesterday's Riverside School 'Family Car Parade.' The support from all with a touchpoint to Riverside, who have persevered through this challenging year, was on full display. We are grateful for everyone's heartwarming words and acts of kindness.
Please click here or the photo below to watch the video from the Riverside 'Family Car Parade' >>

News and Notes
Final Bag Pickup and Technology / Work Drop-Off is


This Coming Monday, June 8
Bags of supplies will be available for pick up on campus on Monday, June 8 from 8 a.m.-3 p.m. Technological items, such as iPads and Chromebooks borrowed from Riverside, as well as work assignments are also due that day.



-Draft- of Riverside Academic Calendar for 2020-21
Please click here for a tentative schedule for the 2020-21 school year (note: the schedule is subject to change).
Riversiders—Now is the Time to Claim
Your Lost and Found Items
There are an assortment of unclaimed items in Riverside's 'Lost and Found' area. If you see a belonging in these pictures or notice something now
missing that was once yours, please come to school and claim it. 

A Few Spots Remain for Riverside
Summer Camp—Sign Up Today
HELP YOUR CHILD ENJOY SCHOOL TO ITS FULLEST by providing and empowering them with the skills they need to succeed. Riverside's Orton-Gillingham Summer Camp, set for July 20-31
provides campers with 45 minutes of one-on-one, multisensory language instruction with a Riverside trained Orton-Gillingham teacher every day.
In addition, the camp will include math, writing, and either science or music—all provided in a small group setting.
Please note: Camp is filling quickly, so please reserve your child's spot today. Please click here to learn more and register >>
 


Reserve Your Spot for the Next Academic Year
at Riverside—Limited Space Available
WANT TO CHANGE YOUR CHILD / LOVED ONE'S
LIFE forever and for the better? Riverside School offers that opportunity, and now is the time to act.
Please note: Riverside has a -limited- number of openings for admissions for the 2020-21 school year.
Please contact Riverside Associate Head of School / Director of
Admission, Transition and Testing Debra Mitchell: dmitchell@riversideschool.org
to learn more about the admissions and enrollment process.

We're Hiring
WANT TO BE A PART OF A GREAT TEAM in a supportive environment at a flourishing school—and help make a difference in the lives of children? Riverside is inviting qualified individuals to apply for a math teacher position.

Music Notes
HI, RIVERSIDE! THANK YOU SO MUCH FOR THE OPPORTUNITY to be your music teacher. I have never in my life had the honor of working with as many kind and hard-working children at a school. It really was my pleasure.
For students that are staying at Riverside, I can't wait to see you in the fall! For those of you who are moving on, I wish you the very best in life. Always try your hardest in everything that you do and don't allow life's distractions to hold you back.
I'm so proud of every child that I teach, but I'm especially delighted that my Riverside students continued to learn during these strange days.
Here is the recording of 'Lean on Me' (or click the picture in the upper right) that we compiled for you all. I'm so grateful to everyone who participated. A special thanks goes to my husband, Steve Bider, for putting this together for us.
I hope you all have a fun and safe summer!
Love,
Mrs. Bider
Music Teacher

Development Update
DONATIONS DEADLINE: Monday, June 8 is the last day for donations to help us get to 100 percent and earn the $5,000 challenge grant.
If I don't see you on Monday, I want to thank you for your support during this momentous year. Have a great summer and best of luck to all of our students moving on.
— Leo Rohr
Director of Development

Important Links for Coronavirus / COVID-19 Awareness
• – Coronavirus.gov
• – Five Ways to Follow the Coronavirus Outbreak for Any Metro Area in the U.S.
• – Comcast Xfinity Free Hotspot Map
• – Social Distancing 101
• – Coronavirus Disease 2019 Situation Summary
• – World Health Organization COVID-19 Information
• – Talking to Children About COVID-19
• – Virginia Department of Health
• – Traveler's Health
• – 'M*A*S*H' and the Coronavirus (PSA)

Last Friday's Corny Joke


What is a princess' favorite hot dog topping?
Cinderellish!