Riverside School eNews, May 13, 2021
Thursday, May 13th, 2021
Riverside recently renewed a school tradition with Founder's Day. The event included honoring school founder Pat DeOrio (see more details in the 'Development Update' below). 
Upcoming Events…
Friday, May 14 – Soccer Clinic (North Building and Ticer Hall Students), 2:15-3:30 p.m.
Thursday, May 20 – Testing Results Informational Meeting, 6:30-7:30 p.m.
Friday, May 21 – National Pizza Day
Friday, May 21 – Soccer Clinic (North Building and Ticer Hall Students), 2:15-3:30 p.m.
Wednesday, May 26 – Tea Dance (Intermediate School)
Thursday, May 27 – Parent Coffee ('virtual'), 12 p.m.
Friday, May 28 – Teachers' Workday (no school for students)
Monday, May 31 – Memorial Day (no school for students)

News and Notes
May Calendar
Please click here for a schedule of events for the month of May at
Riverside School.
New Spring Soccer Clinics are Underway (North Building and Ticer Hall students)—
A Few Spots Remain Open

Riverside is pleased to offer two remaining soccer clinics for students in the North Building as well as Ticer Hall students—and there are a few open spots to participate.
The clinics, conducted by Coach Cam Childress, continue on Friday,
May 14 and 21 from 2:15-3:30 p.m.
As in the past, our focus is centered on learning teamwork and soccer skills, encouraging full participation, and having fun!

Please click here to learn more and sign up.
Parent / Teacher Conference Schedule is Set

The year-end parent / teacher conference schedule for Thursday,
June 10 is attached here for your convenience. Please note: If you don't see your child's name listed on the schedule, it means Riverside has already contacted you and confirmed other arrangements because of limited time slots.
All conferences will be conducted via Zoom virtual technology.
Attention, Riversiders: Parent Ambassadors Needed
The 2020-21 school year is rapidly coming to a close. Plans for the 2021-22 school year are already in the works.
We want to continue the Ambassador Family Program at Riverside School. This program partners returning families with new families
to make them feel welcome in the Riverside community. Ambassa-
dor Families will answer questions and offer advice on everything from school drop-off to extracurricular activities. Some Ambassa-
dor Families set up a summer play date at a public location to
introduce the children.
If you are interested in becoming an Ambassador Family, please e-mail Debra Mitchell, Riverside's Associate Head of School, at: dmitchell@riversideschool.org.'

For First and Second-Year Parents—Mark Your
Calendars for May 20 (6:30-7:30 p.m.)
—Important testing results informational meeting—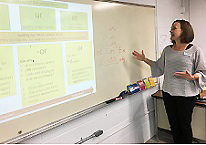 CYNTHIA DAVIS, ORTON-GILLINGHAM COORDINATOR AND DEBRA MITCHELL, Associate Head of School, will share information about your child's testing results, which you will receive at the end-of-year conference.
You'll learn what each assessment measures and exactly why we give it. Additionally, you'll discover what you can learn from our curriculum based assessments and how that compares to standardized testing results. We'll also analyze some real testing (from former students) to make it all come to life.
–For returning parents (May 20, 6:30-7:30 p.m.)– 
You don't have to miss out! You're invited to attend if you choose.
Please click on this Zoom link in order to attend. Questions? Please contact Riverside School at: (804) 320-3465.

Riverside Students—Show Off Your Skills,
School Talent Show is June 2
THE ANNUAL RIVERSIDE TALENT SHOW will take place on Wednesday, June 2. The event will take place in the afternoon and an exact time will be determined once the number of acts is confirmed. A Zoom link will be shared with families.
Students that would like to participate should prepare to perform for about two minutes. We are accepting video submissions or students can perform live at school, but students will view the show in classrooms via Zoom. If your child performs live, you will need to provide music and any materials they require for the performance. Students should begin practicing now.
Please e-mail Associate Head of School Debra Mitchell (dmitchell@riversideschool.org) if your child plans to participate. Please indicate if you will submit a video or if your child will perform live on June 2.

Parents' Association News
Join In for an Upcoming Parent Coffee
Please save the date for the biweekly parent coffees via Zoom, where you can check in by 'virtual' means and chat with Riverside administrators. The next one—and the last such meeting scheduled
for this academic year—is Thursday, May 27 at 8:30 a.m. We would
love for you to be a part of the dialogue and any topic is fair game.
Please use this Zoom link in order to attend.

Checking In from the Library
LIKE 'BAD KITTY' BOOKS? Chesterfield County Public Library is
sponsoring a free virtual event with 'Bad Kitty' author, Nick Bruel, next Thursday, May 20 from 7-8 p.m.
Please click here to learn more and register. 

Development Update
I'D LIKE TO THANK RIVERSIDE'S PARENTS for your support last week with Teacher Appreciation Week, Silly Staff Week, and Founder's Day.
The Silly Staff events raised a total of $946, which the Student Council will use to purchase new P.E. equipment, to plant a tree on campus, and to make charitable donations to the Richmond SPCA and the Virginia Aquarium.
On Founder's Day, we celebrated Riverside Founder Pat DeOrio's 85th birthday and she Zoomed with students and alumni. We also raised more than
$8,000 during our Day of Giving, which earned us the entire $5,000 match that was on the line. Finally, we made a big leap closer to 100 percent current parent participation in Annual Fund giving.
Thanks again for a tremendous week!
— Leo Rohr
Director of Development
P.S. Annual Fund Current Parent Participation: Goal: 100%; Currently: 60%.

from the desk of…
the Head of School

I KNOW THAT MANY OF YOU ARE CURIOUS about where we are with the proposed Bon Air Pedestrian and Bike Path that would cut across our campus, an important topic at this week's Parent Association Meeting.
Please know that I continue to be in communication with our local Chesterfield County Board Supervisor Leslie Haley. I have promised to do further research into the school safety and security implications to Riverside students and to report that research to Ms. Haley.
Also, the Riverside Parents' Association is sponsoring an online petition about the path by clicking here.
Please feel free to sign it and share it with your relatives and friends, if you wish.
— Hal Waller
Head of School 

In Their Own Words
"Everyone is nice and understanding at Riverside, and no one ever gets mad at you."
—Ava

This Week's Quote


Last Friday's Corny Joke