Riverside School eNews, May 23, 2019
Thursday, May 23rd, 2019
For Your Calendar
Friday, May 24 – Teachers' Workday (no school for students)

Monday, May 27 – Memorial Day Holiday (no school)
Wednesday, May 29 – Student Council Meeting, 7:40 a.m.
Thursday, May 30 – New Parent Testing Workshop (for new parents), 6-7 p.m.
Thursday, May 30 – Parent Testing Workshop (for returning parents), 7:15-8 p.m.
Friday, May 31 – 'Dress Like a Senior Day'
Friday, May 31 – Pizza Hut Lunch
Friday, May 31 – 2:15 p.m. Dismissal for Students
Friday, May 31 – Spring Soccer Team Celebration / Awards, 2:30 p.m.
Wednesday, June 5 – Report Cards Issued
Wednesday, June 5 – Talent Show 1-3 p.m.
Thursday, June 6 – Moving on Ceremony, 8:30 a.m.
Thursday, June 6 – 12 p.m. Dismissal / Last Day for Students

News and Notes
Conference Schedule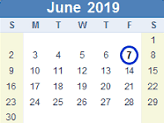 Attention, parents / guardians: Times for the Friday, June 7 Conference Day are attached. These are the times you selected back in the fall.
Coach Childress will be available for childcare from 8 a.m.-3:45 p.m. for any Riverside student. Please take your child to the gymnasium before your conference and pick him / her up afterward.

Ambassador Families Needed
The 2018-19 school year is rapidly coming to a close. Plans for the 2019-20 school year are already in the works.

We want to continue the Ambassador Family Program at Riverside School. This program partners returning families with new families to make them feel welcome in the Riverside community. Ambassador Families will answer questions and offer advice on everything from school drop-off to extracurricular activities. Some Ambassador Families set up a summer play date at a public location to introduce the children.
If you are interested in becoming an Ambassador Family, please e-mail Debra Mitchell, Riverside's Associate Head of School, at: dmitchell@riversideschool.org.
Thank you in advance.
Virginia Branch of the International Dyslexia Association (VBIDA) Scholarship and Grant Information
The purpose of the Virginia Branch of the International Dyslexia Association (VBIDA) Scholarship Fund is to provide funds to a student in need of assistance with funding services that meet the remediation needs of the student.

Applicants qualifying for this award are students in grades 3-12 who demonstrate a need for remediation or other educational services or attending a school that will enhance the student's ability to overcome the challenges presented by being a person diagnosed with dyslexia.
Click here to learn more and apply for a scholarship.
 

Save the Date for Thursday, May 30
YOU WILL NOT WANT TO MISS Riverside's New Parent Testing Workshop on Thursday, May 30 from 6-7 p.m.
Debra Mitchell, Associate Head of School, and Cynthia Davis, O-G Coordinator, will share information about your child's testing results,
which you will receive at the end-of-year conference. You'll learn what each assessment measures and exactly why we give it. You'll discover what you can learn from our curriculum based assessments and how that compares to standardized testing results. We'll also analyze some real testing (from former students) to make it all come to life.
–FOR RETURNING PARENTS–
You don't have to miss out! You're invited to come to our Returning Parent Testing Workshop on the same night from 7:15-8 p.m.
Questions? Please contact Riverside at (804) 320-3465.
See you soon! 

Parents' Association News
Last Day to Donate Box Tops is Today

Please send in any box tops that you have collected no later than today. Although they will not be submitted until October, we will have a final collection for the school year.
Click here for a box top worksheet that can be used to collect them.
A Heartfelt Thank You

Thank you to Riverside parent Kristine Hubbard for hosting Riverside's Parents' Association at Scout & Molly's Boutique on Tuesday evening. And, thank you to all of the ladies who turned out to show their support!

Calling All Parents…

The Parents' Association is looking for new leadership for the
2019-20 school year. Please let us know if you are interested or have any questions about this opportunity.
Show Off Your Riverside School Spirit

Riverside School car magnets are available for purchase for $5. Please see Anne Kunkle in the front office if you are interested.

Development Update 
YESTERDAY, RIVERSIDE ACHIEVED one of our primary Development goals for the year–getting donations from at least 25 alumni. With that achievement comes a $5,000 challenge grant from an anonymous donor. We are also getting extremely close to our Annual Fund total goal of $185,000.
There is another $5,000 challenge goal that we can
still achieve—reaching 100 percent participation
from current families. Just this morning, two more donations came in, putting us at 80 percent participation, so thank you to all of the families who
have helped us get this far!
However, time is running out as we finish the Annual Fund Campaign on
May 31. You can make a donation online or by check, and please feel free to check with me if you can't remember whether you have donated or not.
Together, we can make the final push to 100 percent for the second year in a row and help make Riverside an even better school for our students and teachers.
— Leo Rohr
Director of Development

from the desk of …
the Head of School


THIS PAST TUESDAY, THE RIVERSIDE SCHOOL BOARD OF TRUSTEES held their Annual Meeting—the last meeting of the school year.
The Board of Trustees is an integral part of Riverside, and they have the job of strategically guiding Riverside and making the sure that we stay true to our mission.
This past year we had 17 Trustees who come from all walks of life. They are current or former parents, alumni, and friends of the school, and they volunteer their time because they all know and believe that Riverside transforms the lives of our students and families and that Riverside is vitally important to our community.
This past meeting, we had three board members 'retire' from the board at the end of their terms: Dick Fowlkes, Vice-President of the Board and Development Committee Co-Chair; Aimie Jones, Secretary of the Board and Chair of the Nominating & Governance Committee; and Neil Millhiser '95, the first alumnus member of the Board and a member of the Buildings and Grounds and Development committees. The entire Riverside Community owes a debt of gratitude to them for their years of service.
The meeting was also the last chaired by Board President Bill Longan, whose two-year term as President started when I came to Riverside. On behalf of myself and the entire Riverside community, I want to thank Bill for his leadership and wise counsel in this role. He has been an eloquent spokesman for Riverside, and he is known and appreciated by the faculty and students. Happily, Bill will continue to serve next year on the Board as Past-President, so we will continue to benefit from his expertise.
Thank you, Bill!
— Hal Waller
Head of School

This Week's Quote
"Courage is not the lack of fear. It is acting in spite of it."
— Mark Twain, author


In Their Own Words 
"Everyone understands you—what you need—and are always willing to help."
— Sophia, student at Riverside School

Last Friday's Corny Joke