Riverside School eNews, May 27, 2021
Thursday, May 27th, 2021
Riverside School students recently enjoyed classroom theme days as a part of a 'Fun Friday.' They dressed up as particular or common characters or honored similar genres. Click here for a photo gallery.  
This Week's Events…
Thursday, May 27 – Parent Coffee ('virtual' / via Zoom), 12 p.m.
Friday, May 28 – Teachers' Workday (no school for students)
Monday, May 31 – Memorial Day (no school)
Wednesday, June 2 – Riverside Talent Show ('virtual' / via Zoom)
Upcoming Events….
Monday, June 7 – Parent Coffee ('virtual' / via Zoom), 8:30 a.m.

Wednesday, June 9 – Report Cards Issued
Wednesday, June 9 – Moving-On Ceremony, 8:30 a.m. (12 p.m. dismissal)
Wednesday, June 9 – Last Day for Students
Thursday, June 10 – Year-End Parent-Teacher Conferences, 8 a.m.
Sunday, June 20 – Father's Day


News and Notes
May Calendar
Please click here for a schedule of events for the remainder of the month of May at Riverside School.

June Calendar
Please click here for a schedule of events for the month of June at Riverside School.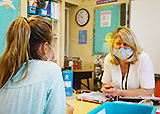 Parent / Teacher Conference Schedule is Set
The year-end parent / teacher conference schedule for Thursday, June 10 is attached here for your convenience. Please note: If you don't see your child's name listed on the schedule, it means Riverside has already contacted you and confirmed other arrangements because of limited time slots.
All conferences will be conducted via Zoom virtual technology.
-Draft- of Riverside Academic Calendar for 2021-22

Please click here for a tentative schedule for the 2021-22 school year (note: the schedule is subject to change). This version is for planning purposes. A final calendar will be issued in August. One change is the 2:15 p.m. early dismissal will
be on Wednesdays, not Fridays.
Attention, Riversiders: Parent Ambassadors Needed
The 2020-21 school year is rapidly coming to a close. Plans for the 2021-22 school year are already in the works.
We want to continue the Ambassador Family Program at Riverside School. This program partners returning families with new families to make them feel welcome in the Riverside community. Ambassador Families will answer questions and offer advice on everything from
school drop-off to extracurricular activities. Some Ambassador Families set up a summer play date at a public location to introduce the children.
If you are interested in becoming an Ambassador Family, please e-mail Debra Mitchell, Riverside's Associate Head of School, at: dmitchell@riversideschool.org.
Scholarship Submissions 
The 2021 scholarship application is now posted to the Virginia Branch of the International Dyslexia Association (VBIDA) website.

Click here or on the left side call-out that reads 'Apply for Scholarships Now' on the VBIDA site. Riverside School students have been awarded this scholarship from the VBIDA.

Riverside Students—Show Off Your Skills,
School Talent Show is June 2
THE ANNUAL RIVERSIDE TALENT SHOW will take place next Wednesday, June 2. The event will take place in the afternoon and an exact time will be determined once the number of acts is confirmed. A Zoom link will be shared with families.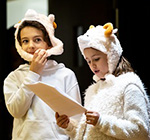 Students that would like to participate should prepare to perform for about two minutes. We are accepting video submissions or students can perform live at school, but students will view the show in classrooms via Zoom. If your child performs live, you will need to provide music and any materials they require for the performance. Students should begin practicing now.
Please e-mail Associate Head of School Debra Mitchell (dmitchell@riversideschool.org) if your child plans to participate. Please indicate if you will submit a video or if your child will perform live on June 2.

Parents' Association News
Join In for an Upcoming Parent Coffee


Please save the date for June 7 at 8:30 a.m., which signals the last scheduled parent coffee for the 2020-21 academic year. The session will be conducted via Zoom, where you can check in by 'virtual' means and chat with Riverside administrators. We would love for you to be a part of the dialogue and any topic is fair game. Please use this Zoom link in order to attend.


Bike Path Petition Needs Your
Continued Support, Signatures
THANK YOU TO EVERYONE WHO HAS TAKEN THE TIME TO SIGN, share, and even donate to the Bike Path petition. We currently have more than
200 signatures.
We would love to keep the momentum of the petition going, so please encourage family and friends to sign as well. You can also leave a comment
on the petition if you haven't already done so. And, of course, if you haven't
signed the petition, please do so here.

Development Update
THANK YOU TO ALL OF THE FAMILIES
WHO HAVE DONATED to the Annual Fund this school year! We are up to 69 percent participation for current parents and just $7,000 shy of our total Annual Fund goal of $215,000. Remember, there is a $5,000 challenge grant on the line if we can make it to 100 percent participation again like last year, and a gift of any amount counts, even $1. The deadline for donations to count is the last day of school, June 9.
Please reach out to me if you have any questions about the Annual Fund or your giving status. Thank you so much for your support of Riverside and all you have done to help make this year successful.
Thanks again,
— Leo Rohr
Director of Development

from the desk of…
the Head of School



I HOPE ALL IN THE RIVERSIDE COMMUNITY will have a restful and relaxing holiday weekend!
— Hal Waller
Head of School

Quote of the Week
"Tell me and I forget. Teach me and I remember. Involve me and I learn."
— Benjamin Franklin

In Their Own Words
"(Prospective) students who have a chance to come to Riverside should come. Everyone likes it here."
— Neeve, student at Riverside School

Last Friday's Corny Joke

Why do eggs never tell jokes?
Because if they do, they will crack up!