Riverside School eNews, May 7, 2020
Thursday, May 7th, 2020
For Your Calendar
Please click here for a pdf of the May calendar of events at Riverside >>
Friday, May 8 — Volunteer Appreciation'Virtual' Coffee, 8:30-9 a.m.
Friday, May 8 — Half-Day School Day Until 10:30 a.m. / 'Virtual' Founder's Day, 11 a.m.
Friday, May 8 — 'Virtual' Birthday Party for Mrs. DeOrio (broadcast via Zoom technology),
2-3 p.m.
Monday, May 11 — Online / 'Virtual' Basketball and Soccer Awards Ceremony, 3 p.m.

Wednesday, May 13 — Online / 'Virtual' Special Extended Morning Assembly with
Guest Speaker; No Math Class
Friday, May 15 — Half-Day School Day Until 10:30 a.m. / 'Virtual' Talent Show, 11 a.m.
Friday, May 22 — All-Day Teacher Workday (no school for students)
Monday, May 25 — Memorial Day Holiday (no school)
Friday, May 29 — Last Day of Classroom Instruction
Tuesday, June 2 — Last Day of LF Instruction
Wednesday, June 3 — Online / 'Virtual' Moving On Ceremony

Save the Date: Riverside Talent Show is Set for May 15

The Annual Riverside Talent Show will take place on Friday, May 15 beginning at 11 a.m. using Zoom technology. Students that would like to participate should prepare to perform for two to three minutes. Students should begin practicing now.
Please e-mail Debra Mitchell (dmitchell@riversideschool.org) if your child plans to participate and she will send out more specific information by e-mail next week.

Reserve Your Spot for the Next Academic Year at Riverside—
Limited Space Available
WANT TO CHANGE YOUR CHILD / LOVED ONE'S LIFE forever and for the better? Riverside School offers that opportunity, and now is the time to act.
Please note: Riverside has a -limited- number of openings for admissions for the 2020-21 school year.
Please contact Riverside Associate Head of School / Director of Admission, Transition and Testing Debra Mitchell: dmitchell@riversideschool.org to learn
more about the admissions and enrollment process.

COMMUNICATING DURING THE CORONAVIRUS CRISIS
Photo Galleries / Helpful Articles
BELOW IS A LOOK at some of the happenings from a pictorial and editorial perspective that have a touchpoint to Riverside during this challenging time.
• – Scenes from Riverside Field Day (May 1) >>
• – The Fight in Her: Riverside Board Member Robin Blanchard is Determined to Help  Battle and Kill the Coronavirus >> 




Sound and Video Archives
RIVERSIDE SCHOOL HAS BEEN keeping its constituents up to date via regular video postings to YouTube and through other social mediums.
Video Galleries (click on the date below or picture to view) >>
Thank You to Riverside Teachers, Instructors and Administrators >>
Riverside Library Media Specialist Tracey Cain Unveils a Special Surprise >>


Scenes from Riverside Field Day (May 1, 2020) >>

Scenes from Riverside Field Day (May 1, 2020) >>
Scenes from Riverside Field Day (May 1, 2020) >>

Checking In from the Library
I WANT TO THANK PARENTS / LOVED ONES for being conscientious in returning books to the Riverside library that had been checked out / borrowed by students and others.
If you forgot to drop them off Monday or come across one in an unexpected place, please drop them off at school.
— Tracey Cain
Library Media Specialist

Music Notes

I HAVE REALLY ENJOYED SHARING my musical instruments with everyone over the last couple of months, but I'm most excited to demonstrate the piano next week. Make sure you all tune in for music class next week. This week, we are learning about the organ, and the children will watch a documentary on how the theater organ at the Byrd Theater (pictured right) works.
I will be sending out the accompaniment video of 'Lean on Me' this week by e-mail. Please check your student e-mail on Friday for the recording and directions on how to be part of our music video—this will be great fun.
Thanks for all you are doing to encourage your child's musical education!
— Cori Bider
Music Teacher

Development Update
FOUNDER'S DAY IS TOMORROW!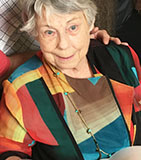 Riverside parents are always welcome at Morning Assembly, but you are especially encouraged to join us tomorrow. We'll share some history about the 'Founder' of Language Fundamentals at Riverside, Ruth Harris, and we'll have some special corny jokes for the occasion.
You also won't want to miss the 11 a.m.-12:30 p.m. session. Riverside Founder Pat DeOrio (pictured right) and some alumni will be sharing stories from days of Riverside yore, and immediately following that we will feature some silliness with Riverside staff.
Please use the regular Morning Assembly Zoom link for both sessions.
You can get more information about the day here. See you tomorrow!
— Leo Rohr
Director of Development

from the desk of…
the Head of School



FORTY-SIX YEARS AGO, AN AMAZING LADY took a great leap of faith and started a little school on McRae Road. Pat DeOrio's legacy has been the positive transformation of thousands of lives—both of dyslexic children and their families.
But Pat would be the first to tell you that it didn't happen because of her alone. Many brilliant teachers walked alongside of her, including Ruth Harris, who brought the Orton-Gillingham Approach to Riverside. This approach, which informs every aspect of the educational design of our school to this day, has stood the test of time as the single best way to help our dyslexic students.
Also extremely important to Riverside's founding were the philanthropists—the men and women who donated money to the school to allow the vision to be realized. We would not be here without their charitable donations, and we owe them a great debt. We pay this debt by working to ensure that Riverside is available to future generations of dyslexic students.
That is why an important aspect of tomorrow's Founder's Day is charitable giving, and we have two challenge grants for parents tomorrow.
The first challenge grant is a 1:1 matching donation of the first $5,000 donated on Founder's Day. This, in essence, doubles your Founder's Day gift. All donors are eligible for this match—alumni, past parents, and friends and admirers of the school and our mission.
The second challenge grant only concerns parents of current students. Riverside will receive $5,000 if 100 percent of our current parents make ANY size donation to the school's Annual Fund. This challenge was in place last year, and we did not achieve it—we only reached 93 percent of parents giving to the Annual Fund, and the school lost out on the money.
Even considering the nation's current circumstances, I believe that we can achieve this grant this year. Your donation might be just a few dollars, but it will help the school to achieve $5,000.
Thank you in advance for your support of Riverside. I look forward to seeing you tomorrow!
Important Links for Coronavirus / COVID-19 Awareness
• – Coronavirus.gov
• –

Northam Says He'll Likely Ease Some COVID-19 Restrictions in Virginia on May 15
• – Executive Stay-At-Home Order from Virginia Governor Ralph Northam 
• – Five Ways to Follow the Coronavirus Outbreak for Any Metro Area in the U.S.
• – Comcast Xfinity Free Hotspot Map
• – Social Distancing 101
• – Coronavirus Disease 2019 Situation Summary
• – World Health Organization COVID-19 Information
• – Talking to Children About COVID-19
• – Virginia Department of Health
• – Traveler's Health
• – 'M*A*S*H' and the Coronavirus (PSA)

Last Friday's Corny Joke

What did pepperoni say to the cheese?
You want a pizza of me!