Riverside School eNews, May 9, 2019
Thursday, May 9th, 2019
For Your Calendar
Friday, May 10 – Pizza Hut Lunch
Friday, May 10 – 2:15 p.m. Dismissal for Students
Friday, May 10 – Soccer Practice, 2:15-3:30 p.m.

Monday, May 13 – Pizza Hut Pasta Lunch
Tuesday, May 14 – Student Art Show, 3:15-4:15 p.m.
Wednesday, May 15 – Newspaper Club, 7:35 a.m.
Wednesday, May 15 – Morning Assembly (guest speaker is Riverside alumnus Stephen Preas), 8 a.m.
Wednesday, May 15 – 'Purposeful Play and Tinker Trays' Art Club (grades K-3), 3:15-4:30 p.m.
Thursday, May 16 – Volunteer Appreciation Breakfast, 8-9:30 a.m.
Thursday, May 16 – Soccer Match: Riverside vs. Good Shepherd, 3:30 p.m.
Friday, May 17 – Chick-fil-A Lunch
Friday, May 17 – 2:15 p.m. Dismissal for Students
Friday, May 17 – Soccer Practice, 2:15-3:30 p.m.
Upcoming:
Thursday, May 30 – New Parent Testing Workshop (for new parents), 6-7 p.m.
Thursday, May 30 – New Parent Testing Workshop (for returning parents), 7:15-8 p.m.

News and Notes

May Calendar
Please click here for the school's schedule of events for the month of May.
Last Call: Bon Air Victorian Day Parade is This Saturday, May 11

This Saturday, a contingent from Riverside will be marching in
the Bon Air Victorian Day Parade. Please RSVP to Riverside Director of Development Leo Rohr if your family plans to march in the parade (10 a.m. line-up and the parade is from 11-11:45 a.m.).
The parade will go on rain or shine.
Riverside Newspaper Club

Remaining student-led Riverside Newspaper Club meetings will be held on Wednesday mornings on May 15 and 22 beginning at promptly 7:35 a.m. Jobs for members include cartoonists, reporters and printers. The newspaper will be published the last week in May. If this interests your child, we hope they will join us.
— Sincerely, Abe Waterman (Mrs. Hague's Class)
Talent Show Sign-Ups

Sign-ups for the Talent Show at Riverside are now taking place. Students can sign up in the Commons and receive a permission form that needs to be signed and returned along with a $1 registration
fee. The Talent Show will be Wednesday, June 5.
Riverside Receives Prestigious Re-Accreditation from the Academy of Orton-Gillingham Practitioners and Educators (AOGPE)


Riverside's  training and instructional programs have both been re- accredited for seven more years by the Academy of Orton-Gillingham Practitioners and Educators (AOGPE).
Orton-Gillingham has been the gold standard approach for helping children with dyslexia for more than 70 years. The O-G Academy was established by its Founding Fellows to certify and accredit educators and schools, such as Riverside, to the highest requirements.
Riverside Seeking Interested Candidates
for Substitute Teacher Roles
Want to be a part of a flourishing independent day school, complete with supportive and engaging students, faculty, staff and administrators?

From time to time, Riverside relies on substitute teachers to fill instructional and other roles. The school is currently seeking substitutes primarily for the 2019-20 school year, though there might be a need for the remainder of the current school year.
In order to apply, please send a cover letter and résumé to: info@riversideschool.org.
Click here to learn more and apply

Ambassador Families Needed
The 2018-19 school year is rapidly coming to a close. Plans for the 2019-20 school year are already in the works.

We want to continue the Ambassador Family Program at Riverside School. This program partners returning families with new families to make them feel welcome in the Riverside community. Ambassador Families will answer questions and offer advice on everything from school drop-off to extracurricular activities. Some Ambassador Families set up a summer play date at a public location to introduce the children.
If you are interested in becoming an Ambassador Family, please email Debra Mitchell, Riverside's Associate Head of School, at: dmitchell@riversideschool.org.
Thank you in advance

Save the Date for Thursday, May 30
YOU WILL NOT WANT TO MISS Riverside's New Parent Testing Workshop on Thursday, May 30 from 6-7 p.m.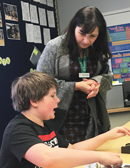 Debra Mitchell, Associate Head of School, and Cynthia Davis, O-G Coordinator, will share information about your child's testing results, which you will receive at the end-of-year conference. You'll learn what each assessment measures and exactly why we give it. You'll discover what you can learn from our curriculum based assessments and how that compares to standardized testing results. We'll also analyze some real testing (from former students) to make it all come to life.
–FOR RETURNING PARENTS–
You don't have to miss out! You're invited to come to our Returning Parent Testing Workshop on the same night from 7:15-8 p.m.
Questions? Please contact Riverside at (804) 320-3465.
See you soon!

Parents' Association News
Thank You, Parents

The Parents' Association would like to thank Ashley Simons
for chairing Teacher Appreciation Week and Sarahbeth Spasojevich for coordinating Riverside School's Day at The Diamond. Our school is so fortunate to have such great parents and parents of former students!
Click here for a photo gallery from Riverside's Day at The Diamond
Ladies' Shopping Night

Please join us for a Ladies' Shopping Night at Scout & Molly's Boutique on Tuesday, May 21 from 6-8 p.m. A portion of the evening's proceeds will benefit Riverside's Parents' Association.
More information to follow!
Lunches in May

We still need help distributing lunches this month. Please click here
if you are able to help distribute lunches in May. New sign-up dates have been added for May. Your help is needed and greatly appreciated in advance. 
Please note that there will be no lunches offered in June.
Don't Toss Your Box Tops

Please send in any box tops that you have collected no later than Thursday, May 23. Although they will not be submitted until October, we will have a final collection for the school year.
Click here for a box top worksheet that can be used to collect them.

Calling All Parents…

The Parents' Association is looking for new leadership for the
2019-20 school year. Please let us know if you are interested or
have any questions about this opportunity.
Show Off Your Riverside School Spirit

Riverside School car magnets are available for purchase for $5. Please see Anne Kunkle in the front office if you are interested.

Development Update
WOW, WHAT A WEEK!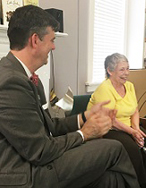 I'd like to echo Mr. Waller's words below and thank Riverside's parents for such a nice week of appreciation. I'd also like to thank everyone for a great Founder's Day as well. In addition to seeing so many of you at the afternoon reception and hearing from you online, we managed to raise $9,975 in donations and earn $4,000 more in challenge grants.
There are still two $5,000 in challenge grants left to achieve though, one for current parent participation and one for alumni participation. You can make a donation online or by check, and please feel free to check with me if you can't remember whether you have donated or not.
Current Parent Participation – 61%
Percentage needed for $5,000 Challenge Grant – 100%
— Leo Rohr
Director of Development

from the desk of…
the Head of School

ON BEHALF OF THE FACULTY AND STAFF, I would like to offer a very sincere thank you to our parents for providing such a wonderful Teacher Appreciation Week last week. Organized by our Parents' Association, teachers and staff were provided with food each day of the week, including breakfast foods, snacks, and even complete lunches.
Very generous gift cards were given to all of the teachers and staff, and there was even a gift raffle on Friday!
Perhaps the best part of the week was the delivery of cards and notes of appreciation written by our students. At a school like Riverside, nothing is appreciated by teachers more!
Again, thank you to all of our parents for your support and kindness. You are very much appreciated! 

This Week's Quote
"If you can imagine it, you can achieve it. If you can dream it, you can become it."
— William Arthur Ward, writer

In Their Own Words
"It's easier to learn here because of the small class sizes."
— Sadie, student at Riverside School 

Last Friday's Corny Joke