Riverside School eNews, Nov. 7, 2019
Thursday, November 7th, 2019
For Your Calendar

Friday, Nov. 8 – Pizza Hut Pizza Day
Friday, Nov. 8 – 2:15 p.m. Dismissal for Students
Friday, Nov. 8 – Soccer Practice, 2:15-3:30 p.m.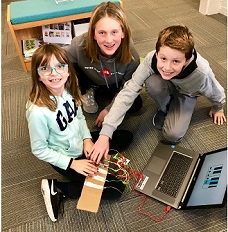 Tuesday, Nov. 12 – Birthday Book Club
Tuesday, Nov. 12 – Mi Hacienda Lunch
Tuesday, Nov. 12 – Robotics Club, 3:05-4:30 p.m.
Wednesday, Nov. 13 – Student Council Association Meeting, 7:30 a.m.
Wednesday, Nov. 13 – Adult Dyslexic Speaker,
8 a.m.
Wednesday, Nov. 13 – Parents' Association Meeting with Speaker
Juliette Sykes, 8:30 a.m.
Wednesday, Nov. 13 – Art Club ('It's All Greek to Me,' grades K-4 only),
3:05-4:15 p.m.
Wednesday, Nov. 14 – Admissions Open House, 9-11 a.m.
Thursday, Nov. 14 – Soccer Match Riverside vs. Sabot '1,' 3:30 p.m.
Friday, Nov. 15 – Pizza Hut Pasta Day
Friday, Nov. 15 – Soccer Practice, 2:15-3:30 p.m.
 
Please note: If you have not already done so, please turn in your child's picture proof. Our photographer has asked us to return them back to him regardless if you are ordering additional prints or not.

November Calendar
Please click here for a schedule of events for the month of November at Riverside.

The Chance to Change Your Child's Life for the Better—and Forever:
Save Your Spot for Riverside Admissions Open House on Nov. 14


Learning to read should be as easy as ABC. For one out of five children, it's not.
If you or someone you know has a student who is struggling to read and that you think may have a language-based learning difference, join us to learn more about our school and programs at Admissions Open House on Nov. 14 from 9-11 a.m.:
• – Ask questions and talk with current students, as well as parents
• – Learn more about our programs and the Orton-Gillingham Approach
• – Speak with our teaching faculty, instructors, and administrators
• – Learn about the application process
• – Tour our expanded campus
Riverside is a school where students with dyslexia and other language-based learning differences thrive thanks to small class sizes that allow teachers to focus on the individual needs of each student. Faculty is trained in the Orton-Gillingham Approach, the cornerstone of Riverside's teaching philosophy. Our programs provide academic challenge while also fostering student confidence.
Click here to learn more and reserve your spot.
New Parent Workshop—Dyslexia Simulation—
This Evening, 7-8:30 p.m.

The New Parent Workshop will take place this evening, Nov. 7 at 7 p.m. This workshop will take you through a simulation that is designed to help you experience the difficulties and frustrations that students with dyslexia
and related differences encounter daily with reading,
writing and spelling.
All new families are requested to have at least one parent present for this important educational session.
Life is Full of Drama—Sign Up for Riverside's Drama Club
(Starts Nov. 20)


Riverside students, join us on Wednesday afternoons for some creative arts fun as a part of the Riverside Drama Club. Each week will include theatre games and drama skills. A short play will be performed at the final class. Drama helps build confidence, self-esteem and verbal speaking skills.
Learn more about Riverside's Drama Club via this flyer and permission form.
Come Check Out Riverside's New Parent Library
Recently introduced, Riverside has initiated a parent library in our school entryway.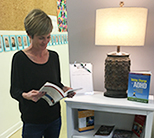 This area features a wide range of books, including a variety of insightful selections that provide interesting insights into dyslexia from some of the top experts in the field as we all look to glean more information about dyslexia and other language-based learning differences.
Parents and visitors, please feel welcome to pick up a book to read and remember to sign it out on the accompanying sheet on the table.
Please e-mail: cdavis@riversideschool.org should you have any questions.
Thank you for your support of Riverside School!
Come Listen to Riverside Teacher and Purple Heart Recipient Curtis Hofstetter Speak at Morning Assembly on Veterans Day
(Monday, Nov. 11)


All are invited to come listen to Riverside Social Skills teacher, Vietnam veteran and Purple Heart recipient Curtis Hofstetter speak at Morning Assembly on Veterans Day, which is Monday, Nov. 11. Morning Assembly begins at 8 a.m.
'Mr. Curtis,' as he is affectionately known as around campus, who is also an adult with dyslexia, always has a great and inspiring message that is well worth your time.

News From the Library—
Book Fair is Coming!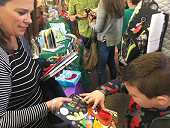 PLEASE MARK YOUR CALENDARS for the Scholastic Book Fair to be held at Riverside School from Nov 22-26. It will coincide with the annual 'Grandparents and Special Friends Day' event on
Nov. 26.
Riverside's Scholastic Book Fair is a reading event that brings a wonderful selection of books for students to choose from. Students will shop with parents and loved ones rather than on their own.
Please click here for more information, including dates and times for Scholastic Book Fair.



THIS WEEK IN MUSIC, WE ARE BEGINNING to learn 'Carol of the Bells' in the intermediate and upper elementary classes. We are continuing our work on 'Ode to Joy' in the elementary classes. We are practicing 'You Raise Me Up,' 'Here Comes the Sun,' and 'What a Wonderful World' in preparation for the Grandparents and Special Friends Day assemblies.
It is amazing to have the new music space in the gym. The children are enjoying the opportunity to make lots of sound!
— Cori Bider
Music Teacher 


Parents' Association News
Riverside Spirit Wear

It's time to show your school spirit! Place your order by Nov. 15 for hoodie-sweatshirts, long-sleeved hoodies, short-sleeved t-shirts, water bottles and magnets. And remember … the holidays are quickly approaching!
Order forms were sent home last week, but you may click here for the order form.

Next Parents' Association Meeting

Our next meeting is scheduled for next Wednesday, Nov. 13 at 8:30 a.m. Juliette Sykes, a former Riverside parent and the treasurer of Riverside's Board of Trustees', will discuss the possible tax benefits for Riverside Parents and recent changes to tax laws, including new K-12 options for 529 plans.
Juliette is passionate about being a catalyst to assist others in realizing their dreams through financial security. Juliette has more than 20 years of proven success in pivotal roles: senior auditor with a Big 4 CPA firm, financial analyst with a Fortune 500 corporation, and small business owner.
Lunches in November


Please click here if you are able to help distribute lunches in November. Your help is needed and greatly appreciated in advance.
Volunteers Needed in the Library 

Mrs. Cain is looking for help on Tuesdays in the library from 8:30-
10 a.m. checking in books, returning books to their shelves and
with various other projects.
Please click here to sign up.

Show Your School Spirit With a Riverside Car Magnet

Riverside School car magnets are now available to purchase for two
for $5 or $3 each. Checks should be made payable to Riverside's Parents' Association. Please see Anne Kunkle at the front desk if you
are interested.
One Amazing Harvest Moon Auction Item Remains 
Thank you to everyone who helped make this year's Harvest Moon Social a success in strengthening Riverside today and for years to come. The live and silent auction items were very popular—but one amazing travel opportunity remains.
Though there was great interest, a weeklong stay in beautiful Belize at the amazing El Pescador resort—a lovely getaway
spot bordering the crystal waters of the Caribbean Sea—remains. The stay is valued at $7,250 and could be yours with a minimum bid of $3,000. Individuals interested may contact the Parents' Association at: bncoop@comcast.net for more information.
Let's finish this memorable and wonderful event off by claiming the final item!

Special Parent Opportunity With
New Subscriber Session
THIS MONTH'S SUBSCRIBER SESSION '2', Dyslexia Details, will be held on Wednesday, Nov. 20 at 6:30 p.m.
We will answer the following questions:
1. What's the difference between a dyslexic brain and a neurotypical brain?
2. What are the characteristics of dyslexia, and how is it diagnosed?
3. What are some myths about dyslexia, and what's the truth?
4. What are some social and emotional effects of dyslexia and helpful related resources?

Development Update
THE RSVPs ARE STARTING TO ROLL IN for Grandparents and Special Friends Day! We know that Thanksgiving week is a special time for families to get together, and that is a big part of the reason why we hold Grandparents and Special Friends Day when we do.
In order to maximize the opportunity for family time together, we give you the option of having your grandparent or special friend take your student home on Nov. 26 following their session. We will still have a regular carline dismissal at 12 p.m. that day for all students who are not going home with a grandparent or special friend. Please plan dismissal accordingly with your student's guest. As a reminder, the session times are:
• – 8:15 a.m.–9:30 a.m. – Mayer, Myers, and Waldenmaier (meeting in Riverside's Commons)
• – 9:30 a.m.–10:45 a.m. – Bushhouse, Estes, and Sculthorpe (meeting in
St. Michael's Parish House)
• – 10:45 a.m.–12 p.m. – Hague and Shoop (meeting in Riverside's Commons)
Please let me know if you have any questions. I'm looking forward to a great day!
— Leo Rohr
Director of Development

from the desk of…
the Head of School



I AM SORRY THAT I MISSED MY 'FROM THE HEAD OF SCHOOL'S DESK' deadline last week, but I had just returned from the Southern Association of Independent Schools (SAIS) conference in Atlanta. SAIS is one of our accrediting bodies, along with the Virginia Association of Independent Schools (VAIS) and the Academy of Orton-Gillingham Practitioners and Educators.
If you have a few minutes this coming Monday after morning drop-off, I would encourage you to stay for Morning Assembly to hear a short Veteran's Day presentation by Curtis Hofstetter, better known by our students as 'Mr. Curtis.' Mr. Curtis is both a veteran and an adult dyslexic, and I asked him to take a few minutes to speak to our students about his service in Vietnam. Mr. Curtis is someone who truly 'gets' our kids, and his dedication to them and his service to our country is truly inspiring.
— Hal Waller
Head of School

In Their Own Words…
"I like it when teachers read books to us."
— Conner, student at Riverside School

Last Friday's Corny Joke

What do you get when you combine 'Star Wars' with baseball?
The Umpire Strikes Back!