Riverside School eNews, Oct. 1, 2020
Thursday, October 1st, 2020
Above: Riverside School Head of School Hal Waller provides an update on how school spirit is flourishing at Riverside with active learning and engaging activities. Please click here to watch the video.

This Coming Week's Events…
Friday, Oct. 2 – 2:15 p.m. Dismissal
Monday, Oct. 5 – Soccer Clinic (for Main Building students only), 3:15-4:15 p.m.
Friday, Oct.9 – Student Council Officer Applications Due
Friday, Oct. 9 – 2:15 p.m. Dismissal
Friday, Oct. 9 – Soccer Clinic, 2:15-3:30 p.m.

Upcoming Events…
Monday, Oct. 12 – Soccer Clinic (for Main Building students only), 3:15-4:15 p.m.
Wednesday, Oct. 14- Student Council Officer Speeches and Election
Thursday, Oct. 15 – Transition Meeting for Parents of Eighth Grade Students or Students Planning to Exit (via 'Zoom' link), 7 p.m.
Friday, Oct. 16 – Student Council Classroom Representative Applications Due
Friday, Oct. 16 – 2:15 p.m. Dismissal
Friday, Oct. 16 – Soccer Clinic, 2:15-3:30 p.m.
Monday, Oct. 19 – Soccer Clinic (for Main Building students only), 3:15-4:15 p.m.
Wednesday, Oct. 21 – Student Council Classroom Representative Speeches and Election
Wednesday, Oct. 21 – AOGPE Subscriber Session I—All About Orton-Gillingham,
6:30-8:30 p.m.



October Calendar
Please click here for a schedule of events for the month of October at Riverside School.
Checking In from the Library…

There is still time to join the Birthday Book Club. Donate a book to the Riverside School library with a personalized bookplate naming your child as the donor,
made in honor of their birthday. Click here to learn more and register.
Note About Library Checkout During Covid-19


In our efforts to keep everyone safe and healthy, checkout procedures have changed. There will be open checkout every other week for Ms. Nagy's class, as well as North Building and Ticer Hall students. Books on display will be available for checkout. Ms. Myers and Mrs. Mayer's classes will continue weekly open book checkout.
In addition, we have implemented genre checkout using slips available in each building and specific book holds using the online library catalog. Click here to see instructions for book holds. Students can use the genre check-out and hold option weekly.

Soccer Activity Offers Students Fun, Safety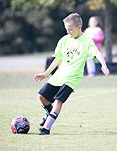 Riverside Physical Education Teacher and Coach Cam Childress, along with our school will be conducting soccer clinics for Riverside students.
Please note that only five spots remain for the clinic on Monday, Oct. 5, so please register today by clicking here.
In addition to the kickoff next week, additional clinics are set for Oct. 12, Oct. 19 and Oct. 26 from 3:15-4:15 p.m. and envelope students in the classes of Mayer, Myers, and Nagy.

CONTINUING EDUCATION
Special Parent Opportunity
FOR THOSE OF YOU WHO SAID YOU WOULD LIKE more insight into the Orton-Gillingham Approach, but you're not ready to commit to our 60-hour Associate Class, we have just the thing for you!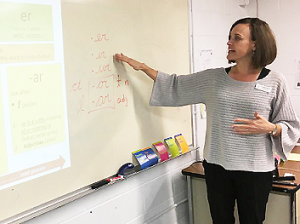 On Wednesday, Oct. 21, we're kicking off our Subscriber Series!
In October, November, January and February, we'll offer four different two-hour sessions of official OGA curriculum. Together, the eight hours of sessions cover the entire Subscriber level curriculum. Attendance at all four sessions will qualify you to hold Subscriber Membership with the Academy (www.ortonacademy.org).
The Subscriber Sessions will be led by Riverside's Fellows and Fellows-in-Training, Cynthia Davis, Leda Spencer, and Ann-Marie Lundmark. The sessions are being offered and advertised to area professionals, however they are FREE for Riverside parents.
Find more information here and register today.
Please note: Sessions will be conducted remotely using the 'Zoom' platform. Login information will be sent in advance of each session.

Student Council Elections Forthcoming
RIVERSIDE STUDENT COUNCIL ELECTIONS will take place on Oct. 14 (Officers) and Oct. 21 (Classroom Representatives). Applications will be due prior to the elections.
Please click on the position for which your child would like to run to learn more about the requirements, duties, application procedure, and campaign rules.
Students that are not elected to Officer positions will be eligible to run for Classroom Representative.
Click here for Student Council Officers information
Click here for Student Council Classroom Representatives information

Development Update
RIVERSIDE HAS A RICH HISTORY OF STUDENT GOVERNANCE. From fundraisers to fun events, dress-up days to tour guide duties, Student Council has helped plan them all and significantly contributed to the Riverside community. I am honored and excited to help continue these traditions by serving as the Student Council Advisor this year.
You can find information about the various Student Council positions and the election timeline in this newsletter above. If you have any further questions about Student Council after reading the descriptions and expectations, please feel free to reach out to me.
— Leo Rohr
Director of Development 

from the desk of…
the Head of School



OF COURSE, THE ORTON-GILLINGHAM APPROACH, which informs every aspect of instruction here at Riverside, is a major component of the success our dyslexic students have. But great communication is also vitally important, and Parent Conferences are an important part of that communication.
Thank you to all of the parents who have carved time out of their schedules for Parent Conferences today. Our teachers do a phenomenal job of truly understanding our students and the ways that they learn, and I'm happy that they have the opportunity to share this with parents during the conference time.
By the time you read this, you should have already received an email from me with a link to a survey about your conference experience. Thanks in advance for taking a few minutes to give us feedback.
In Their Own Words…
"Everyone is so nice, I feel included and there is always someone to talk to."
— Ginna, student at Riverside School


Last Friday's Corny Joke
Why do dragons sleep during the day?
So they can fight knights!