Riverside School eNews, Oct. 17, 2019
Thursday, October 17th, 2019
For Your Calendar

Friday, Oct. 18 – 2:15 p.m. Dismissal for Students
Friday, Oct. 18 – Soccer Practice, 2:15-3:30 p.m.
Friday, Oct. 18 – Harvest Moon, 7-10 p.m.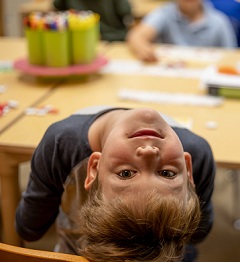 Tuesday, Oct. 22 – Birthday Book Club
Tuesday, Oct. 22 – Mi Hacienda Lunch
Tuesday, Oct. 22 – Robotics Club, 3:05-4:30 p.m.
Wednesday, Oct 23 – Student Council Association Meeting, 7:30 a.m.
Wednesday, Oct. 23 – Art Club ('It's All Greek to Me,' grades K-4 only), 3:05-4:15 p.m.
Thursday, Oct. 24 – Pizza Hut Pasta Day
Thursday, Oct. 24 – Soccer Match: Riverside vs. Montessori, 3:30 p.m.

Friday, Oct. 25 – 12 p.m. Dismissal for Students / Teachers' Work Day
Friday, Oct. 25 – No Soccer Practice
Please note: Individual picture make-up day will take place on Wednesday, Nov. 6.

Harvest Moon Update—Tickets Still
Available—Call for Volunteers

THE PARENTS' ASSOCIATION IS EXCITED TO SEE everyone tomorrow night at 7 p.m. at Riverside for the Harvest Moon Auction Party! You can purchase your tickets using this link:
https://riversideschool.org/support/harvest-moon-2019/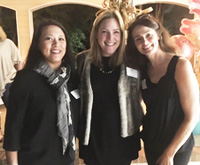 Even if you unable to make it, you can still bid on all the items at: www.riversideschool.org/ support/Harvest-Moon-2019. The online auction includes a trip to Belize, Mexico and Nags Head, and with almost 50 items there is sure to be something for everyone!
As with previous years, the evening is sure to be full of fun and fellowship with unlimited food, beer and wine. There will be live music from the 'Riverside Ramblers,' as well as a silent / live auction complete with great items to bid on.

PLEASE NOTE: THE PARENTS' ASSOCIATION HAS WORKED EXTREMELY HARD to organize this year's event, so please strongly consider buying tickets and attending as numbers are a bit lower than previous years—remember, it's all to help ensure that Riverside remains vibrant and strong moving forward!|
DRESS IS CASUAL, so please come and have an enjoyable time for a great cause!

DON'T FORGET TO PURCHASE YOUR BEADS for a chance to win an awesome Yeti Hopper M3—however, you must be present to play the game and win!
The Parents' Association will also be selling short sleeve, long sleeve and hooded sweatshirts at Harvest Moon.

VOLUNTEERS FOR THE EVENT are still needed. You may sign up to help by clicking https://www.signupgenius.com/go/30e0e4da8a622aaf94-harvest5.

Development Update
I'D LIKE TO PUT ONE MORE PLUG IN for the Harvest Moon tomorrow night. I had so much fun at last year's event chatting with parents and friends, eating great food, and even winning a few auction items. I already have a few bids out there on this year's items, but I wouldn't be opposed to getting into a bidding war with you.
Each year, the Parents' Association picks a special project to fund with the proceeds from the Harvest Moon and I was delighted to hear that this year's choice is Riverside's fine arts program. Music, visual arts, drama, and dance provide an inspiration and outlet for our students' boundless creativity. We are excited to be able to give these programs a boost this year thanks to the generosity
of our Parents' Association and your bids!
If you already have your ticket for tomorrow, please stop by and say hello to me at some point during the evening. If you haven't bought your ticket yet, there is still time and I'd love to have you join us.
— Leo Rohr
Director of Development
October Calendar

Please click here for a schedule of events for the month of October at Riverside.
Save Your Spot for Admissions Open House, Set for Nov. 14 at Riverside


Learning to read should be as easy as ABC. For one out of five children, it's not.
If you or someone you know has a student who is struggling to read and that you think may have a language-based learning difference, join us to learn more about our school
and programs at Admissions Open House on Nov. 14 from
9-11 a.m.:
• Ask questions and talk with current students, as well as parents
• Learn more about our programs and the Orton-Gillingham Approach
• Speak with our teaching faculty, instructors, and administrators
• Learn about the application process
• Tour our expanded campus
Riverside is a school where students with dyslexia and other language-based learning differences thrive thanks to small class sizes that allow teachers to focus on the individual needs of each student. Faculty is trained in the Orton-Gillingham Approach, the cornerstone of Riverside's teaching philosophy. Our programs provide academic challenge while also fostering student confidence.
Click here to learn more and reserve your spot.

Music Notes
STUDENTS IN THE NORTH BUILDING (Mrs. Shoop's and Mrs. Hague's classes) and Ticer (Mrs. Bushhouse's, Mrs. Sculthorpe's, and Mrs. Estes' classes) will be attending the Richmond Symphony on Oct. 30, 2019. We will be  leaving at 9:30 a.m. and returning around 12 p.m.
The Symphony will be performing works by Bach, Holst, Dvorak, Ginastera, Price Sibelius and more! It will be a fun and educational trip and I am excited to share this awesome experience with my Riverside students.
Below, please find the link to the Discovery concert website to learn more: https://www.richmondsymphony.com/community/
school-based-programs/discovery-concerts-2/
Field trip permission forms will be coming home today in your student's Thursday folder or you may click here.
Please e-mail Cori Bider at: cbider@riversideschool.org if you have any questions.


Parents' Association News
Lunches in October

Please click here if you are able to help distribute lunches in October. Your help is needed and greatly appreciated in advance.
Don't Toss Your Box Tops

We will be having a contest between homerooms during the month
of October. The class with the most box tops will win a pizza party.
Show Your School Spirit With a Riverside Car Magnet


Riverside School car magnets are now available to purchase for two for $5 or $3 each. Checks should be made payable to Riverside's Parents' Association. Please see Anne Kunkle at the front desk if you are interested.

Special Parent Opportunity With
New Subscriber Session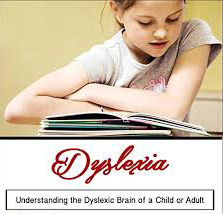 THANKS SO MUCH TO THOSE OF YOU who came out last night. You were such a receptive and engaged audience, and I enjoyed spending time with you!
Next month's Subscriber Session 2, Dyslexia Details, will be held on Wednesday, Nov. 20 at 6:30 p.m.
We will answer the following questions:
1. What's the difference between a dyslexic brain and a neurotypical brain?
2. What are the characteristics of dyslexia,
and how is it diagnosed?
3. What are some myths about dyslexia, and what's the truth?
4. What are some social and emotional effects of dyslexia and helpful related resources?

from the desk of…
the Head of School



YESTERDAY, RIVERSIDE ALUMNUS JOHN MEACHAM addressed our students and parents as part of our Adult Dyslexic Speaker series. John is an eloquent speaker, and he talked about his educational path that led to his current professional success in business.
One part of John's talk that stood out to me was that when someone told him he couldn't accomplish something academically because of his dyslexia, that just made John want to do it even more. He called it his "stubbornness," and he said that it has served him well over the years.
I see this characteristic in our students all of the time, and I especially saw it on the Intermediate School trip to Camp Horizons just last week. One example that comes to mind is a particular student who refused to give up on the 40 foot climbing wall until she made it to the absolute top. It took a couple of tries, but she was "stubborn" enough to succeed.
Whether you call it being stubborn, showing grit, having stick-to-itiveness, or just persevering, this quality is celebrated and encouraged here at Riverside.
— Hal Waller
Head of School

This Week's Quote
"Always bear in mind that your own resolution to succeed is more important than any other one thing."
— Abraham Lincoln

In Their Own Words…
"I like the way they teach—it's a lot better than the other schools I've been at."
— Canon, student at Riverside School

Last Friday's Corny Joke
What is a frog's favorite soda?
Croak-a-cola