Riverside School eNews, Oct. 31, 2019
Thursday, October 31st, 2019
For Your Calendar
Friday, Nov. 1 – 2:15 p.m. Dismissal for Students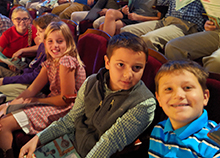 Friday, Nov. 1 – Soccer Practice, 2:15-3:30 p.m.
Tuesday, Nov. 5 – Mi Hacienda Lunch
Tuesday, Nov. 5 – Robotics Club, 3:05-4:30 p.m.
Wednesday, Nov. 6 – Individual Make-Up
Picture Day
Wednesday, Nov. 6 – Art Club ('It's All Greek to Me,' grades K-4 only),
3:05-4:15 p.m.
Thursday, Nov. 7 – Interims Issued
Thursday, Nov. 7 – Soccer Match Riverside vs. Sabot '2,' 4:30 p.m.
Thursday, Nov. 7 – New Parent Workshop, 7-8:30 p.m.
Friday, Nov. 8– Pizza Hut Pizza Day
Friday, Nov. 8 – 2:15 p.m. Dismissal for Students
Friday, Nov. 8 – Soccer Practice, 2:15-3:30 p.m.
Please note: If you have not already done so, please turn in your child's picture proof. Our photographer has asked us to return them back to him regardless if you are ordering additional prints or not.

November Calendar
Please click here for a schedule of events for the month of November at Riverside.
Save Your Spot Today for Admissions Open House,
Set for Nov. 14 at Riverside


Learning to read should be as easy as ABC. For one out of five children, it's not.
If you or someone you know has a student who is struggling to
read and that you think may have a language-based learning difference, join us to learn more about our school and programs at Admissions Open House on Nov. 14 from 9-11 a.m.:
• Ask questions and talk with current students, as well as parents
• Learn more about our programs and the Orton-Gillingham Approach
• Speak with our teaching faculty, instructors, and administrators
• Learn about the application process
• Tour our expanded campus
Riverside is a school where students with dyslexia and other language-based learning differences thrive thanks to small class sizes that allow teachers to focus on the individual needs of each student. Faculty is trained in the Orton-Gillingham Approach, the cornerstone of Riverside's teaching philosophy. Our programs provide academic challenge while also fostering student confidence.
Click here to learn more and reserve your spot.
New Parent Workshop—Dyslexia Simulation—is Next Thursday, Nov. 7,
7-8:30 p.m.

The next New Parent Workshop will take place on Nov. 7 at 7 p.m. This workshop will take you through a simulation that is designed to help you experience the difficulties and frustrations that students with dyslexia and related differences encounter daily with reading, writing and spelling.
All new families are requested to have at least one parent present for this important educational session.
New parents are welcome to invite family members to join them. Please RSVP to akunkle@riversideschool.org or call (804) 320-3465.
Please click here to learn more.

News From the Library—
Book Fair is Coming!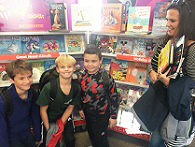 PLEASE MARK YOUR CALENDARS for the Scholastic Book Fair to be held at Riverside School Nov 22-26. It will coincide with the annual 'Grandparents and Special Friends Day' event on Nov. 26.
Riverside's Scholastic Book Fair is a reading event that brings a wonderful selection of books for students to choose from. Students will shop with parents and loved ones rather than on their own.
More information will follow in ensuing weeks.

Music Notes

THE CLASSES FROM THE NORTH BUILDING AND TICER HALL had a great time at the Symphony yesterday! I am so grateful to all the teachers that attended, Ms. Kunkle for her incredible organizational skills and Mrs. Harvey for helping us set up the buses.
A big thanks also to Mr. Waller for attending the performance with us. This week in music we will be discussing our trip, learning more about the symphony and singing songs to get ready for 'Grandparents and Special Friends Day'
performance coming up on Nov. 26.
Please click here for a photo gallery from Riverside's trip to the Richmond Symphony's Discovery Concert performance.
— Cori Bider
Music Teacher

Parents' Association News
Riverside Spirit Wear

It's time to show your Riverside school spirit! An order form will be
coming home in today's Thursday folder. Please place your order by
Nov. 15 for hoodie-sweatshirts, long sleeved hoodies, short sleeved
t-shirts, water bottles and magnets. And remember … the holidays
are quickly approaching!
One Amazing Harvest Moon Auction Item Remains
Thank you to everyone who helped make this year's Harvest Moon Social a success in strengthening Riverside today and for years to come. The live and silent auction items were very popular—but one amazing travel opportunity remains.
Though there was great interest, a weeklong stay in beautiful Belize at the amazing El Pescador resort—a lovely getaway spot bordering the crystal waters of the Caribbean Sea—remains. The stay is valued at $7,250 and could be yours with a minimum bid of $3,000.
Individuals interested may contact the Parents' Association at: bncoop@comcast.net for more information.
Let's finish this memorable and wonderful event off by claiming the final item!
Next Parents' Association Meeting

Our next meeting is scheduled for Nov. 13 at 8:30 a.m. Juliette Sykes, a former Riverside parent and the treasurer of Riverside's Board of Trustees', will discuss the possible tax benefits for Riverside Parents and recent changes to tax laws, including new K-12 options for 529 plans.
Juliette is passionate about being a catalyst to assist others in realizing their dreams through financial security. Juliette has more than 20 years of proven success in pivotal roles: senior auditor with a Big 4 CPA firm, financial analyst with a Fortune 500 corporation, and small business owner.
Lunches in November


Please click here if you are able to help distribute lunches in November. Your help is needed and greatly appreciated in advance.
Volunteers Needed in the Library 

Mrs. Cain is looking for help on Tuesdays in the library from 8:30-10 a.m. checking in books, returning books to their shelves and with various other projects.
Box Tops

Today was the last day to turn in box tops for the classroom competition but we will still be collecting box tops. Stay tuned for the classroom winner!
Show Your School Spirit With a Riverside Car Magnet

Riverside School car magnets are now available to purchase for two
for $5 or $3 each. Checks should be made payable to Riverside's Parents' Association. Please see Anne Kunkle at the front desk if you
are interested.

Special Parent Opportunity With
New Subscriber Session
NEXT MONTH'S SUBSCRIBER SESSION '2', Dyslexia Details, will be held on Wednesday, Nov. 20 at 6:30 p.m.
We will answer the following questions:
1. What's the difference between a dyslexic brain and a neurotypical brain?
2. What are the characteristics of dyslexia, and how is it diagnosed?
3. What are some myths about dyslexia, and what's the truth?
4. What are some social and emotional effects of dyslexia
and helpful related resources?

A Friendly Reminder…

PLEASE REMEMBER, IF YOUR CHILD IS RIDING HOME with someone other than their usual person, please send in a note or e-mail letting the teacher and the front office know.  Make sure your child knows who is picking them up.

Also, if your child arrives to school in the morning after 8 a.m. and you do not see an adult standing out at carline, please walk your child inside to the front office and sign
them in.




Development Update
RIVERSIDE PARENTS,
Hopefully you recently received an email from me asking about Grandparents and Special Friends Day, which takes place Tuesday,
Nov. 26. This is one of my favorite days of the school year, and I can't wait to welcome all of our guests to Riverside.
As in years past, we break up the morning into three blocks to accommodate the large number of visitors that day. Here is the schedule for when each class will be welcoming visitors.
• – 8:15 a.m.–9:30 a.m. – Mayer, Myers, and Waldenmaier (meeting in Riverside's Commons)
• – 9:30 a.m.–10:45 a.m. – Bushhouse, Estes, and Sculthorpe (meeting in St. Michael's Parish House)
• – 10:45 a.m.–12 p.m. – Hague and Shoop (meeting in Riverside's Commons)
Stay tuned for more information about the day in upcoming e-newsletters!
— Leo Rohr
Director of Development

In Their Own Words…
"Riverside is a great school because they help you learn things like how to do cursive. I like PE because we get to play dodgeball and four square."
— Ani, student at Riverside School

Last Friday's Corny Joke

Who keeps the ocean clean?
The Mer-Maid!
Note: The 'from the desk of…the Head of School' update will return next week.