Riverside School eNews, Sept. 2, 2021
Monday, September 6th, 2021
For Your Calendar
Monday, Sept. 6 – Labor Day Holiday (no school)
Wednesday, Sept. 8 – Soccer Practice, 2:15-3:15 p.m.
Tuesday, Sept. 14 – Back-to-School Night, 6:30 p.m. (via Zoom)
Wednesday, Sept. 15 – Half-Day (12 p.m. dismissal)
Wednesday, Sept.15 – Soccer Practice, 12- 1:15 p.m.

Upcoming Events 
Monday, Sept. 20 – Soccer Game (Younger Group), 4 p.m.
Tuesday, Sept. 21, – New Parent Workshop—How, What and Why We Teach, 6:45-7:15 p.m. (via Zoom)
Wednesday, Sept. 22 – First Day of Fall
Wednesday, Sept. 22 – Soccer Practice, 2:15-3:15 p.m.



News and Notes

September Calendar
Please click here for a schedule of events for the month of September at Riverside School.
Riverside Celebrates First Day of School With Fun Events


It was a terrific first day of school this past Monday, Aug. 30 at Riverside, with lots of learning, fun activities, including a cookout courtesy of chef / Head of School Hal Waller, and a rekindling of fellowship. It is going to be a great year!
Click here for a photo gallery

New Pick-Up Procedure at Riverside
Riverside is using new pick-up procedures for the 2021-22 academic year. Please note the following: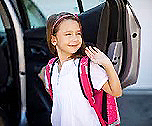 — All pick-ups should use the car loop that starts on Quaker Lane. As a result of our new procedures, parents will not be able to park and walk-up as we have done in the past.
— Please have your carline number with you and ready to show.
— We will have three cones right past Ticer—Red, Green and Blue. Please pull up so that the cone is beside the front end of your car.
— Students need to quickly enter the car, shut the door themselves, and buckle-in. Please encourage students to do this quickly and on their own.
— Students must enter on the right side of the car. They cannot walk around the car to get in.
— You may turn left, right, or go straight upon leaving campus..
New Parent Workshop This Month and Notice About Back-to-School Nights
Riverside families, please be advised that the Back-to-School night on Tuesday, Sept. 14 (6:30 p.m.) as well as the New Parent Workshop  on Tuesday, Sept. 21 (6:45-7:15 p.m.) will be conducted via virtual technology / online via the Zoom platform.
Login information will be sent to attendees in advance.
After-School Care Alert


Are you looking for after-school care?  Riverside School is partnering again this year with Skipwith Academy at Huguenot Road. Skipwith Academy comes directly to Riverside every day after school to pick your child. They have options for every day, or the occasional drop-in. Interested in learning more? Please contact their Director, Asheli Black, at (804) 323-6804.

Riverside Student Waverly Parrish
Displaying Her Artistic Acumen
CONGRATULATIONS TO ONE OF RIVERSIDE'S OWN, Waverly Parrish, who continues to put her amazing artistic talents on display.
Waverly (pictured right) had a reception in honor of her first solo exhibition on Saturday, Aug. 21 at Pine Street Barber Shop on Oregon Hill. The show is entitled 'Original Works by Waverly Claire Adams Parrish.' Talk about prodigious talent—her display included 46 pieces, all of which were made over the last year and a half.
The primary medium Waverly employed for the show was watercolor and ink, but a few pieces were made with watercolor only and a few were done exclusively in graphite pencil. Impressively, the exhibit takes up just over three walls of three the informal gallery space in the barber shop, which had long supported local artists by providing them with a venue to share
and sell their work.
The show will remain on display every Tuesday-Saturday through Sept. 30, or you can follow Waverly's new Instagram account for her art at: https://www.instagram.com/quaking_aspen_art/.
Click here for a photo gallery from her exhibition.

Development Update
WELCOME TO OUR NEW FAMILIES AND WELCOME BACK to our returning families! I am so excited for another school year here at Riverside, especially because this is the first year for our newly expanded campus and our largest ever enrollment of 90 students.
We are getting ready to send our 2020-21 Annual Report to the printer, but I will give you all a sneak preview—your support led to another banner year for Riverside fundraising and increased support for our students and teachers. One of the highlights was our Board, staff, and current parents all hitting the 100 percent participation goal in Annual Fund giving AGAIN and earning $6,000 in challenge grants. Thank you all so much!
Here's to another great year for our students at Riverside,
— Leo Rohr
Director of Development

from the desk of…
the Head of School



THANK YOU, PARENTS, FOR A GREAT START TO THE SCHOOL YEAR! This morning I spent some extra time in the gym during morning drop-off to visit and sing songs with the students, and it was the highlight of my week so far.
And thanks especially for your patience with us as we refine our drop-off and pick-up procedures to work with our expanded campus.
Thank you, parents, for a great start to the school year! This morning I spent some extra time in the gym during morning drop-off to visit and sing songs with the students, and it was the highlight of my week so far.

In Their Own Words…
"It is fun here. Very fun. All the teachers are nice. Everyone is nice here."
— Chris, student at Riverside School