Riverside School eNewsletter, April 19, 2018
Thursday, April 19th, 2018
                                                                                                                                                                                                                                                                                                                                                                                                           APRIL 19, 2018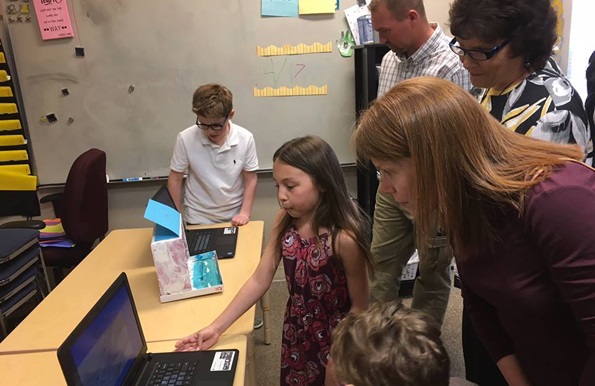 The Lower School (students who are in classes taught by Mayer, Myers, Waldenmaier, Furey and Hague)

presented their projects to Riverside parents, families, teachers, faculty and staff on Tuesday, April 17.
View a

photo gallery

and learn more. 
For Your Calendar
Sneed's Nursery Fundraiser
Make a purchase at Sneed's Nursery now until May 13 and they will donate 10 percent of the sales to Riverside's Parents' Association. Families just need to identify themselves as part of the Riverside Sprout Program.
Soccer Games Today
Riverside '2' – 3:30 p.m.; Riverside '1' – 4:30 p.m. Matches are held at Sabot at Stony Point, 3400 Stony Point Road, Richmond, Va. 23235

The full schedule is available (subject to change).
Moms' Night Out Tonight!
All Riverside Moms are invited for dinner and great conversation at the Daily Kitchen & Bar at Short Pump. This is a laid back way for moms to get to know other moms or catch up with old friends. Please let us know if you are coming via RSVP here so we can reserve a table. Looking forward to a fun evening.
No School — Teachers Workday, Friday, April 20
Virginia Outside Fishing Day, Friday, April 20
Only three spots remain for a day of fishing tomorrow. Please see the attached flyer for additional information.
Soccer Practice, Monday, April 23
Pickup is at 4:15 p.m. in the Riverside carline.
May Lunch Order Forms Due, Monday, April 23
Forms were sent home last week but are also available to download. If your child is interested in ordering lunches for May, all orders are due by Monday, April 23.
Intermediate School Sky Ball Tournament – Papers Due Tuesday, April 24
Coming soon — Sky Ball Tournament for all intermediate school students. The tournament will actually take place on Friday afternoons on May 11, 18, and June 1 from 2:15-3:05 p.m. Please see the attached forms.
Run Club, Wednesday, April 25
Pickup is at 4:15 p.m. in the Riverside carline.
-NO- After-School Pottery, Wednesday, April 25
Teacher Appreciation Week, April 30-May 4
Information is listed below under Parents' Association Volunteer Opportunities.
Intermediate School Presentations, Tuesday, May 1
Mrs. Sculthorpe's class and Mrs. Estes' class are looking forward to presenting their projects to their families on Tuesday, May 1 at 7 p.m. The program should last approximately one hour.
After-School Pottery Art Show, Wednesday, May 2
The Art Show will take place in the art / pottery room from 4-4:30 p.m. Teachers, parents, relatives and friends are invited to attend. Pickup for pottery students is at 4:30 p.m.
Gelati Celesti (Stony Point location) Fundraiser, Thursday, May 10
The Riverside Parents' Association is holding a fundraiser at Gelati Celesti from 3-8 p.m. Twenty percent of the proceeds will be donated to the Parents' Association.
Riverside Day at the Squirrels Game on Sunday, May 20, 1:05 p.m.
Come out to The Diamond and enjoy a fun day at the Flying Squirrels game with Riverside School! There will be a section reserved for Riverside students and alumni, but non-Riversiders can also purchase and choose to sit separately.
ALL tickets purchased through this link will benefit Riverside ($4 earned on each ticket).
Sunday, May 20, 1:05 — Flying Squirrels vs. Harrisburg Senators
Kids Run the Bases (ages 14 and under) after the game! The deadline to purchase tickets is Wednesday, May 16. Ticket proceeds benefit Riverside School Parents' Association. AND…if we sell 100 tickets, our Head of School, Mr. Hal Waller, gets to throw out one of the first pitches.

Questions can be directed to Sarahbeth Spasojevich: (757) 663-8895 (text / cell) or via e-mail.
Looking Ahead – Last Day of School for Students, Thursday, June 7
The Moving-On Ceremony will take place from 8:30-9:30 a.m. for students who are transitioning. This day will be a half day for all students with dismissal at 12 p.m. Parent and Teacher Conferences are scheduled for Friday, June 8.
The full Riverside calendar is available.


News & Notes
Power Hour
A new session of Power Hour will start up on Monday April 23 and continue through Wednesday, May 16. If you are interested in enrolling your child, please complete the attached form. Power Hour is for students in Furey's, Hague's, Sculthorpe's and Estes' classes.

Parents Association Volunteer Opportunities
Teacher Appreciation Week Volunteers
We are currently looking for parents to help with Teacher Appreciation Week (April 30-May 4). The Parents' Association will be providing meals for the teachers as well as coverage for their lunch and recess periods. If you are able to help, please sign up using this link. Additionally, if you have any questions, please e-mail Becky Gelrud if you would like to volunteer. 
Founder's Day Volunteer
The Parents' Association is looking for volunteers to help with Founder's Day on Friday, May 4. Founder's Day is Riverside School's version of Field Day. The students will rotate through six stations of various games and activities. If you are able to help, please sign up using this link.
Riverside Lunch Volunteers
Please check your calendars and sign up if you are able to help distribute lunches. We appreciate all of your help!
Attached, please find the May Lunch Order Form (due Monday, April 23). There will be no lunches offered in June.
Art Room Volunteers
Please check your calendars and see if you are available to help with the students' art classes on Wednesdays. If so, please sign up. Thank you.


Alumni Update
MANY THANKS to everyone who showed up at the Riverside Alumni Social last evening at Hardywood Park Craft Brewery. It was great to see our former students and hear how you all are doing, as well as exchange ideas in this setting.
We all had a lot of good takeaways from the evening and thanks to Riverside Head of School Hal Waller and Director of Development Cindy DiCello for attending and organizing the event—look for more of these get-togethers in the future!
The big news of the evening came at the Flying Squirrels' game, however, as Chip Brierre, a member of Riverside's Development Committee, proposed to his girlfriend, Carley Dobson. She said, 'Yes!' Check out the full article here.

from the desk of…
the Head of School

THANKS TO EVERYONE WHO SUPPORTED the school when I was out for the Orton-Gillingham (O-G) Academy conference this past Friday, especially Suzie Eklund, Director of Language Fundamentals, who ran morning drop-off and was point person for the day. Thanks also to Mark Schein, Math teacher, who shared the corny jokes at Morning Assembly.
This has been a busy week, with Lower School Presentation Night on Tuesday and with a Richmond Alumni Chapter event last night.
Next week will also be a busy one. The VAIS/SAIS Accreditation Team will be visiting on Monday and Tuesday. If you do get the chance to talk with a team member, please take the opportunity to thank them for coming out and to explain your family's path to Riverside.
I am very excited to share our school with Accreditation Team and to get their feedback on how we can be even better at serving our students.

Last Friday's Corny Joke

Quotable
"I like my teachers and am learning a lot like multiplication, division and times tables—and not to bully from social skills class."
— Piper, third-grader at Riverside School 

Riverside School's mission is to provide remediation of language skills for
students with dyslexia and similar language-based learning differences
in grades K-8, so that they can return to mainstream education
fully prepared to realize their highest potential.