Riverside School eNewsletter, February 1, 2018
Monday, February 5th, 2018
For Your Calendar…
Parents Conferences on Tuesday, February 6
Students do not have school Tuesday due to Parent Conferences.

Parents Association Meeting on Wednesday, February 14
The Parent Association's next meeting is scheduled for Wednesday, February 14 at 8:15 a.m. in the Art Room. All parents are invited to attend.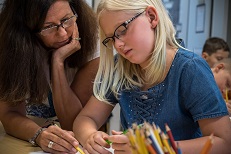 Admissions Open House on Thursday, February 15
An Admissions Open House will be held on Thursday, Feb. 15, from 9-11 a.m. Please share this information with friends and family who might be interested in learning more about Riverside. Additional information may be found on our website (www.riversideschool.org) or by calling the school and speaking with Debra Mitchell, Associate Head of School and Director of Admission, Transition, and Testing.

Talent Show on Wednesday, February 28
Students may begin signing up on February 1. Additional information will be sent to those students interested in performing.
Snow Makeup Day is March 30
In order to make up for days missed for inclement weather, Friday, March 30 will now be a full day of school for students.

News & Notes
Financial Aid Requests
Now is the time to initiate requests for the 2018-19 school year. To apply, log into your TADS account and complete the financial aid application. Awards for returning students will be considered starting in March. Be sure to apply early because funds are limited. If you have additional questions, please contact Eileen Harvey in Riverside's Business Office by clicking here >>
Thank You
"This is amazing!"  "Yea – healthy food, too!" These were some of the statements made in the kitchen on Feb. 1 by Riverside staff members. A huge thank you to Mrs. Furey's class for providing February's Sunshine Treat!
Looking to reduce the number of "already read" children's books in your household?
As in previous years, the Riverside School library will sponsor a used book collection just before spring break. Gently used paperback, hardback or board books, for ages Preschool through age 10, will be welcome. The books are distributed in our Richmond area to families with limited funds for home libraries. Collection dates and further details forthcoming.
Art Project
Your child needs to bring in a shoe box for an upcoming art project on Wednesday, February 14. Please send one in, and your child will keep it in his/her cubbie until that date.
Volunteer Opportunities for Parents
We need your help to distribute lunches on some Mondays and every Friday. We appreciate all of your help!
And the art room needs your help on Wednesdays!

From the desk of…
the Head of School

Decoding Dyslexia Virginia Advocacy Day took place on Tuesday, Jan. 30. I had the privilege of accompanying a number of Riverside parents and students to the State Capitol, where we met with legislators and spoke about dyslexic education.
One of the highlights of the day was being in the gallery of the Virginia House of Delegates when Riverside was recognized by Delegate Dawn Adams. Her message follows:
"Thank you, Mr. Speaker.
Mr. Speaker, I rise for an introduction … thank you, Mr. Speaker.
Members of the Assembly, today in the gallery, I have the honor of introducing students, family members and teachers with Riverside School, located in Bon Air within the beautiful community of Chesterfield County, which I represent.
Riverside School is a shining example of education at its best, providing individually-tailored instruction and support for children with dyslexia and language-based learning challenges. The children, parents and teachers are here as a part of Decoding Dyslexia Virginia Advocacy Day.
It is estimated that nearly one in five Virginians are affected by dyslexia and it is the most common learning disability in the United States. Today, I've had the privilege of listening to these amazing students, ranging from third to sixth grade as they've discussed how the Orton-Gillingham Approach to reading and learning at Riverside has unlocked their potential and changed their young lives for the better.


Fundraising Update
Thanks to our Riverside friends, families, and other supporters, we have reached 83 percent of our Annual Fund goal for this fiscal year! 
Also, we are happy to announce that over 50 percent of our current families have made gifts to the Annual Fund and we will be receiving $1,000 as a result!
Due to the success of the campaign so far, our anonymous donor has stepped up again with another CHALLENGE for our parents! If we can hit 100 percent participation by the end of the school year, Riverside will receive a $1,500 challenge grant!
Remember, any amount helps get us to this goal – whether it's $5, $50 or $500!! We so appreciate all you do to make Riverside a special place.
Donations can be made on our website: https://riversideschool.org/donate-now/ or with a check made out to Riverside School.


Corny Joke Time