Riverside School eNewsletter, Jan. 3, 2019
Thursday, January 3rd, 2019
For Your Calendar
Friday, January 4 – Chick-fil-A Lunch
Friday, January 4 – 2:15 p.m. Dismissal
Friday, January 4 – Basketball Club (grades K-3), 2:15-3:15 p.m.
Monday, January 7 – Pizza Hut Pasta Lunch
Wednesday, January 9 – Student Council Meeting, 7:40 a.m.
Wednesday, January 9 – Morning Assembly Guest Speaker, 8 a.m.
Wednesday, January 9 – Parents' Association Meeting, 8:15 a.m.-9:15 a.m. (River City Diner)
Friday, January 11 – Pizza Hut Lunch
Friday, January 11 – 2:15 p.m. Dismissal
Friday, January 11 – Basketball Club (grades K-3), 2:15-3:15 p.m. 

News and Notes
Welcome!

We are excited to welcome Brennan Quick and her family to Riverside School!
Brennan is in Mrs. Waldenmaier's homeroom.
January Calendar

Attached, please find the calendar of events for the month of January at Riverside.
Riverside Basketball Club

Basketball Club for students who have registered and are in grades K-3 starts tomorrow. Pick up is at 3:15 p.m. in the loop in front of the school (like morning drop
off).
There are still a few openings for the second session of the Basketball Club for
students in grades 4-8. Register by January 30 if your child is interested.
It's Time to Make Your Move … and Sign Up for the Riverside Chess Club

A new offering starting in 2019, Riverside is introducing a Chess Club for students in grades 4-8 only. A few, limited spots remain, so sign up today
to secure your spot. Click here to learn more and sign up.
The sessions will feature lessons in planning, strategy, logic, collaboration,
and attention to detail—with a lot of fun mixed in along the way.
Please note: No previous experience or exposure to chess is necessary—just a willingness to learn and a desire to enjoy picking up a new skill.
Save Your Spot for Admissions Open House,
Set for February 14 at Riverside


Learning to read should be as easy as ABC. For one out of five children, it's not.
If you or someone you know has a student who is struggling to read and that you think may have a language-based learning difference, join us to learn more about our school and programs at Admissions Open House on February 14 from 9-11 a.m.:
• Ask questions and talk with current students, as well as parents
• Learn more about our programs and the Orton-Gillingham Approach
• Speak with our teaching faculty, instructors, and administrators
• Learn about the application process
• Tour our expanded campus
Riverside is a school where students with dyslexia and other language-based learning differences thrive thanks to small class sizes that allow teachers to focus on the individual needs of each student. Faculty is trained in the Orton-Gillingham Approach, the cornerstone of Riverside's teaching philosophy. Our programs provide academic challenge while also fostering student confidence.
Click here to reserve your spot.
Welcome to Anne Kunkle


Starting on Monday, January 7 Anne Kunkle will be joining Riverside at our front desk, serving as our new School Office Manager. Anne (pictured right) has quite a bit of both office and school experience, including working for a number of years as a school counselor in Chesterfield.
Our longtime School Office Manager, Becky Hollingsworth, will be training Anne for the month of January, so she will definitely be learning from the best!

Parents' Association Volunteer Opportunities
Next Meeting

The next Parents' Association meeting is Wednesday, January 9. Please join us for coffee / breakfast at River City Diner located at 11430 West Huguenot Road for our next meeting on Wednesday, January 9, at 8:15 a.m.
This meeting will be socially centered and allow for parents to chat in a casual environment. If you are able to attend, please RSVP here so that we can plan accordingly. We look forward to seeing you!
Lunch Helpers 

Please check your schedules and sign up to help!
Thank You

The Parents' Association would like to thank Riverside parent, Darren Golden, for making the School Swag possible! Riverside School Swag items will be sent home today with your child.

Save the Date: Riverside Continuing Special Parents Series on January 16
HAVE YOU EVER WONDERED about the intricacies of the O-G Approach as it relates to teaching reading to individuals with dyslexia?


On Wednesday, January 16 (6:30-8:30 p.m.), we're continuing our Subscriber Series. Our 'What's in an O-G Lesson' session will cover how O-G practitioners use the approach to teach reading. It will be a very hands-on session, and participants will experience strategies and procedures our Language Fundamentals one-on-one Teachers use to teach reading.
Click here to learn more and register
This is the third two-hour session of official AOGPE curriculum, which kicked off in October 2018. In addition to the course in January, one more session will be held on February 20. Together, the eight hours of sessions (October, November, January, and February) cover the entire Subscriber level curriculum. Attendance at all four sessions qualifies attendees to hold Subscriber Membership with the Academy (www.ortonacademy.org).
The Subscriber Sessions are led by Cynthia Davis, a Fellow with the Academy. The sessions are being offered and advertised to area professionals; however they are FREE for Riverside parents and grandparents.
— 
Riverside Offering Certified Level Workshop, 'Emotionally Sound O-G Practices'

RIVERSIDE WILL BE OFFERING another Certified level workshop called 'Emotionally Sound O-G Practices' on Thursday, January 17 (4:30-5:30 p.m.) and Friday, January 18 (9-10 a.m.).
The Friday workshop will also be attended by Riverside's Language Fundamentals (LF) staff. Riverside enjoys the positive dynamics from interaction between Orton-Gillingham (O-G) practitioners from various sites!
Click here to learn more and register

Development Update 
HAPPY NEW YEAR to everyone in the Riverside community!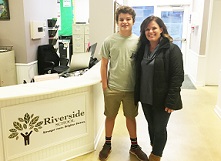 The end of the year is always an exciting time in the Development Office as it gives us the opportunity to hear from so many of you. Just before we broke for the holidays, we had a number of former faculty come back to visit the school, and just yesterday, an alumnus who was still on holiday break stopped by to visit his former classmates and teachers (pictured right).
We were also very fortunate to receive generous end-of-year gifts over the break. 2018 was a great year for fundraising at Riverside, and the gifts we received will help us make 2019 a great year for our students.
Thank you all for your support of Riverside, and I look forward to seeing you in this new year.
— Leo Rohr
Director of Development

from the desk of…
the Head of School

THIS WEEK I HAD COFFEE with Pat DeOrio, Riverside's Founder and Director Emeritus. Pat, or "Mrs. D." as she is affectionately known, is officially retired, but she lives just up the road, and she remains closely connected to the school.
Pat and I get together regularly, and it's one of my pleasures as Head of School to be able to talk with her about the history of the school that has changed the lives of thousands of families.
This visit, Pat shared something with me that she hadn't shared before. When she started the school, 45 years ago, Pat said that she thought the school wouldn't be around for that long—just for a few years until the local schools would be able to serve our dyslexic students themselves.
Clearly, our mission to serve students with dyslexia and other language-based learning differences is every bit as viable today as it was 45 years ago. This week, Riverside welcomed its 80th student, setting a new record for the school's enrollment. How lucky we are that Pat DeOrio had the vision 45 years ago to start a school like Riverside!

 Last Friday's Corny Joke 
Did you hear about the frog in the no parking zone?
He was "toad" away!
In Their Own Words
"I like math and am learning it in a way here that just wouldn't be possible in a public school."
— Max, student at Riverside School