Riverside School eNewsletter, March 15, 2018
Friday, March 16th, 2018
                     The whole Riverside team is getting ready for Phon-a-Thon on March 19-20! See below for details.    
For Your Calendar
Fun Friday, March 16
March 16 will mark a St. Patrick's Day theme. Students are encouraged to donate $1 that will go to the St. Baldrick's Foundation to help fund research for childhood cancer. Riverside student Paxton Chou shaves his head every year to help raise money for St. Baldrick's. Please click here to learn more >>
Soccer Practice, Monday, March 19

Please pick your child up in carline at 4:15 p.m.
Please note: Riverside's soccer season kicked off on Thursday, March 15. Games are being played at Sabot at Stony Point, 3400 Stony Point Road, Richmond, Va. 23235.
Please click here for the full schedule (subject to change) >>
Snacks and refreshments are needed for future games – please sign up here >>. Thank you in advance.
April Lunch Orders Due Monday, March 19
Attached, please find the April Lunch Order Form >>. Completed forms and checks are due Monday, March 19. This is a quick turnaround due to spring break.
Annual Fund Phon-a-Thon, Monday and Tuesday evenings, March 19-20
Only people who have not yet donated to this school year's Annual Fund Campaign will be called. The school will receive a $1,500 challenge grant if we achieve 100 percent current parent participation.
If you haven't yet donated, you may do so by clicking here >>
If you are unsure whether or not you have donated, please contact Cindy DiCello by clicking here >>
Morning Meeting Adult Dyslexic Guest Speaker followed by Parent
Coffee with the Head of School on Wednesday, March 21
Riverside alumna Eliza Bullock will visit with the students at Morning Meeting. All parents are invited to attend the presentation and stay afterward to have coffee with Hal Waller. The session starts at 8 a.m.
Run Club, Wednesday, March 21
Riverside's Run Club meets on Wednesdays through May 16. Pickup is at 4:15 p.m. in the Riverside carline.
Original Works Orders Due Friday, March 23
Riverside School has teamed up with Original Works to offer an art-based program. Through this initiative, parents and families will have the opportunity to purchase a variety of products featuring your child's very own artwork. Please click here to learn more >>
After-School Pottery Classes, Wednesday, March 28
After-school pottery is back by demand. It will run on Wednesday afternoons from March 28 through April 25. Please click here for the flyer and to learn more >>. If your child is interested, please sign up soon; space is limited to six students!
Camp Horizons Meeting, Wednesday, March 28
There will be an informational meeting for Intermediate School parents on Wednesday, March 28, 2018 at 3:15 p.m. to discuss the upcoming trip to Camp Horizons. Please contact Mrs. Sculthorpe or Mrs. Estes if you have any questions.
Snow Makeup Day is Friday, March 30
Dismissal is at 2:15 p.m.
Save the Date for Riverside Day at the Richmond Flying Squirrels Game
on Sunday, May 20, 1:05 p.m.
This event will give families a chance to socialize, enjoy some baseball, -and- raise money for Riverside programming. Plus, Riverside's Head of School Mr. Waller gets to throw out one of the first pitches if we sell 100 tickets! More information on ticket ordering will be coming soon, but mark your calendars now. Questions can be directed to Sarahbeth Spasojevich: 757-663-8895 (text / cell) or e-mail her by clicking here >>
Please click here to view the full calendar >>

News & Notes
Talkin' About Progress
Progress Notes were sent home before spring break. If you have not done so, please review, sign, and return it to your child's teacher.
Riverside Swag Store is NOW OPEN!
The Riverside Swag Store is NOW OPEN! As a part of Riverside's spring launch, the diverse and first-class selection of items include a variety of comfortable and stylish wearables and apparel, as well as drinkware and bags for every need to show off your Riverside School spirit. Proceeds from the sale of these items will be used for new carpet in the library. Online orders will be collected from now until end of day on Monday, April 2. Items will be available for pick up at Riverside no later than Tuesday, May 1. More details regarding distribution will follow. Please share this link with anyone who may be interested in supporting our school and start shopping >>  
Ready, Set, Go! and Camp Riverside
Camp registrations are open! Both camps provide one-on-one, multisensory language instruction with a trained Orton-Gillingham instructor. This is the perfect way to reinforce learning that students worked on during the school year. Other activities include math, writing, art, and physical education. All forms are available on the Riverside website by clicking here >>
Financial Aid Requests
Now is the time to initiate requests for the 2018-19 school year. To apply, log into your TADS account and complete the financial aid application. Awards for returning students will be considered starting in March. Be sure to apply early because funds are limited. If you have additional questions, please contact Eileen Harvey in Riverside's Business Office by clicking here >>
Now, That's Dedication!
As a part of Riverside's connection with the Reach Out and Read Virginia initiative, Riverside students donated 685 new and gently-used children's books to the community. Reach Out and Read is a nonprofit organization that gives young children a foundation for success by incorporating books into pediatric care and encouraging families to read aloud together. Please click here to learn more >>
Parents' Association March Meeting
The Parents' Association would like to thank Juliette Sykes, past parent and Board Member for her tax presentation at yesterday's meeting.
The next Parents' Association meeting is Wednesday, April 11 at 8:15 a.m. in the Art Room. Suzie Eklund, Director of Language Fundamentals, will be the guest speaker.


Parents Association Volunteer Opportunities
Teacher Appreciation Week Volunteers
We are currently looking for parents to help with Teacher Appreciation Week. Please e-mail Elizabeth Coleman by clicking here >> or e-mail Becky Gelrud by clicking here >> if you would like to volunteer.
Art Room Volunteers
Please check your calendar and see if you are available to help with the students' art classes on Wednesdays. If so, please click here to sign up >>
Founder's Day Volunteer
The Parents' Association is looking for a parent volunteer to head up Founder's Day, which is Riverside's version of a Field Day. The event is scheduled for Friday, May 4. Please e-mail Elizabeth Coleman by clicking here >> if you are interested.
Riverside Lunch Volunteers
Please check your calendars and click here if you are able to help distribute lunches >>. We appreciate all of your help!

We're on the Phones!


Riverside's Annual Fund Phon-a-Thon is just a few days away. Thank you to all the parents who have volunteered to make calls on Monday and Tuesday nights! (Sorry, as cute as they are, no kids will be involved in the execution of the Phon-a-Thon…)
We are very appreciative of every family who has donated so far (and you will not be getting a call for more). We will be reaching out to past donors, friends, and Riverside families to help us get us to our goal of $115,000. And guess what? We only have $4,000 to go to get there!! These funds are critical in supporting program enhancements for our school that tuition does not cover.
Riverside is fortunate to have so many in the community who see the value of our mission and are willing to support it financially.
Thank you for helping to make it happen.

from the desk of…
the Head of School

I BRUISED MY EYEBALL on Sunday night. I'm not exactly sure how it happened, and it may have been early Monday morning, but I woke up on Monday with an ugly red spot on the white of my right eye. The official name is "subconjunctival hemorrhage," and while it is not uncommon, it does look pretty strange.
The reason I am writing about this is to point out something about our students: they noticed. They noticed that my eye was different, and they asked me about it in morning carline, during the school day as I passed students in the hall, and even in Morning Meeting—twice!
And when they asked me about my eye, Riverside students didn't call it "gross" or "strange." They asked me if I was all right and if my eye hurt. They showed concern and compassion, and they were empathetic.
Empathy has been in the news a lot recently. More accurately, the news has been about the lack of empathy in the younger generations and the need for our society to foster empathy in young people.
For some reason, Riverside students have empathy. Is it connected with dyslexia and the way our students learn and see the world differently from some other students? Perhaps. Many of the adult dyslexic speakers we have had in Morning Meeting this year mentioned how dyslexics are often extremely relational and how that has helped them lead and motivate teams of people.
Perhaps our students have empathy for others because it is modeled by our outstanding teachers, who are trained to constantly assess our students to see where they are and how to best challenge them. Our teachers truly know our students individually like no other school that I have been in.
In any case, my eye is healing, and the bruise is disappearing, but I am confident that our students will continue to be empathetic and a joy to be around.

Quotable
"I like that we get to do fun projects and use art in our class to learn new things."
– Sage, third-grader at Riverside School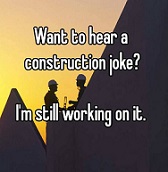 Last Friday's Corny Joke
Want to hear a joke about construction?
I'm still working on it!
Comments, questions, feedback about Riverside School's e-newsletter? We want to know! Please click here >>