Riverside School eNewsletter, March 22, 2018
Thursday, March 22nd, 2018

A very heartfelt thank you to all the parents who gave so selflessly of their time and made calls on Monday
and Tuesday nights as a part of Riverside's Annual Phon-a-Thon.    
For Your Calendar
Original Works Orders Due Friday, March 23
If you are interested in ordering items with your child's artwork, please make sure you follow the directions on the order form that were sent home last week. All orders are due by Friday, March 23.
Soccer Practice, Monday, March 26
Please pick your child up in carline at 4:15 p.m.
Run Club, Wednesday, March 28
Pickup is at 4:15 p.m. in the Riverside carline.
After-School Pottery Classes, Wednesday, March 28
Please pick your child up at 4:30 p.m. in the Art Studio.
Camp Horizons Meeting, Wednesday, March 28
There will be an informational meeting for Intermediate School parents on Wednesday, March 28, 2018 at 3:15 p.m. to discuss the upcoming trip to Camp Horizons. Please contact Mrs. Sculthorpe or Mrs. Estes if you have any questions.
Soccer Games, Thursday, March 29
Riverside '1' takes the field at 3:30 p.m.; Riverside '2' plays at 4:30 p.m. All matches are held at Sabot at Stony Point, 3400 Stony Point Road, Richmond, Va. 23235
Please sign up here to bring snacks and / or drinks to future games >>. Thank you in advance.
Please click here for the full schedule (subject to change) >>
Snow Makeup Day, Friday, March 30
Dismissal is at 2:15 p.m.
Spring Holiday, Monday and Tuesday, April 2-3
Monday and Tuesday, April 2-3, is Riverside's Spring Holiday. Classes resume on April 4.
Interims Issued, Thursday April 5
Parents' Association April Meeting
The next Parents' Association Meeting is Wednesday, April 11 at 8:15 a.m. in the Art Room. Suzie Eklund, Director of Language Fundamentals, will be the guest speaker.
Virginia Outside Fishing Day, Friday, April 20
Virginia Outside is sponsoring a day of fishing on Friday, April 20 when the students are off school. Please see the attached flyer for additional information >>
Save the Date for Riverside Day at the Richmond Flying Squirrels Game,
Sunday, May 20 at 1:05 p.m.
This event will give families an opportunity to socialize, enjoy some baseball, -and- raise money for Riverside programming. Plus, Riverside's Head of School Mr. Waller gets to throw out one of the first pitches if we sell 100 tickets! More information on ticket ordering will be coming soon, but mark your calendars now. Questions can be directed to Sarahbeth Spasojevich: (757) 663-8895 (text / cell) or e-mail her by clicking here >>
Please click here to view the full calendar >>

News & Notes
Riverside Swag Store is NOW OPEN! 

Show your school spirit! Now is the time to purchase comfortable and stylish wearables, drinkware, bags and more! Proceeds from the sale of these items will be used for new carpeting in the library.
Online orders will be collected from now until the end of day on Monday, April 2. Items will be available for pick up at Riverside no later than Tuesday, May 1. More details regarding distribution will follow. Pricing includes shipping. Applicable sales tax will be applied upon checkout.
Please share this link with anyone who may be interested and start shopping >>
If you have any questions, please contact Elizabeth Coleman via e-mail by clicking here >> or at: (301) 466-9039.
Thank you for supporting Riverside School's Parents' Association!
Ready, Set, Go! and Camp Riverside
Camp registrations are open! Both camps provide one-on-one, multisensory language instruction with a trained Orton-Gillingham instructor. This is the perfect way to reinforce learning that students worked on during the school year. Other activities include math, writing, art, and physical education. All forms are available on the Riverside website by clicking here >>
Financial Aid Requests
Now is the time to initiate requests for the 2018-19 school year. To apply, log into your TADS account and complete the financial aid application. Awards for returning students will be considered starting in March. Be sure to apply early because funds are limited. If you have additional questions, please contact Eileen Harvey in Riverside's Business Office by clicking here >>

Parents Association Volunteer Opportunities

Teacher Appreciation Week Volunteers

We are currently looking for parents to assist with Teacher Appreciation Week. Please e-mail Elizabeth Coleman by clicking here >> or e-mail Becky Gelrud by clicking here >> if you would like to volunteer.
Founder's Day Volunteer
The Parents' Association is looking for a parent volunteer to head up Founder's Day, which is Riverside's version of a Field Day. The event is scheduled for Friday, May 4. Please e-mail Elizabeth Coleman by clicking here >> if you are interested.
Riverside Lunch Volunteers
Please check your calendars and click here if you are able to help distribute lunches >>. We appreciate all of your help!
Art Room Volunteers
Please check your calendar and see if you are available to help with the students' art classes on Wednesdays. If so, please click here to sign up >>

Phon-a-Thon a Success
Thank you to all of our wonderful parent volunteers on Monday and Tuesday evenings for helping to make Riverside's Phon-a-Thon a huge success.
There were some awesome conversations during the event and connections made with alumni and other old friends of the school. Keeping those relationships is so critically important to Riverside on many levels.
On the funding front, we received $900 in outright donations and pledges of at least $2,655. We are also closer to our 100 percent parent participation goal with 69 percent of families so far, plus several pledges made on the phones this week. ANY amount will count toward participation and if we hit 100 percent, we will receive an anonymous gift of $1,500.
When the final results of the Phon-a-Thon come in, it looks like we will hit our Annual Fund goal of $115,000! Thanks for all you do to support this school.

from the desk of…
the Head of School
Riverside has a wonderfully involved parent community who volunteer in a myriad of different ways, including art class assistants, hot lunch distribution, after-school activities, and admissions events.
This week 14 parents volunteered three hours of either Monday or Tuesday evening to call for our Annual Fund Spring Phon-a-Thon:
Jason Cooper
Jennifer Economy
Sharla Gordon
John Gray
Toni Hamlin
Jerry King
Thomas Lancaster
Jennifer Loy
Julianne Marcus
Jenna Ornelas (called both nights!)
Mary Raper
Denise Sebera
Sarahbeth Spasojevich
Steve Spasojevich
Many thanks go to these callers! It is no small thing to pick up a phone and call people you don't know, but it is so important to our community—especially to the parents and grandparents of former students who continue to support the school.
Thank you also to everyone who has donated to this school year's Annual Fund Campaign. We are getting very close to achieving 100 percent participation from our current parents, which would be a milestone for the school.

Quotable
"I like Riverside more than my school before. The teachers help me with my reading and spelling."
— Parker, fifth-grader at Riverside School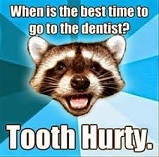 Last Friday's Corny Joke
What time should you go to the dentist?
Tooth Hurt-y
Comments, questions, feedback about Riverside School's e-newsletter? We want to know!
Please click here >>
Riverside School's mission is to provide remediation of language skills for students with dyslexia and similar language-based learning differences in grades K-8, so that they can return to mainstream education fully prepared to realize their highest potential.