Riverside School eNewsletter, May 24, 2018
Thursday, May 24th, 2018
Kissing the goat … for a good cause. Riverside's Student Council
had afundraiser this week and one of the themes was
'Kiss the Goat.' Students voted with their quarters and
raised more than $500. All proceeds went to Worthdays, a
local organizationthat sponsors Birthday Boxes for children
in foster care. Many thanks to Riverside teacher
Mrs. Waldenmaier and 'Lil' Bits,' a 12-week
old goat, for being good sports!
For Your Calendar


No School for Students — Teachers' Workday, Friday, May 25
Memorial Day Holiday — No School, Monday, May 28
Intermediate School Sky Ball Tournament —
Friday, June 1
Pickup is at 3:05 p.m. in the Riverside carline.
Report Cards Issued, Wednesday, June 6
Moving-On Ceremony,
Thursday, June 7, 8:30-9:30 a.m. and Last Day of School for Students — 12 p.m. Dismissal
Last Day of School Tennis Party at ACAC, Thursday, June 7, 12:30-2:30 p.m.
Please see below in 'News and Notes' for additional information.
Year-End Parent Conferences, Friday, June 8
Conference times are listed here.

Please click here for the May/June calendar.


News and Notes

Moms' Night Out — Tonight!
The school year is almost over! Let's get together for a Moms' Night Out tonight, May 24, at 7:30 PM. Tazza Kitchen – Scott's Addition, 1500 Roseneath Road, Richmond, VA 23230. Please RSVP here.
Student Council FUN-draiser

This week students participated in a FUN-draiser each day where they voted for teachers they would most like to dress up in silly clothes, kiss a goat, and get a pie in the face. On Monday, we raised more than $60 and Student Council members were able to dress Mr. Waller up in silly clothes and make-up. On Tuesday, students voted and Mrs. Waldenmaier puckered up and kissed 'Lil' Bits' the goat and helped us raise over $80! On Wednesday, we filled the cups to overflowing and Mrs. Raper was creamed by a pie to the face by her very own son, Jake! We raised more than $360 on Wednesday alone! In all, students raised more than $500!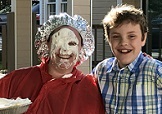 Student Council officers and classroom representatives, along with Mrs. Sculthorpe, went to Target together and shopped for the child they sponsored. They purchased a backpack, various action figures and superhero related toys and gifts.
They also purchased all needed supplies so that he is able have a party with his foster family, including paper plates, streamers, balloons, birthday candles, and other fun decorations.
Student Council would like to thank all teachers that participated, as well as students and parents for voting. Thank you!
Last Day of School Tennis Party at ACAC
Please join us for a Last Day of School Tennis Party at ACAC – Midlothian on Thursday, June 7 from 12:30 p.m. to 2:30 p.m. WEATHER PERMITTING. The students will get to play some tennis, have pizza, and hang out with their friends one last time before the summer. No previous tennis experience is necessary.
All students must be accompanied by an adult; this is not a drop-off event. Suggested donation of $10 per child to cover the cost of event which included tennis pros, pizza, and drinks. Please make checks payable to Riverside School and send to school along with the completed waiver no later than Monday, June 4, 2018. Please mark the envelope Attention: Elizabeth Coleman.
All participants must complete the attached waiver. If you have a family membership to ACAC, you do not need to complete the waiver, but please indicate this in the comment section of the RSVP.
So that we may better plan, please RSVP as soon as possible using the following link: https://www.signupgenius.com/go/10c0f49a5a62ea6fd0-last
The Parents' Association has challenged Coach Jones and another Riverside parent to a short exhibition tennis match to keep the kids "entertained" while they have their pizza!
We hope the kids have had a great year. We are looking forward to a fun event. Have a happy and safe summer! If you have any questions, please contact Elizabeth Coleman at (301) 466-9039 or Kim Alley at (804) 437-3957.
Thank You!
The Parents' Association would like to thank Sarahbeth Spasojevich for coordinating the Richmond Flying Squirrels Baseball outing!
Everyone had a great time cheering Mr. Waller on as he threw out
one of the first pitches of the baseball game! Thank you!
Intermediate School Tea Dance
One of the co-curricular activities Riverside is most proud of includes ballroom dance. The Intermediate School Tea Dance was a great success. Watch the video.
Renowned Entrepreneur Thomas Dorsey to
Speak at Riverside's Moving-On Ceremony 
Entrepreneur, world-renowned financial titan, and dyslexic Thomas Dorsey will speak at the Moving-On ceremony on Thursday, June 7. The event will begin at 8:30 a.m. in the school's gymnasium.
Learn more about Mr. Dorsey and the event.
2018-19 School Calendar
It's never too early to plan ahead, so please review the 2018-19 Riverside School calendar.

Parents Association Volunteer Opportunities
Art Room Volunteers
Please check your calendars and see if you are available to help with the students' art classes on Wednesdays. If so, please sign up. Thank you.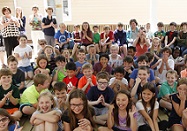 Development Update
WE ARE JUST A WEEK AWAY FROM WRAPPING UP the Annual Fund for this year. At almost $150,000, we have surpassed last year's total by 50 percent.
Thanks to everyone for supporting Riverside's most important fundraiser for the year!

Please click here to donate today.

from the desk of…
the Head of School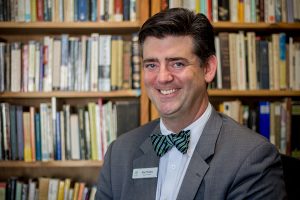 AS DETAILED EARLIER IN THIS NEWSLETTER, there were a lot of unusual activities happening at Riverside this week. On Monday, the Student Council officers got to dress up their principal in silly clothes, including a wig, make-up, and a tiara. On Tuesday, a classroom teacher kissed a baby goat in front of the entire school. And on Wednesday, an LF teacher received a whipped-cream pie in the face delivered by her own son!
But none of this was particularly unusual. In past years, our Student Council sponsored these activities as fundraisers for things that benefit the students. Purchases have included our ping-pong table and the basketball hoop near the gazebo.
What was unusual is that this year the Student Council decided that they would still do the fundraisers, but that the funds would go to help someone less fortunate than they. The charity is called Worthdays, and it is a 501(c)(3) nonprofit organization based in Richmond that helps students in the foster care system.
Our students strongly embraced the idea, and more funds were raised overall than in recent memory.
Yesterday afternoon, our Student Council officers went with their sponsor Sara Sculthorpe to Target to purchase birthday gifts for a boy named Elisha, whom they had never met. The photos of the event tell a great story of students being made happy because they knew that they were doing something that would make someone else happy.
I certainly have nothing against ping-pong tables and basketball hoops, or against fundraising in general, but I am very proud of our students and the decision they made to help someone else instead of themselves.

Last Friday's Corny Joke

Quotable
"I like my teachers. The other day, as a part of a project, I learned that there are more kangaroos in Australia than there are humans."
— Harrison, sixth-grader at Riverside School
Riverside School's mission is to provide remediation of language skills for
students with dyslexia and similar language-based learning differences
in grades K-8, so that they can return to mainstream education
fully prepared to realize their highest potential.