Riverside School eNewsletter, May 31, 2018
Thursday, May 31st, 2018
Riverside students were back to work this week following
the Memorial Day holiday as we enter the final stretch
of the school year.
For Your Calendar
Intermediate School Sky Ball Tournament — Friday, June 1
Pickup is at 3:05 p.m. in the Riverside carline.
Forms and Money Due for Tennis Party at ACAC, Monday, June 4
Report Cards Issued, Wednesday, June 6
Moving-On Ceremony, Thursday, June 7, 8:30-9:30 a.m.
The Moving-On Ceremony will take place in the gymnatorium. Parents of transitioning students are welcome to attend. Following the ceremony, students will sign yearbooks and have a special treat before dismissing at 12 p.m.
Last Day of School Tennis Party at ACAC, Thursday, June 7, 12:30-2:30 p.m.and
Please see below in 'News and Notes' for additional information.
Year-End Parent Conferences, Friday, June 8
Conference times are listed here.
If needed, Coach Jones will be available in the gym from 9 a.m.-3:30 p.m. to watch students during conferences. Please take students directly to the gym and then report to your conference.
Please click here for the May/June calendar.


News and Notes
Last Day of School Tennis Party at ACAC
Please join us for a Last Day of School Tennis Party at ACAC – Midlothian (11621 Robious Road, Midlothian, VA 23113) on Thursday, June 7 from 12:30 p.m. to 2:30 p.m. WEATHER PERMITTING. The students will get to play some tennis, have pizza, and hang out with their friends one last time before the summer. No previous tennis experience is necessary.
All students must be accompanied by an adult; this is not a drop-off event. Suggested donation of $10 per child to cover the cost of event which included tennis pros, pizza, and drinks. Please make checks payable to Riverside School and send to school along with the completed waiver no later than Monday, June 4, 2018. Please mark the envelope Attention: Elizabeth Coleman.
All participants must complete the attached waiver. If you have a family membership to ACAC, you do not need to complete the waiver, but please indicate this in the comment section of the RSVP.
So that we may better plan, please RSVP as soon as possible using the following link: https://www.signupgenius.com/go/10c0f49a5a62ea6fd0-last.
The Parents' Association has challenged Coach Jones and another Riverside parent to a short exhibition tennis match to keep the kids "entertained" while they have their pizza!
We hope the kids have had a great year. We are looking forward to a fun event. Have a happy and safe summer! If you have any questions, please contact Elizabeth Coleman at (301) 466-9039 or Kim Alley at (804) 437-3957.
2018-19 School Calendar
It's never too early to plan ahead, so please review the 2018-19 Riverside School calendar.

Parents Association Volunteer Opportunities
Art Update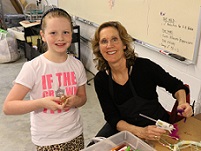 Riverside Parents, Wednesday was my last day teaching art to your children. It has been a long journey (23½ years), and one that I will always remember as joyful.
Thank you for all your support in the art room as I focused on teaching self-respect, kindness, appreciation of self and others, and creativity to your children in a 45-minute art class! I have enjoyed every single day.
Have a great summer!
— Peggy Healy


Development Update
TODAY IS THE FINAL DAY for the 2017-18 Annual Fund Campaign. If you or someone you know would like to contribute, you may do so online here: https://riversideschool.org/donate-now/

from the desk of…
the Head of School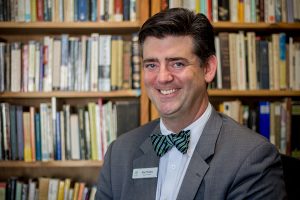 YESTERDAY AT MORNING ASSEMBLY, I had the pleasure of acting in one of Mr. Curtis Hofstetter's "Riverside School Playhouse" plays. Mr. Curtis, as he is affectionately known by our students, is our social skills teacher, and he routinely writes dramatic skits to illustrate some of the lessons that he teaches our students.
Normally, these plays are acted by our students, but yesterday's play was acted by myself and two of our teachers—Mrs. Waldenmaier and Mrs. Estes. The scene was Riverside School, the setting was the present, and the two teachers and myself were playing first year Riverside students talking about the past school year.
The themes in the play were fairly straightforward. One message was that perseverance and hard work are important and will pay off in the end. The other message was that students need to have the courage to speak up if they don't understand something in class or if they need extra help.
The importance of both perseverance and courage have been echoed throughout the school year, not just by Mr. Curtis and our teachers, but by just about every guest adult dyslexic speaker at Morning Assembly. We want our students to be successful in school, but we also want our students to develop the strong character that will serve them in life after Riverside.
_____
If you would like to learn a little more about Mr. Curtis and how he came to be part of Riverside, please take a few minutes to read a recent feature article about him on our website here: https://riversideschool.org/memorial-day-has-special-meaning-for-mr-hofstetter/.

Last Friday's Corny Joke


What did the wolf say to his friend?
Howl's it going?

Quotable
"I like math, P.E., and art—math because I get to solve problems and it is pretty easy for me. I have liked being on the basketball team. I've learned to tell time better than I have in the past."
— Abram, third-grader at Riverside School
Riverside School's mission is to provide remediation of language skills for
students with dyslexia and similar language-based learning differences
in grades K-8, so that they can return to mainstream education
fully prepared to realize their highest potential.