Riverside School eNewsletter, Nov. 1, 2018
Thursday, November 1st, 2018
For Your Calendar
Thursday, November 1 – Soccer Game: Riverside '2' vs. Montessori, 5:30 p.m.
Friday, November 2 – Chick-fil-A lunch
Friday, November 2 – 2:15 p.m. Dismissal
Friday, November 2 – Soccer Practice for Riverside '2,'
2:15-3:30 p.m.
Friday, November 2 – Soccer Game: Riverside '1' vs. Elijah House, 5:30 p.m.
Monday, November 5 – Pizza Hut Pasta lunch
Wednesday, November 7 – Student Council Meeting, 7:40 a.m.
Wednesday, November 7 – Art Club, 3:05-4:30 p.m.
Wednesday, November 7 – Riverside Alumni Social (Hardywood Park Craft Brewery), 5 p.m.

News and Notes
Scholastic Book Fair

Scholastic's "Enchanted Forest Book Fair" is coming soon and
will transform the Riverside School Library into our very own bookstore. There you will find hundreds of books from new and favorite authors, popular series, cool posters, as well as school supplies, and fun for everyone!
The Book Fair will be set up November 14, and Riverside School students and staff are invited to browse the fair's offerings on Thursday, November 15 before sales begin the next day, November 16 (7:30-8 a.m. and 2:15-3:15 p.m.), followed by two more sessions on November 19 (7:30-8 a.m. and 3-4 p.m.) and November 20 (7:30 a.m.-12 p.m.; note: special shopping at Grandparents and Special Friends Day).
We look forward to seeing you there!
Drama Club Enjoys Successful Start

We join in thanking everyone who had a hand in making the first
year of the after-school Drama Club a huge success. The students gave their debut performance this week and their enthusiasm, dedication, and collaboration showed in their wonderful performance. Heartfelt gratitude goes to co-directors Debra Mitchell,
our Associate Head of School and Director of Admission, Transition, and Testing, and to Katelyn Mitchell.  
Click here for a photo gallery from the Drama Club's inaugural performance.
Grandparents and Special Friends Day

Grandparents and Special Friends Day is Tuesday, November 20. Listed below are the times for the guests to attend:
8-9:30 a.m. – Mrs. Shoop, Mrs. Bushhouse, and Mrs. Hague
9:30-10:45 a.m. – Mrs. Sculthorpe and Mrs. Estes
10:45 a.m.-12 p.m. – Mrs. Mayer, Miss Myers, and  Mrs. Waldenmaier
Riverside School Online Store – Fall Launch is Coming Soon!     

Get ready to order Riverside shirts, fleeces, car magnets, water bottles,
and more!
Register for Admissions Open House,
Set for November 15 at Riverside

Learning to read should be as easy as ABC. For one out of five children, it's not.
If you or someone you know has a student who is struggling to read and that you think may have a language-based learning difference, join us to learn more about our school and programs at Admissions Open House on November 15 from 9-11 a.m.:
• Ask questions and talk with current students, as well as parents
• Learn more about our programs and the Orton-Gillingham Approach
• Speak with our teaching faculty, instructors, and administrators
• Learn about the application process
Click here to reserve your spot.

Riverside Alumni Social is November 7 at
Hardywood Park Craft Brewery

Please join Riverside's Head of School, Hal Waller, and other
former classmates for an alumni social on November 7 from 5-7 p.m. at Hardywood Park Craft Brewery (2410 Ownby Lane, Richmond, Va. 23220). We would love to see you and hear how you are doing.
Please contact Riverside's Director of Development, Leo Rohr, at lrohr@riversideschool.org or give us a call at (804) 320-3465. Please feel free to share this with your former Riverside classmates. We hope to see you at Hardywood.

Parents' Association Update
THE NEXT MEETING is scheduled for Wednesday, November 14. Juliette Sykes, a former Riverside Parent and current Board Member, will discuss the possible tax benefits for Riverside parents and recent changes to tax laws, including new K-12 options for 529 plans.

Development Update
AS WE ENTER THE HOLIDAY SEASON, please put Giving Tuesday (November 27) on your radar.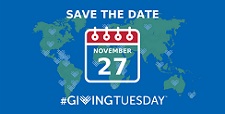 Following Black Friday and Cyber Monday, Giving Tuesday is  a global day of giving that celebrates and supports philanthropy instead of the more commercial aspects of the holiday season.
Look for more information in this newsletter and our social media channels as we approach the day, but expect some ways to increase the impact of your gift to Riverside.
— Leo Rohr
Director of Development

from the desk of…
the Head of School

THIS WEEK, THE RIVERSIDE COMMUNITY had the opportunity to experience something new—a performance of "Josh and the Pearl" put on by this fall's after-school Drama Club.
In the play, which was excellently directed by our own Associate Head of School Debra Mitchell and her daughter Katelyn, the protagonist Josh went on a quest to find a pearl to give his mother. Along the way Josh learned the power of grit and determination—and the benefits of rescuing a princess from an evil witch.
The students did a wonderful job, and the audience response was enthusiastic at both performances.
Some of the students in Drama Club had prior experience with theater, but many did not, and some of these students weren't too keen on the idea of getting on a stage in front of their families and their peers. It is these students who learned of the power of grit and determination themselves by trying something that was new, different, and difficult.
Riverside School is known throughout the Richmond region, and even nationally, for how well we help our students navigate their dyslexia or other language-based learning differences. Our teachers are experts at this, and the transformative power of our program for students and their families is amazing.
Perhaps what many don't know is how much our students also learn about grit and determination while they are here—lessons that will serve them well throughout their academic career and beyond.

Quote of the Week


— Unknown

Last Friday's Corny Joke 
What do you call a sleeping dinosaur?
A dino – snore!
Quotable
"I like learning about social studies and I like the tests because they are challenging."
— Caleb, student at Riverside School