Riverside School eNewsletter, Nov. 15, 2018
Thursday, November 15th, 2018
For Your Calendar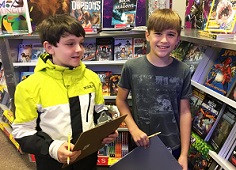 Friday, November 16 – Scholastic Book Fair, 7:30-
8 a.m. and 2:15-3:15 p.m.
Friday, November 16 – Chick-fil-A Lunch
Friday, November 16 November 16 – 2:15 p.m. Dismissal
Friday, November 16 – Soccer Awards presentation, 2:30-3:15 p.m.
Monday, November 19 – Zoës Kitchen Lunch
Monday, November 19 – Scholastic Book Fair, 7:30-8 a.m. and 3-4 p.m.
Tuesday, November 20 – Scholastic Book Fair, 7:30 a.m.-12 p.m.
Tuesday, November 20 – Grandparents and Special Friends Day
Tuesday, November 20 – 12 p.m. Dismissal

Wednesday-Friday, November 21-24 – Thanksgiving Holiday Break
Monday, November 26 – Classes Resume
Wednesday, November 28 – Art Club, 3:05-4:30 p.m.
Wednesday, November 28 – Subscriber Session, 6:30-8:30 p.m.


News and Notes
School Photos
If you ordered your child's pictures, they are being sent home today. Please check your child's Thursday folder.
Scholastic Book Fair 
Students browsed the Scholastic Enchanted Forest Book Fair today and created wish lists to assist book fair shopping with an adult on the following days: tomorrow (Friday) and Monday at drop-off and pick-up times; and also on Tuesday during the Grandparents and Special Friends Day celebration.
Look for your child's wish list and the book fair books flyer in your child's take-home materials today.
Next Week – Grandparents and Special Friends Day

Grandparents and Special Friends Day is Tuesday, November 20. Listed below are the times for the guests to attend:
8-9:30 a.m. – Mrs. Shoop, Mrs. Bushhouse, and Mrs. Hague
9:30-10:45 a.m. – Mrs. Sculthorpe and Mrs. Estes
(guests please report to Ticer Hall)
10:45 a.m.-12 p.m. – Mrs. Mayer, Miss Myers, and Mrs. Waldenmaier
Shop Riverside School's Online Fall Swag Store 

The Riverside Fall Swag Store is now open. Check out the new selection
of Riverside School t-shirts, shorts, outerwear, drinkware, and bags!
We will be accepting orders until Sunday, November 25. Orders will be fulfilled and sent home prior to winter break. All proceeds benefit the Riverside Parents' Association.
Click here to start shopping. If you have any questions, please contact Elizabeth Coleman via e-mail.
Riverside Basketball Club

For Riverside students interested in basketball, we will be offering
sessions for grades K-3 and grades 4-8. Please note that there will be a skills focus. The kids will learn passing, dribbling, shooting, ball handling, and footwork. Children should bring a basketball if they have one.
Cost is $40 per child (four-week session).
Dates / times for grades K-3: January 4, 11, 25, and February 1
(2:15-3:15 p.m. at Riverside School). Click here to learn more and sign up
Dates / times for grades 4-8: February 8 and 22, March 1 and 8 (2:15-3:15 p.m. at Riverside School). Click here to learn more and sign up

Riverside Continuing Special Parent Series
HAVE YOU EVER WONDERED what causes dyslexia, 
what its symptoms are, and what impact it has on your child or student? Riverside School has answers for you!
On Wednesday, November 28 (6:30-8:30 p.m.), we're continuing
our Subscriber Series. Our 'Dyslexia Details' session will cover the brain science behind dyslexia, how dyslexia is diagnosed, as well
as the symptoms and impacts of dyslexia.
Click here to register and learn more
This is the second two-hour session of official AOGPE curriculum, which kicked off in October. In addition to the course in November, two more sessions will be held on January 16 and February 20. Together, the eight hours of sessions (October, November, January, and February) cover the entire Subscriber level curriculum. Attendance at all four sessions qualifies attendees to hold Subscriber Membership with the Academy (www.ortonacademy.org).
The Subscriber Sessions are led by Cynthia Davis, a Fellow with the Academy. The sessions are being offered and advertised to area professionals; however they are FREE for Riverside parents and grandparents.

Parents' Association Update
THE PARENTS' ASSOCIATION would like to thank Juliette Sykes for speaking at our meeting yesterday. If you were unable to attend the meeting and would like a copy of Juliette's PowerPoint presentation, please e-mail the office.
THE DECEMBER MEETING on Wednesday, December 12, will be socially centered and allow for parents to chat in a casual environment. Time and location are to be determined.

December Lunch Orders


Please find attached the December Lunch Order Form, which is also being sent home in your child's Thursday folder. Please complete the form and return with payment no later than Tuesday, November 20.
New dates have been added to the SignUpGenius for December to help distributed lunches. Please check your calendars to see if you are able to help.

Development Update
AS WE COUNT DOWN THE FINAL DAYS to Grandparents and Special Friends Day, we are looking forward to welcoming your relatives and friends to Riverside.
We see many grandparents in the carline and at events like soccer games, but for many others this is their one chance to get the Riverside experience. We aim to make that experience as good as we can.
We have dozens of grandparents and special friends who have let us know they will be attending, but we have room for more. So if you are not sure if your grandparents are attending, I encourage you to encourage them to do so. RSVPs help us plan, but we understand that schedules can change so please let them know that they are welcome to just show up on Tuesday. Please note the specific schedules for classes in the 'News and Notes' section of this newsletter though.
I hope everyone has a very happy Thanksgiving!
— Leo Rohr
Director of Development

from the desk of …
the Head of School

THIS PAST MONDAY, RIVERSIDE SCHOOL OBSERVED VETERANS DAY with a presentation at our Morning Assembly by Mr. Curtis Hofstetter, affectionately referred to by our students as "Mr. Curtis." This is Mr. Curtis's 15th year teaching Riverside's Social Skills Class, and Monday was his 15th year presenting for Veteran's Day.
I won't presume to do justice to Mr. Curtis's biography in this column, but if you have the opportunity to spend some time with Mr. Curtis, please ask him about his life. Suffice it to say for this column that Mr. Curtis served his country as a young man enlisted in the Army in Vietnam, he then had professional success, and he is now semi-retired, choosing to spend his free time teaching and inspiring Riverside students.
Also, Mr. Curtis is dyslexic, so he truly understands our students and both the challenges and strengths they possess.
One story Mr. Curtis shared this past Monday had to do with the marksmanship training he underwent in boot camp as a 19 year-old. In short, the drill sergeant he had at the beginning of training had him shoot right-handed, which didn't work at all for him. When he had a drill sergeant who allowed him to shoot left-handed, Mr. Curtis excelled, and even earned the "Expert Marksman" designation.
It struck me how much Mr. Curtis's experience mirrors the experience of many of our students. For many of them, previously they were trying to learn in a way that wouldn't work for them, but now that they are here at Riverside, they are able to learn the way that does work for them.
In a nutshell, that is the Riverside experience for so many of our students, and I am supremely grateful for our wonderful teachers, such as Mr. Curtis, who care about our students and help them find success.

Quote of the Week

"Grit is making a decision and standing firm in it … It's doing what must be done."
— John Wayne

Last Friday's Corny Joke 

Quotable
"I like science class and what we're doing right now—learning about the atmosphere."
— Henry, student at Riverside School