Riverside School eNewsletter, Nov. 29, 2018
Thursday, November 29th, 2018
For Your Calendar
Friday, November 30 – Western Day
Friday, November 30 – Pizza Hut Lunch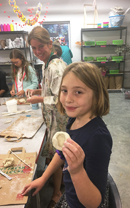 Friday, November 30 – 2:15 p.m. Dismissal
Monday, December 3 – Pizza Hut Pasta Lunch
Wednesday, December 5 – Morning Assembly Guest Speaker,
8 a.m.
Wednesday, December 5 – Art Club, 3:05-4:30 p.m.
Thursday, December 6 – Progress Notes Issued
Friday, December 7 – Chick-fil-A Lunch
Friday, December 7 – 2:15 Dismissal

News and Notes

Art Need
Attention parents: Please send a large shirt in with your child for art class. Any long-sleeved button up shirt is great. Please make sure it is old as they will get destroyed.
Riverside Basketball Club

For Riverside students interested in basketball, we will be offering sessions for grades K-3 and grades 4-8. Please note that there will be a skills focus. The kids will learn passing, dribbling,  shooting, ball handling, and footwork. Children should bring a basketball if they have one. Cost is $40 per child (four-week
session).
Dates / times for grades K-3: January 4, 11, 25, and February 1 (2:15-3:15 p.m. at Riverside School). Click here to learn more and sign up.

Dates / times for grades 4-8: February 8 and 22, March 1 and 8 (2:15-3:15 p.m. at Riverside School). Click here to learn more and sign up.


December Calendar of Events
Please click here for a December calendar of events at Riverside.

Thanks to All for a Successful Soccer Season
Having wrapped up the fall season, I want to express how proud I am of the soccer team. I especially want to thank the parents, students, and the entire Riverside family for a great season.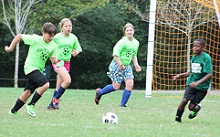 I saw improvement in both teams in the autumn campaign and am pleased that we had such great interest on many different levels, but especially from the players. Further, I couldn't be more proud of how each player got along with their teammates. The chemistry and team camaraderie improved a lot as the season progressed.
My hope is that the teams will stay together, continue to grow, and be really good down the road.
Sincerely,
Coach Cam Childress
Physical Education Teacher and Soccer Coach
Riverside School

Parents' Association Volunteer Opportunities

Next Meeting


The next meeting will be on Wednesday, December 12. This meeting will be socially centered and allow for parents to chat in a casual environment. The time and location are to be determined.
December Lunch Orders

New dates have been added to SignUpGenius for December and January to help distribute lunches. Please check your calendars to
see if you are able to help. The January Lunch Forms will go out next week.
A Note of Appreciation

From Elizabeth Coleman (pictured far left) and Kim Alley-Trownsell (pictured far right): It has been an honor to serve as Parents' Association Co-Presidents for the past year and a half. At the end
of the school year, we will pass along our responsibilities. If you are interested in taking over the role, please contact us so we may
start the transition process.
Elizabeth Coleman –  twocolemans@gmail.com
Kim Alley-Trownsell – kim@kimalleymodels.com

Development Update 

THE FACULTY AND STAFF OF RIVERSIDE SCHOOL ARE VERY THANKFUL FOR all of the grandparents and special friends who took the time and effort to visit us last week. It was so wonderful to have more than 100 visitors experience the magic of Riverside.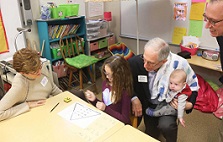 We received immediate positive feedback from our visitors about the presentations from our special speakers of the day, Tom Dorsey and Boyce Adams (Riverside '93). Both Tom and Boyce spoke about growing up with dyslexia and each made connections that really struck home with grandparents' own experiences with our students.
If your student's grandparents couldn't make it that day, please know that we are happy to have visitors throughout the year. If they would like to schedule a tour, please have them reach out to me at: lrohr@riversideschool.org or (804) 320-3465, ext. 106.
— Leo Rohr
Director of Development

from the desk of…
the Head of School

ON WEDNESDAY MORNING, WE HAD OUR FIRST presentation in our Adult Dyslexic Speaker Series. Bill Longan, a parent of a Riverside alumnus and the Chair of our Board of Trustees, spoke about his own dyslexia, both as a student and during his career as an investment banker at SunTrust.
One of the major points of Bill's address was that dyslexic students have to work harder than some other students, but that their habits of hard work will pay off in the long run. Bill shared that Riverside wasn't around when he was a child but that Riverside students were lucky to be at a school that would support them and give them the tools they need to succeed.
Another part of Bill's message was that dyslexic people have the ability to problem solve and think creatively in ways that will be extremely advantageous to them in the future, whether they work for an organization or become an entrepreneur. Bill recommended that students and families take the time to look at the website "Made By Dyslexia" (www.madebydyslexia.org) for examples of very successful dyslexics and for ways to understand and embrace dyslexic thinking.
Please be on the lookout for future speakers in the series. The presentations are listed on the school calendar, and they are scheduled for Wednesday mornings as part of our Morning Assembly, which starts at 8 a.m. and is typically finished by 8:25 a.m. Parents are always welcome at our Morning Assemblies, and oftentimes our speakers will stay after for a few minutes to talk with parents who attend.

Quote of the Week  

"The difference between the impossible and the possible lies in not giving up."
— Tommy Lasorda, longtime Major League Baseball manager

Last Friday's Corny Joke 

Why did Max the dog eat his homework?
Because his teacher said it was a piece of cake!
Quotable
"I like Riverside a lot because of the teachers, having a bigger playground, and learning about brown bears."
— Anderson, student at Riverside School