Riverside School eNewsletter, Sept. 6, 2018
Thursday, September 6th, 2018
For Your Calendar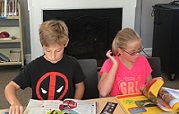 2:15 p.m. Dismissal – Friday, September 7
Summer Reading Work Due – Friday, September 7
Drama Club – Tuesday, September 11
Soccer Forms Due – Tuesday, September 11
Parents' Association Meeting – Wednesday, September 12, 8:15 a.m., Library
New Parent Workshop (Mayer, Myers, Waldenmaier, Shoop) – Wednesday, September 12, 6 p.m.

Back-to-School Night (Mayer, Myers, Waldenmaier, Shoop) – Wednesday, September 12, 7 p.m.
New Parent Workshop (Bushhouse, Hague, Sculthorpe, Estes) – Thursday, September 13, 6 p.m.
Back-to-School Night (Bushhouse, Hague, Sculthorpe, Estes) – Thursday, September 13, 7 p.m.
School Pictures – Thursday, September 13
Soccer Practice – Friday, September 14, 2:15-3:30 p.m.




News and Notes

Riverside Directory

Attached, please find an updated Riverside Directory. A few minor updates were made to this document.

Test Text Alert
On Tuesday a "test" text alert was sent to all our parents who provided a cell number and cell provider. Please let us know if you did not receive it or if any other numbers need to be added.
Smile … It's Picture Day on September 13

Student and class pictures will be taken on Thursday, September 13. The photographer has suggested dressing your child in a solid top as flowery tops tend to put the focus on the outfit rather than the face of the child. Please remember, the purchase of photos is optional, and no payment is required at this time.
A Friendly Reminder About Lunch Packing

When packing your child's lunch, please be sure to include a fork, a spoon, a napkin, and any other utensils that may be needed.
Important Papers Being Sent Home Today

Please check your child's green folder for the papers listed below.
– Soccer information and registration (for students 7 years old and up)
Summer Reading

Tomorrow, proof of summer reading (examples listed below)
is due to our librarian, Mrs. Bachmann. When you turn in the paperwork, you will receive your choice of a paperback book and school supplies. You will also receive coupons toward the November book fair purchases.
– Summer reading certificate from public library
– "Books Read" list from a bookstore or the public library
– The Summer Reading section from your binder
– A list of books read, or listened to, written on notebook paper
Riverside School Sponsoring Event Featuring 
Renowned
ADHD Specialist Dr. Russell Barkley
On Tuesday, September 25, Riverside will be sponsoring a fall parent program featuring Dr. Russell A. Barkley, an ADHD specialist in St. Michael's Episcopal Church Parish Hall, directly adjacent to Riverside.
The event, set for 7 p.m., is open to the public.

Parents' Association Volunteer Opportunities
Save the Date for Wednesday, September 12 – Parents' Association Meeting
Please mark your calendars for our first meeting to be held on Wednesday, September 12, at 8:15 a.m. in the library. We will be discussing the various opportunities to get involved throughout the year
Harvest Moon Social


The Harvest Moon Social is Friday, October 19. This is a great way to catch up with old friends and meet new families. There is also a silent auction to help raise money for our school. We need your help! If you would like to volunteer or if you have an item you would like to donate for our silent auction, please email Brittany Cooper at bncoop@comcast.net.
Volunteers for Distribution of Lunches

As a fundraiser, the Parents' Association coordinates lunch orders from Chick-fil-A and Pizza Hut. In October, we will be trying Zoës Kitchen as a new lunch option.
Please look for the October Order Form in next week's announcements. We need parent volunteers to help distribute lunches on Fridays from 11 a.m.-1 p.m. If you
are interested in volunteering, please sign-up here or contact:
Elizabeth – (301) 466-9039 – twocolemans@gmail.com
Kim – (804) 437-3957 – kim@kimalleymodels.com


Development Update

BACK TO SCHOOL MEANS back to fundraising for the Development office, as our Annual Fund campaign coincides with the school year. The Annual Fund supports important aspects of the Riverside experience like technology for the classrooms, financial assistance, and teacher training.
One of the first big events on the Development calendar is our Fall Phone-a-thon, and we could use your help! On Monday, September 24 and Wednesday, September 26, we will be calling past donors and trying to get them to renew their support. Both nights will feature dinner and training at 6 p.m. followed by calling from 7 p.m. to 9 p.m.
Volunteering at the phone-a-thon is a great way to interact with fellow parents, alumni parents, and maybe even a member or two of our Board of Trustees.
Sign up for shift today! Online sign-up is available by clicking here.

from the desk of …
the Head of School

SINCE SCHOOL BEGAN LAST WEEK, each day we have had almost all of our students be at school by the start time of 8 a.m., and it has made a big difference. Thank you, parents!
Riverside's schedule is very deliberately created to ensure the success of our students. Our early morning routine purposefully includes a carline where students are greeted by their Head of School by name, a quiet social time in the Commons, and a brief Morning Assembly with the pledge, a song, and a time for community announcements with all of the classroom teachers and students.
It's a small part of the day by the clock, but it's an important part of the day for our students. It allows them to prepare to learn and to do their best in everything they do that day.
Of course, sometimes things come up, and a student will have to come to school late and miss the first part of the day. However, we have found that things typically go best for our students when they can fully participate in our regular start of the day.
So parents, thank you again for bringing your students to school on time, and please know that it is worth the extra effort you are making.


Quote of the Week 
"Life's a cinch by the inch; life is hard by the yard."
— Tom Dorsey, entrepreneur and adult dyslexic

Last Friday's Corny Joke

What do you call a boat with a hole in the bottom? 
A sink!

Quotable

"I like LF (Language Fundamentals) and the games we get to play that help me learn."
— Stephen, student at Riverside School

If you would like a parent or grandparent to receive the eNews, please contact us.