We love hearing from our alumni and especially look forward to their visits.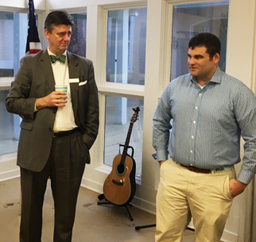 Riverside alumni came to the School seeking a helping hand academically and left Riverside ready to face future challenges with the skills and confidence they needed to succeed.
The school's alumni body is unique because students often arrive at different grade levels and leave Riverside after an average of three years. Through our website, social media (Facebook, Instagram, YouTube and LinkedIn), and alumni events, we strive to reconnect with our alumni and keep the bond of our Riverside family strong.
If you're looking to connect with a fellow classmate or teacher, please e-mail the Riverside School Development Office or follow us on Facebook.
Riverside also holds fun alumni events at the school and out in the community. If you are interested in helping to organize an alumni event, please contact Riverside's Director of Development Leo Rohr at [email protected].
Riverside welcomes alumni back to the school to as part of our Dyslexia Speaker Series. Get in touch with us to learn more about joining this esteemed group and coming to speak to Riverside students.
Tell us how you are doing.
We love to learn about the interesting things you are doing. Let us know what you are up to by filling out the form below. We are always looking to feature alumni news in our e-newsletter and on social media.