RIVERSIDE SUMMER CAMP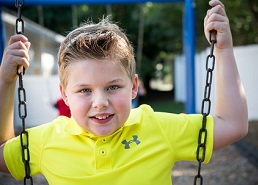 Help prepare your child to start or return to school this fall with the skills they need to succeed. Riverside Summer Camp provides campers with one-on-one, multisensory language tutoring with a trained Orton-Gillingham teacher.
Please note that camp registration is now open to Riverside parents / families only (prior to sign-ups opening to the public on Feb. 21), so reserve your child's spot today as camp fills quickly.
• – For rising kindergarten-sixth grade
• – Monday-Friday, July 15-26, 2019
• – 8:30 a.m.-2:15 p.m.
• – Cost is $1,050 (non-refundable deposit of $200 is due with registration and applied toward tuition). Tuition balance is due by June 1, 2019.
• – Sign up today as spots fill quickly!
Please click here to learn more about Summer Camp at Riverside (pdf brochure) >>
Please click here to register (note: the application cannot be submitted online) >>
CAMP RIVERSIDE—EARLY LITERACY
(rising kindergarteners-third graders; 16-student limit)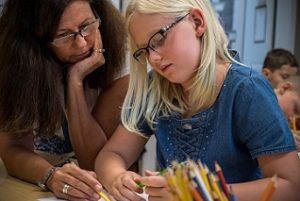 With a small student-to-teacher ratio, students will receive individualized instruction tailored to their development by expertly-trained, award-winning instructors trained in the Orton-Gillingham Approach, the cornerstone of Riverside's teaching philosophy. Teachers will ensure that each child has an enriching and fun experience in an accepting, nurturing, and welcoming environment that bolsters kids' joy of learning while building confidence.
There will be plenty of activities along the way, too, including enjoyable, engaging math exercises and other exciting tasks that will provide the foundation for future learning in a friendly space.
Mix in arts, music, crafts, movement activities, as well as library and playground time and kids are sure to have an experience that helps unlock their potential in a supportive setting—and has them looking forward to attending camp day in and day out!
CAMP RIVERSIDE—UPPER ELEMENTARY
(rising third graders-sixth graders;16-student limit)
Students have a unique opportunity to get a headstart on the new school year as they work hand-in-hand with instructors and fellow students. The camps ensure that kids' transition to the next phase of their development is seamless by reinforcing what they learned during the 2018-19 school year—so students pick up right where they left off in the fall. Plus, they'll get top-level instruction from teachers who are specially and extensively trained in the Orton-Gillingham Approach.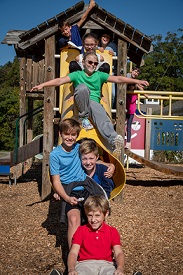 The camp furthers kids' academic progress, and extracurricular activities are specially designed to foster and solidify important character traits at a young age. Further, this is a great time for students to build relationships, develop their critical-thinking aptitudes, as well as strengthen social skills and nurture other developmental roots that will last a lifetime.
With a focus on accentuating students' strengths, the camp also ensures that campers continue to use sound decision-making. The sessions facilitate innovative thinking through math training that holds kids' interest level. Adding to campers' enjoyment, attendees are sure to find something that stokes their interests, as sessions include creative writing workshops, outdoor activities, art, games, science exploration, team sports, and much more!