Librarian Christine Bachmann to Leave Lasting Legacy at Riverside
Thursday, April 25th, 2019
by Andrew Blair
As a middle-school aged student, Christine Bachmann remembers being flummoxed, not knowing exactly what she wanted to do with her life.
Sensing her daughter's curious craving for a clearer path her mother asked her young daughter to list her interests on a piece of paper, knowing that the tried-and-true exercise was likely to reveal something substantive—because moms just know these things.
"Being the organizer that I am, I just thought I should definitely know already then what I wanted to do with my life. I told my mom, 'I don't know what I want to be. I don't know what I want to do when I grow up,' " Mrs. Bachmann remembers today. "And my mom said, 'Well, maybe you should just write down some things that you're good at.' I wrote down that I really like reading and I'm good at reading. And I really like putting things in order. I enjoy that. I enjoy organizing things. I took my list to my mom and my mom said, 'Well, this kind of looks like a librarian.' "
Those words proved both prophetic and, thankfully for Riverside, true. Mrs. Bachmann summoned the courage to follow her dreams, ultimately carving out a 35-plus year career as a librarian, including a nine-year stint as Riverside's library media specialist and music teacher.
Mrs. Bachmann is retiring following this school year, but she will always be a part of Riverside. She will leave a legacy partly defined by boundless energy, enthusiasm and a love for her students.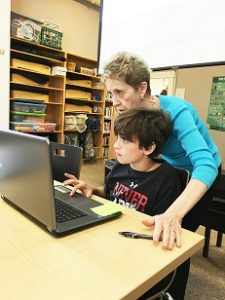 "I am going to miss the students," says Mrs. Bachmann, her voice cracking with emotion, "and I will miss the professional setting, but I also know retirement is the next step for my husband's (Mike) and my life. It's high time to join the ranks."
She will leave having ripened the imagination of countless children through books and music, setting them on a journey that has allowed their minds, souls and senses to wonder and wander, to travel to places from Wonderland and Neverland and other places that maybe they have only dreamt about.
At Riverside, an independent day school for students with dyslexia and other language-based learning differences, she's also helped facilitate kids' growth by empowering them with the skills they need to read, write and speak properly.
And truth be told, she's grateful for the greater sense of self taught to her by students and colleagues at Riverside.
"It's been a delightful experience because the challenge part of it was like a little 'kick' to my brain. I had to develop some new skills," Mrs. Bachmann says while sitting in the library, surrounded by hundreds of perfectly-arranged books on all four sides of the walls.
Admittedly, taking a summer course in the Orton-Gillingham (O-G) Approach following her first year at Riverside was important. The O-G Approach is the cornerstone of Riverside's teaching philosophy and stoked her development as a librarian and teacher during her Riverside years.
"It was sooo helpful to find out about the students and their learning difference, dyslexia," Mrs. Bachmann emphasizes. "I've enjoyed my nine years guiding the students. I hope in a way that I have helped make their appreciation of books and reading as enjoyable as possible."
Mission accomplished.
Additionally, Mrs. Bachmann admits that her interest of music was enhanced at Riverside where she studied its components and nuances, down to minute detail, passing along her passion to her students. Possessor of a non-stop motor, she considers teaching students at a number of different ages and grade levels as a privilege. That sense of enjoyment is especially evident when it comes to selecting books and songs that will grab students' attention, but also helps them appreciate history, culture, the arts, a respect for one another, a recognition that we share planet earth with nature and animals—and so much more.
"I always tell the students that I have about a thousand favorite (books)," Mrs. Bachmann says with a laugh. Fact is that sense of variety has likely served as the genesis of countless lesson plans, as well as storytelling and teachable moments prepared and shared through the years.
Admittedly, her own love of reading has been both educational and therapeutic. Mrs. Bachmann notes that she enjoys reading a number of different authors and a variety of books, plowing through nearly a half-dozen per month.
There's no secret as to where her strong work ethic is rooted. She and her younger sister grew up on her mom and dad's dairy farm in Shipshewana, Ind., a small town in the northern part of the state. They were up before the sun rose and often worked to the point of exhaustion while helping the family nurture the land.
Her parents encouraged self-reliance and a degree of independence. Mrs. Bachmann and her sister both graduated from Purdue University. Mrs. Bachmann became the first teacher in the family and her sister followed in the same profession.
Their father, a Purdue graduate, had a say in ensuring their path led to West Lafayette, Ind., where Purdue is located. Mrs. Bachmann's offers an irrepressible smile in describing how she and her sister 'chose' Purdue.
"When it was time for us to start looking for colleges, my dad said, 'Well, whatever university you want to go to in the state is fine.' He said, 'You'll work on the farm during the summer and I'll pay your tuition, your books and your room and board.' " Mrs. Bachmann recounts.
Her smile grows wider as the momentum of the story, and her voice tone, picks up.
"We said, 'Oh, OK.' And he said, 'There's just one thing, though. Your belongings are all going to Purdue. If you want to go to some other university in Indiana, you'll have to get your belongings.' So we all went to Purdue," Mrs. Bachmann hoots with laughter as the story reaches its punch line.
These days, as a teacher, Mrs. Bachmann knows that the influence of books and reading can be tangible or innocuous and that both can be equally impactful.
Mrs. Bachmann collects not only books, but memories. Years ago, she was travelling and while sitting in a hotel lobby, a fellow guest put her book down. The book was so satisfying that she couldn't help but place it on a table, let out a deep breath and softly annunciate, 'Aaahhh, that was good.' She got up and left the paperback behind.
"I said, 'Oh, you forgot your book,' " Mrs. Bachmann remembers as if the incident happened just yesterday. "She said softly, 'No. When I travel and I finish reading a book, I leave it in the location I'm at and invite somebody else maybe to read the book.' So I've started doing that, whether I'm at the airport, train station or wherever. When I travel, I take paperbacks. I just leave the book.
"I 'book it forward,' I guess," Mrs. Bachmann says with a laugh while finishing the story.
She admittedly hopes that each of her students gets to experience such a pleasant surprise, or 'aha moment.
These days, she and her husband, a longtime scientist at DuPont, have an eye on their bucket list and are planning trips to northern Italy and Mexico. Intensely curious, Mrs. Bachmann also plans on taking a deep dive into genealogy and the origins of her family tree.
All that said, she'll never be far from her love of books and music. Mrs. Bachmann has her sights set on volunteering at local libraries, and continuing to sing and play in the handbell choir at her church. She and her husband both enjoy theater productions and plan on attending more of them.
Such interests in plays and drama has spurred Mrs. Bachmann to take Riverside students on field trips to see the Richmond Symphony and other performances. In March, she organized a trip in which four different classes at Riverside attended 'The Story of Babar, the Little Elephant,' a concert that served as an introduction to the orchestra and families of instruments.
Mrs. Bachmann is keen enough to know that classical theater combined with an audience of elementary to middle-school aged students don't always mix, but she is intent on planting the seeds of musical appreciation that may bear interest in the arts for a young child—if not immediately, then perhaps some day.
Today, though her heart aches in anticipation of leaving Riverside, she knows exciting new endeavors await.