Riverside School Announces Tracey Cain as New Library Media Specialist
Monday, July 8th, 2019
NORTH CHESTERFIELD, Va. –– Riverside School, Virginia's most trusted school for students with dyslexia in kindergarten through eighth grade, has announced the hiring of Tracey Cain as the school's Library Media Specialist.
She succeeds former Riverside Library Media Specialist, Christine Bachmann, who retired at the conclusion of the 2018-19 academic year.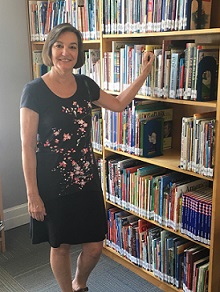 In her role, Mrs. Cain's primary responsibilities will entail preparing  daily library lessons that spark an interest and love of reading for students who struggle to read. In addition, she will be coordinating library activities and special projects for students and in conjunction with classroom teachers, as well as assisting faculty with special projects.
Mrs. Cain arrives at Riverside with more than 15 years of experience as a librarian at the elementary and secondary school levels. Most recently, she was school librarian in the Chesterfield County Public Schools system, working in that capacity for 10 years (2008-18). She was employed as librarian at Reams Road Elementary School (2010-18) and itinerant librarian at Clover Hill Elementary School and Bettie Weaver Elementary School (2008-10). Prior to that tenure, she was school librarian in the Roanoke County Public Schools for five years (1986-91).
In each capacity, she was responsible for developing and enhancing students' reading skills and preparing effective lesson plans that facilitated learning among children. While at Reams Road Elementary School, she empowered students to grow into enthusiastic readers, skillful researchers and critical thinkers as the foundation of her instruction. All told, this dynamic enveloped developing an engaging book collection, making effective use of the breakthrough makerspace concept and performing collaborative planning and lessons through Project Based Learning projects via stories and reading.
Mrs. Cain also oversaw library services and functions by maintaining and organizing books, multimedia and digital materials for use among students, school staff and visitors. She used a number of technologies to help introduce and ingrain messages. Additionally, Mrs. Cain selected age-level appropriate books in communicating concepts in an understandable manner to students at a number of age and grade levels.
Her additional responsibilities included having sound working knowledge of programming, resources and best practices used by libraries, managing a budget, working in tandem with a variety of constituents, creating effective visuals and planning for and organizing special events, among her other responsibilities.
A Midlothian, Va., resident, Mrs. Cain, has led numerous professional development sessions on database use, library website development and community involvement, among other topics. In 2017, she sat on a panel at the American Association of School Librarians conference to share her experiences as a mentor librarian.
Mrs. Cain received a Bachelor of Science degree in Library Science Education from Radford University in 1985.
ABOUT RIVERSIDE SCHOOL
Riverside School is Virginia's most trusted school for students with dyslexia in kindergarten through eighth grade. An independent day school based in Richmond, Va., Riverside's mission is to provide remediation of language skills for students with dyslexia and similar language-based learning differences in grades K-8, so that they can return to mainstream education fully prepared to realize their highest potential.
Riverside provides a tailored curriculum and utilizes the Orton-Gillingham (O-G) Approach to support the needs of students. With this in mind, Riverside's teaching approach is dedicated to providing small classes, individualized curriculum, one-on-one instruction and a nurturing environment to enhance the learning experiences of children with dyslexia.