Riverside Thanks TowneBank Richmond Foundation and Senior Vice President, Ty Crone
Wednesday, April 11th, 2018
RIVERSIDE SCHOOL JOINS IN EXTENDING A HEARTFELT THANK YOU to the TowneBank Richmond Foundation and its Senior Vice President, Ty Crone, who presented a $5,000 check to Riverside to benefit our Language Fundamentals (LF) program and interacted with some of our students.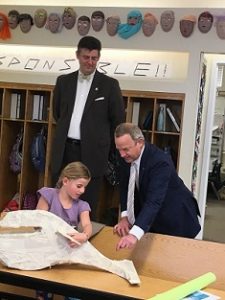 LF plays a major part in establishing the building blocks of learning for Riverside students, as well as facilitating their progress academically and in many other ways. These contributions play a vital role in facilitating the school's and LF department's progress and enhance our students' experience at Riverside.
"This is a very fun part of my job," says Mr. Crone (pictured far right). "We're proud to be associated with a school like Riverside and we look at this as more than a one-time opportunity."
Grants continue to be an important source of funding for the year and we thank the TowneBank Richmond Foundation—and everyone who plays a role in making Riverside the best that our school can be today and in the future.