Riverside School Announces the Addition of New Faculty Members
Tuesday, August 3rd, 2021
NORTH CHESTERFIELD, Va. –– Riverside School, Virginia's most trusted school for students with dyslexia in kindergarten through eighth grade, has announced the hiring of Maddie Arbour, Rebecca Betts, Sierra Brown, Margaret Ann Mazzenga and Sapna Schardein as new faculty members for the 2021-22 school year.
Ms. Arbour and Ms. Brown will be classroom teachers, while Mrs. Betts, Mrs. Mazzenga and Mrs. Schardein will work as Language Fundamentals instructors.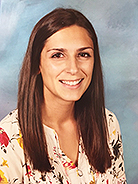 Ms. Arbour (pictured right) arrives at Riverside after teaching remotely for VIPKid, a global leader in online English education. She provided instruction in the area of English as a Second Language (ESL) as well as one-on-one instruction to meet each student's individual needs. Ms. Arbour is no stranger to the Richmond area, though, having been employed at Chesterfield County Public Schools from 2018-20. There, she was primarily involved in special education in an Aligned Standards of Learning autism classroom. Her responsibilities included collaboration, collecting, recording and reporting data on all Individualized Education Program goals, as well as developing lesson plans and instructional materials.
Prior to entering the classroom, Ms. Arbour worked at Youth and Family Services of Virginia (2017-18) where she was an Applied Behavior Analysis Behavior Coach, and implemented Individualized Service Plan goals and programming materials. A North Chesterfield resident, Ms. Arbour holds a Bachelor of Arts degree in in Psychology: Counseling and Human Development from Liberty University. She went on to earn her Master of Arts degree in Special Education from Liberty.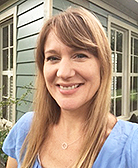 One of Mrs. Betts' (pictured right) first touchpoints with dyslexia came when her son was diagnosed with dyslexia in second grade, which led her on a new journey with the learning disability. She has enjoyed seeing her son's progress while finding multiple ways to unlock his potential and ultimately witnessing his self-confidence grow.
Mrs. Betts has lived in Sweden as an exchange student and, more recently, resided in London, United Kingdom for 10 years. She moved to Richmond with her family in 2017. Mrs. Betts previously enjoyed a career in advertising
before starting a family. She has three children—a rising kindergartner, a third
grader and a fifth grader. Mrs. Betts is a graduate of the University of Tennessee
with a Bachelor of Science in Communications.
Ms. Brown comes to Riverside from Ginter Park Elementary School in Richmond where she was an Exceptional Education Teacher for fourth graders since August 2018. As a part of her experience, she designed specialized instruction for effective learning in alignment with Standards of Learning and students' Individualized Education Program (IEP). In accelerating students' progress, she implemented Orton-Gillingham Multisensory reading intervention. Additionally, Ms. Brown developed standards-based IEPs in collaboration with parents, teachers, administrators, related service-providers and students to ensure children receive outstanding educational services and need-based support.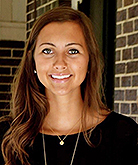 Ms. Brown's (pictured right) commitment to special education and teaching is nearly boundless as she mentored and coached a novice special education teacher through the Virginia Commonwealth University's RTR Program, which is a highly selective graduate residency program that recruits, trains and supports teachers for high-needs and hard-to-staff schools. And last spring, she worked as a behavior technician where her duties enveloped direct client care (one-on-one settings) in-home and virtual, using a combination of intensive teaching, natural environment training and Applied Behavioral Analysis principles. Her professional experience also includes being a caretaker and tutor for children with autism in the Charlottesville area. In that role, she focused her attention on child safety and security, as well as developing virtual instruction and assisted children in developing their communication skills.
Ms. Brown has a Bachelor of Science degree in Interdisciplinary Liberal Studies from James Madison University. Her education continued at James Madison where she earned a Master of Arts in Teaching.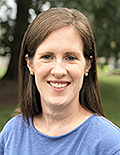 During the early stages of her professional career, Mrs. Mazzenga (pictured right) began teaching first and second graders. She quickly gained an affinity for teaching children how to read, especially children who needed intensive educational support. Mrs. Mazzenga recently worked with a student who was diagnosed with a learning disability. She has dedicated time and energy toward creating and engaging thorough lessons using various tools and resources for educational development. Mrs. Mazzenga emphasizes that she is excited about the opportunities presented by learning the Orton-Gillingham Approach.
Mrs. Mazzenga earned both a Bachelor of Arts in English, Masters in Teaching and Reading Certificate from the University of Virginia.
Mrs. Schardein was most recently employed at Christ Church Episcopal Preschool in western Henrico County as a Teaching Assistant (2019-20). Her duties included assisting lead teachers with daily lessons and transitions, teaching 'Handwriting Without Tears' curriculum in a small group setting and serving on a committee to update curriculum to meet the needs of the school's population.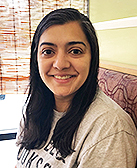 Over the past 10 years, she has been a Title I Reading Specialist at three schools—Johnson Elementary (2018-19), Glen Lea Elementary (2016) and Ridge Elementary (2011-14). In each setting, Mrs. Schardein (pictured right) was directly involved in modeling lessons and coaching teachers for best practices in such areas as small group instruction, literary education and classroom management techniques. Her responsibilities also entailed incorporating collaboration and performing research to enhance all students' literacy and achievement.
Mrs. Schardein has also worked as a science teacher at Young Scientists, a remedial reading teacher at John Rolfe Middle School and a special education teacher at Manchester Middle School. Outside the classroom, Ms. Schardein counts among her experiences being an in-home care provider at the Virginia Department of Medical Assistance Services, a graduate assistant at Richmond Early Reading First / Virginia Commonwealth University and a counselor at St. Joseph's Villa.
Mrs. Schardein has a Bachelor of Arts degree in Religious Studies from the University of Virginia, as well as a Master of Education in Special Education and Post-Master's Certificate in Reading, both from Virginia Commonwealth University.
Riverside's 2021-22 school year is scheduled to start on Aug. 30, 2021.
ABOUT RIVERSIDE SCHOOL
Riverside School transforms the lives of students with dyslexia and similar language-based learning differences while supporting a community of highly trained teachers and staff who specialize in educating these students to their highest potential.