Award Winning Art: Riverside Student Waverly Parrish Receives Recognition
Monday, February 14th, 2022
Congratulations to Riverside student and artist extraordinaire, Waverly Parrish, who earned a prestigious Gold Key from the Alliance of Young Artists and Writers for her piece entitled 'Woman of All Identities' (pictured below right).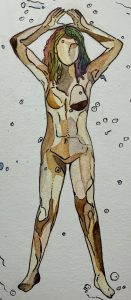 The Gold Key is the highest honor that the entity bestows as a part of their sponsorship of the premiere art and writing competition in the country for youth. Moreover, Waverly earned Silver Key accolades for her 'Golden Amphibian' painting, and two honorable mentions for a pair of painting pieces titled 'Bird' and 'Streetlamp.'
Click here to view Waverly's award-winning art >>
Waverly—and all regional Gold Key awardees—have their works exhibited at the Visual Arts Center of Richmond through Monday, Feb. 21. The Visual Arts Center is located at 1812 West Main St., Richmond Va. 23220, (804) 353-0094, and is open daily from 9 a.m.-9 p.m. All works—Gold, Silver and Honorable Mention—are also displayed online at: https://www.visarts.org/partnerships/school-partnerships/scholastic-awards/.
What's next for Waverly? As a Gold Key honoree and her accompanying artwork, she will advance to the national competition in New York City. There, pieces will be judged in the coming weeks with the national awards being announced in March.
Waverly continues to put her amazing artistic talents on display. She earned first prize in Scholastic's national 'The (Really) Great Outdoors 2020' contest; had a reception in honor of her first solo exhibition in late-August 2021 at Pine Street Barber Shop on Oregon Hill; and her State Fair entries in late-September 2021 earned Waverly three ribbons and a scholarship from the State Fair.
Way to go Waverly!