Riverside to Conduct 'Virtual' Open House on Nov. 11 (via Zoom technology)
Tuesday, October 26th, 2021
If you know someone that has a student who is struggling to read and that you think may have a language-based learning difference, ask them to join us to learn more about Riverside School and our programs at an 'online' Admissions Open House on Nov. 11 from 9-11 a.m.
Note: In keeping with our commitment to keeping a Covid-safe school, this event will be conducted via 'virtual' means / 'Zoom' technology. Login information will be sent to registrants prior to the event.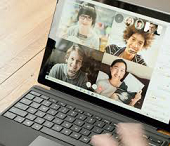 The event will give attendees the opportunity to learn about our one-on-one instruction, our commitment to small class sizes and how the school changes the lives of students and families.
• – Interact with current staff, students, and Riverside parents
• – Learn more about our programs and the Orton-Gilllingham Approach
• – Chat with our teaching faculty, instructors, and administrators
• – Learn more about the application process
• – Receive details about our current procedures and future plans for a Covid-safe Riverside School
Please RSVP using the form below or call (804) 320-3465.