Riverside to Resume School On Time, Thursday, Dec. 13
Wednesday, December 12th, 2018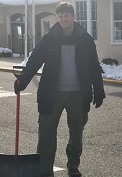 RICHMOND –– Barring unforeseen circumstances, Riverside School will be conducting normal school activities on time on Thursday, Dec. 13.
Many thanks to the Riverside faculty, staff and administrators who chipped away–literally clearing snow and ice on campus–to ensure that school can resume.
As always, if the roads are looking dangerous in your neighborhoods, please use your best judgment and come in when it is safe.