Riverside's Language Fundamentals Instructor Ann-Marie Lundmark is School's Newest Fellow-in-Training
Thursday, September 26th, 2019
NORTH CHESTERFIELD, Va. –– Riverside teachers and instructors continue to grow, excel and ensure a brighter future for the school's students and, to a larger extent, the central Virginia population on a variety of levels.
Riverside Language Fundamentals teacher Ann-Marie Lundmark is the latest to garner a noteworthy achievement as the school's newest Fellow-in-Training. As a Fellow-in-Training, Mrs. Lundmark will be getting trained in teaching the Orton-Gillingham Approach to other teachers at Riverside and in the community. Riverside is accredited by the Academy or Orton-Gillingham Practitioners and Educators (AOGPE) to teach the Orton-Gillingham Approach, the cornerstone of the school's teaching philosophy.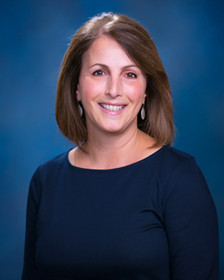 On her way to becoming a Fellow-in-Training, Mrs. Lundmark (pictured right) attained an Associate Membership from the Orton-Gillingham Academy in 2013 and her Certified membership in 2016. Both steps entailed an extensive process that included hundreds of hours of training, classwork, reading and application writing.
As a Fellow-in-Training, Mrs. Lundmark will gain in-depth knowledge and experience in prescriptive, diagnostic instruction; supervision; and curriculum development, among other areas.
"This is a new and exciting undertaking for me" says Mrs. Lundmark, who joined Riverside staff as a Language Fundamentals instructor in 2011; LF tutoring entails one-on-one work with students who have dyslexia. Initially, her plans are to mentor a special education teacher in the O-G Approach in Henrico County this fall, while continuing her work at Riverside. "It benefits the school and is an opportunity to train teachers in the community. This is the next professional step for me and the timing is right."
Using a four-rung ladder analogy, as a Fellow-in-Training, Mrs. Lundmark is on the third step, having climbed the first two in attaining Associate and Certified level certification.
Now, as a Fellow-in-Training, Mrs. Lundmark's next and final step would to become a Fellow, which represents achieving the highest level of credentialing from the Academy; only four instructors in Riverside's 45-year history have been accepted as an AOGPE Fellow. Mrs. Lundmark is one of three Fellows-in-Training at Riverside, joining Leda Spencer and Robin Hegner.
Notably, Fellows-in-Training are not yet certified to perform training independently and must teach under the direct supervision of the Fellow throughout all training.
Orton-Gillingham has been the gold standard approach for helping dyslexic children for more than 70 years. The O-G Academy was established by its Founding Fellows to certify and accredit educators and schools to the highest requirements. Although many schools and tutoring centers will employ teachers who use the O-G Approach, Riverside is one of just 14 fully-accredited schools in the world. The Academy sets a very high bar for a school to qualify as an accredited school, and Riverside has been meeting and exceeding this standard for decades.
Riverside is one of just 17 Academy Accredited Training Centers in the nation. In addition to training its own teachers, Riverside instructors train educators through our summer Riverside Course and additional outreach. Teachers come from all over the United States to be trained by Riverside teachers in the O-G Approach.
Mrs. Lundmark holds a Bachelor of Business Administration in Accounting from the University of Texas at San Antonio and a Master's of Education, Special Education from Virginia Commonwealth University.