Teacher Spotlight: Teaching, Life Triumphs Buoy Ms. Del Bueno's Call to Instruction
Friday, April 6th, 2018
by Andrew Blair
Catch Riverside Language Fundamentals (LF) teacher Chris Del Bueno idling for even one second and you might want to contact Ripley's Believe It or Not! Notice her not helping someone and you'll definitely want take a picture that well could be time-capsule worthy.
Ms. Del Bueno's enviable energy, as well as the breadth and depth of her training in the Orton-Gillingham (O-G) Approach have been on full display this year, her third as an LF teacher at Riverside School. LF tutoring at Riverside entails one-on-one work with students who are dyslexic.
Inevitably, for some of her students, sometimesthingsmovealittletoofastlikethis, and words, thoughts, and ideas seem to jumble together. Ms. Del Bueno and her students focus on unpacking sounds, patterns and syllables to open the gateway to new learning paths through the structure of language.
Ms. Del Bueno enthusiastically embraces the strengths and gifts of all of her students. The daily task is to instruct, encourage and foster independent discovery which will aid in their success both at school and outside of Riverside.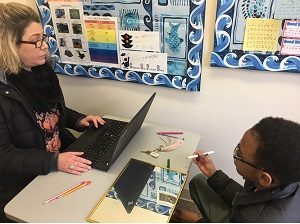 "They each have their own 'glory' moments and things that they are really good at and things that they need to work harder at—just like any of us. That's human nature," she says of the four students she is tutoring this year. "They're all joys—I love them."
Riverside welcomes children from many environments and some have unique circumstances. This year will be the first and only for one of her students. When speaking of this child, she highlights the strong efforts of a team of four colleagues who helped tailor the curriculum so he receives as much training as possible in a short time span.
"We sat down and said, 'OK, this child is going to be successful. What does he need to be successful?' "Where do you find that kind of support?" Ms. Del Bueno underscores.
Ms. Del Bueno feels it is her deep-rooted calling to be active in uncovering each child's full potential, both in and out of the classroom. She believes it is important to impart this upon them, so that they take ownership of their education and actions. Most importantly, Ms. Del Bueno appreciates that she has unwavering backing from administrators, teachers, faculty members, students and families.
And talk about no time for a water break—Ms. Del Bueno also tutors eight students outside of Riverside ranging from second to 11th grade. Some have dyslexia, while others want to cull from Ms. Del Bueno's considerable knowledge base in dealing with a subject they are struggling with at school. And the neat thing that ultimately rises to the surface is that the O-G Approach can be applied in different ways to facilitate any students' progress.
Now entering her 10th as a teacher, and captivated by language and reading, she became interested in dyslexia in the public school setting. She noticed little was being done to help kids with dyslexia on a tangible level. She quickly found that the issue of addressing this need was an educational hot potato. Various programs were tried and discarded, with the same seemingly ineffective process repeating itself year after year.

"It was, 'OK, there has to be a way to help kids be stronger readers across the board,' " Ms. Del Bueno remembers, noting that specific remediation for this population of students didn't happen. "Every couple years, (the school system) would bring in a new program and it was, 'OK, these two years we're going to use this program, these two years we're going to use this one.' "
She took an O-G summer course at Riverside in the summer of 2015 and admittedly "fell in love" with the approach. She arrived at Riverside as an LF tutor a year later and her impact has been obvious.
"Chris Del Bueno engages her students from the moment she first sees them, and she keeps the energy high throughout the entire LF lesson," says Hal Waller, Riverside's Head of School. "Her ability to motivate her students is unsurpassed."
Helping children is not only Ms. Del Bueno's occupational responsibility, but a personal endeavor. She and her husband, Mike Vozar, appreciate the precariousness of one's position in life. That sense of thankfulness is rooted in their children, Matt and Hayden, who both survived significant seizure disorders the first five years of their life.
"I almost lost both of my sons multiple times," says Ms. Del Bueno, wiping away a tear. "It is the worst thing a person can go through. There's not a day that goes by that I take for granted—those experiences drive me to be my best for other people because I understand their struggle."
Today, Matt, a student at the University of Virginia, and Hayden, a sophomore at Henrico High School, are excelling in the classroom and have well-rounded lives.
Her message to children and families who are facing a crossroads in dealing with dyslexia?
"There's always hope, never give up," Ms. Del Bueno emphasizes. "At the end of the day, we all have our journeys, and it is what we do with those journeys that make the difference."
Ms. Del Bueno is known in the halls of Riverside as a straight-talker and a genuine person.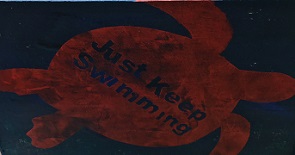 "I'll just say it: I'm from New Jersey. I am a Jersey girl at heart!" she says with a laugh. "But I feel like people appreciate the honesty. I tell my students and my families, 'I will always be honest with you.' "That said, some messages are more difficult to deliver than others. However, my goal is to always keep people whole–showcase successes and offer assistance."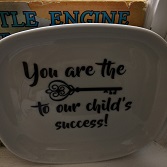 In addition to her straightforward, but comforting approach, Ms. Del Bueno is the possessor of a sensitive soul and has a soft spot for her students that is as big as the sun. Her window sill is adorned with two plaques that she received from Riverside families. One is inscribed, "You are the key to our child's success!" and the other piece of artwork says, "Just Keep Swimming."
"Being told that I've impacted lives to that degree, without question, that's the, 'Close the door moment. Close the door because that's IT,' " Ms. Del Bueno says.